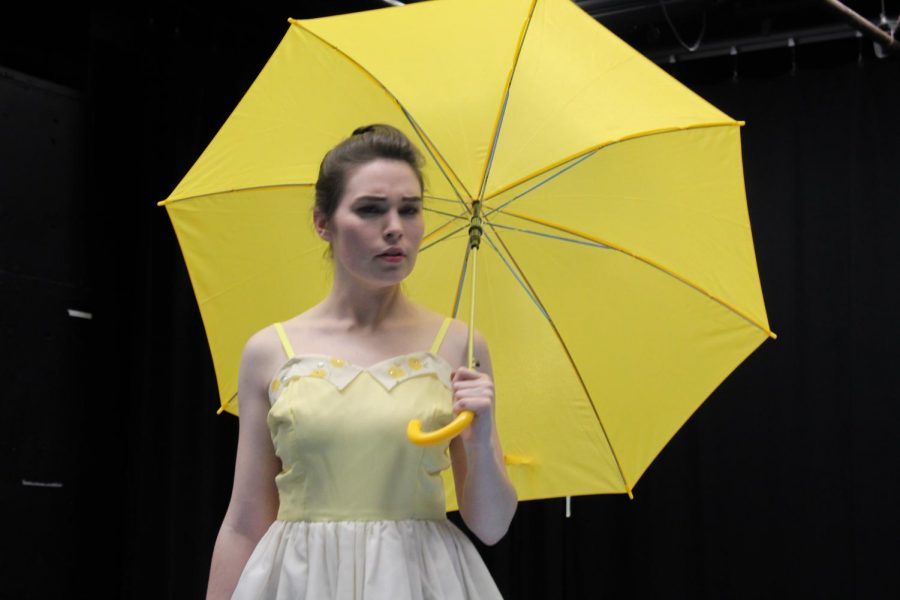 'Eurydice' puts new spin on old tale
The newest Henry play brings a Greek myth into the modern era
How difficult is it to write music so beautiful that it could open the gates of hell? Ask Matthew Nassida, director of the Henry Konstantinow Theatre's latest play "Eurydice."
"It only has to be 45 seconds … but boy howdy, trying to think of how to write such a virtuosic piece in such a short period of time is strange and difficult," Nassida said.
"Eurydice" is a 2003 play by Sarah Ruhl that brings the tragic Greek myth of Orpheus and Eurydice into the modern era. In the original myth, Eurydice dies on her wedding day, so her husband Orpheus attempts to bring her back from the underworld with his musical talents. The play updates the language and modifies the ending, but Nassida's version revises the performance even further by changing the way the audience is seated. Nassida, senior BFA musical theatre major and music minor, also composed new music for the show.
Normally, "Eurydice" is performed in proscenium, the traditional way of performance where audiences are seated together. In the version being performed in the Henry—a black box theater—alley seating is used, where audiences sit on opposite sides of the stage. In addition, the stage is divided to symbolize the rift between the underworld and the world of the living.
Freshman Peyton Pearson, the show's stage manager, worked with Nassida last semester on the School of the Arts' annual first-year show. She relished the chance, not only because she loves working with Nassida, but also because she is a long-time fan of the play.
"I think it is just such a beautiful story. It delves into issues like trying to choose 'do I want to start a new life with a person I love or dig into my past and figure out what makes me me?'" Pearson said. "It's such a great reminder that not everything in life always works out exactly as we want, and that's okay."
Nassida originally fell in love with "Eurydice" after seeing it performed at University of Cincinnati's College-Conservatory of Music. Since then, he and Pearson have been hard at work putting their own spin on the show. 
"After seeing it at CCM, I had a very specific idea in my brain about how it should come to fruition. You can't change the words on the page, but it can be interpreted differently," Nassida said.
One aspect of Nassida's interpretation is giving a bigger spotlight to the lord of the underworld, who only appears in three scenes. Nassida believes the character has a larger role in the narrative than is stated in the text, and a more nuanced approach to the character would benefit the show's main message.
Ellie O'Hara, freshman BFA theater major who plays the role of Eurydice, said the part was emotionally challenging and a drastic change from her previous role in NKU's adaptation of "Freaky Friday."
"There's a monologue that is just so sad; it makes you want to cry. If you really think about what they're saying, you can find similarities to your own life," O'Hara said. "That was probably the most challenging part, to set aside my own emotions, but in the same way use my past to help me feel what my character is feeling."
O'Hara described the cast as close-knit, and said preparing for this play has taught her professional skills she wouldn't acquire otherwise.
"Being in a Henry show, it's such a quick and fast process. In a way, it resembles the real world," O'Hara said. "You get a show, you learn it really quickly and then you put it on in the matter of a month."
Nassida said he urges every freshman that he knows to try as much as they can and audition for every role. He also encouraged students all across campus, not just ones with acting-related majors, to try out acting in the Henry even if it's just as a hobby.
"If people want to dip their toes into acting, but definitely don't want to be on a huge stage or deal with all the intricacies of the theater and they just want to have a fun time, the Henry is a great place to start," Nassida said.
Nassida, who is graduating in the spring, said he enjoys the creative freedom that NKU gives to students through venues like the Henry.
"When you get to the real world, it starts to become about 'How much money are we going to make? How many people are going to get into seats? How big are we going to build the set and how costly is it?'… here, you have a lot more creative expression," Nassida said. "I will definitely miss it when I leave."
Eurydice will run Feb. 10 – 13 in the Henry Konstantinow Theatre. The show is free, but seating is limited; to acquire a ticket, follow @insidethehenry on Instagram or reach out to a cast member.