Women's choir to perform at Kentucky Music Educators Association
NKU performs at the conference for the first time in over a decade
February 6, 2020
"It is game time," Katie Barton, director of choral studies, said as her students prepare for one of their final practice sessions before this weekend, where the NKU Women's Choir will perform at the 62nd annual Kentucky Music Education Association (KMEA) conference.
Last spring, the NKU women's choir submitted several tapes to the KMEA and were told earlier this year that they were selected to perform. 
"It's probably been about 12 or 13 years since we performed at this conference," Barton said.
The KMEA conference serves music educators across the state and allows teachers to share their methods through clinics and workshops for other administrators to bring back into their classrooms.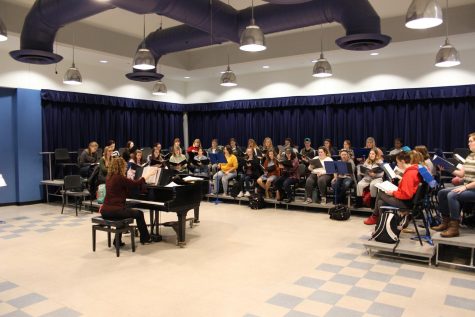 The five-piece performance on Friday, called "Inspire!," was sourced by Barton from a number of pieces. The performance will span from biblical times Israel to 18th century Italy. Barton even brought in a fluent Taiwanese speaker to teach the students how to pronounce the words in the second piece.
She decided on the name "Inspire!" from the last of the five pieces called "Sih'r Khalaq," which translates to "creative magic." Within the text of the piece, the words "music inspires me" stuck out to Barton, who thought it would serve as a fitting finale.
Eight choir students were selected to travel to the conference a day early for a special collaborative performance with other school's choirs. Among those selected was sophomore, Faith Greene, who sings in both the women's choir and NKU's chamber choir. Greene is planning to pursue a career in music education and is no stranger to performing at the KMEA conference.
"I went to Cooper High School and [the band] actually got to perform at KMEA my junior year. Also, my chamber choir was performing the year before, but I just wasn't a part of it yet," Green said.
Greene said Barton was worried after several long-time choir members graduated, but the choir concert before the end of last semester is when she shed her worries.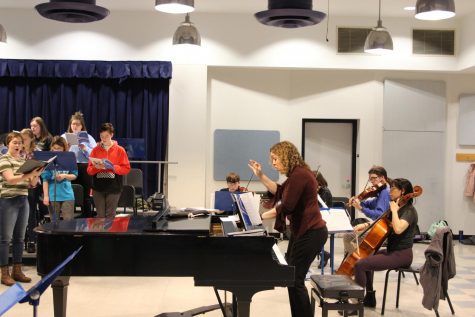 "We sang a song, and I don't know if we hit a note just right, but she looked at us like she was about to start crying in the middle of the song. We all had to take a deep breath for a second to stop from crying," Greene said. "It's probably the best musical moment I've ever had."
Barton said that while some of the choir members are students completing their ensemble credits for graduation, the choir also has several non-music majors that just like to sing.
Alexis Gabbard, junior audio production major, is one of those students that just likes to sing and finds the time to be a part of both the chamber and the women's choir. 
"I have been in choirs since literally first grade. As soon as I was allowed, I was in choir," Gabbard said.
Gabbard said they'd only been in mixed men's and women's choirs since high school, and the switch to women's choir was a completely different dynamic.
"There's just something special about the type of music that we get to do with all women. Where it's almost empowering that there's like 60 of us in this room and we're singing this amazingly beautiful piece of music," Gabbard said.
NKU's women's choir is set to perform at the KMEA on Friday, Feb. 7 at 3:10 p.m.
All of NKU's choirs will be performing together for their mid-semester concert on Monday, March 2 at the Cathedral Basilica in Covington at 7:00 p.m. That concert is free and open to the public. For more concert information, visit www.nku.edu/academics/sota/events/music.