SOTA Senior Exhibition brings mummy, marketplace to campus
The Senior Exhibition concluded December 12
December 13, 2019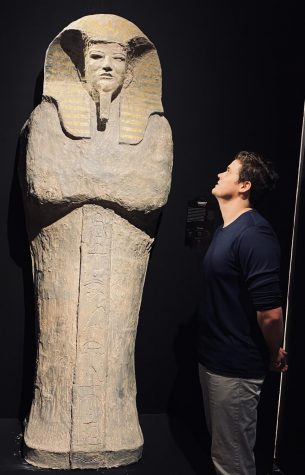 One of the only places where you could view a mummy and a marketplace under the same roof resided in SOTA's art gallery spaces this week. 
The 2019 Student Exhibition art gallery featured the final capstone projects of 17 Bachelor of Fine Arts (BFA) visual communication design majors.
The focal point of senior visual communication design major Samuel Kremer's project began about five years ago when he started writing letters to his siblings under the pen name, Markus Marcel. 
"At first, I think it weirded them out, but they were like incredibly excited by the prospect of going on a scavenger hunt created by a mysterious figure," Kremer said. 
Over time, Kremer's siblings figured out the author of the anonymous letters and Marcel was developed into a full-fledged character. When Kremer began brainstorming ideas for his capstone, he knew that he wanted his project to have a foot in reality and a foot in fiction. 
"I knew pretty early on that I wanted to do a museum setting because I love museum exhibits," Kremer said. 
It wasn't until a conversation that Kremer had with his sister that he decided to create a museum exhibit focused on the life of Marcel. Thus, "Markus Marcel's Menagerie of Mystery" was born. 
For the aesthetic of the exhibit, Kremer took inspiration from early 20th century New Orleans architecture, wrought iron fences and tarot reading cards.
"If you've ever been to New Orleans, you go and it's got an otherworldly feel to it. It's got a mystique all about it," Kremer said.
According to Kremer he was inspired by the work of Agatha Christie's "Hercule Poirot" and Arthur Conan Doyle's "Sherlock Holmes." Marcel was perceived to be a very proper gentleman with an anthropological and mysterious past. He is thought to have been born in the 1890s out of a small village in Northwest France.
"People refer to him as the man with the funny accent because he's got a little bit of a French twinge to it," Kremer said.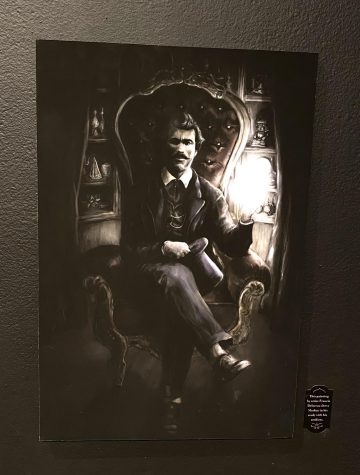 The exhibit features artifacts that Marcel would have found throughout his life, including a cuneiform tablet, a puzzle box from Ancient Greece and the alchemist's tapestry. The largest artifact and perhaps the most eye-catching of the exhibit is the sarcophagus lid of Imhotep II. 
The 7-foot mummy, in which Kremer explains Marcel found hidden deep beneath the sands of the Great Sphinx of Giza, was constructed in Kremer's apartment and was made out of cardboard, plaster of paris and several layers of papier-mâché. 
Kremer also created a 23-page long guide of Marcel's life and discoveries, including an introduction, biography and a description of artifacts featured in the exhibit. The exhibit also featured a portrait of what Kremer envisioned Marcel would have looked like. The portrait depicts Marcel in a dimly lit study surrounded by his artifacts. 
According to Kremer, the project was definitely as daunting as he anticipated, but being able to put 100% of himself into the project was far greater of a reward than he could have imagined. 
 "It's very fulfilling to see it all come together, especially since I'd never drawn the character, I'd never displayed him in such a public manner," Kremer said. 
Senior visual communication design major Stacey Dedden took an entirely different route for her capstone project. Dedden, who has worked for Kroger's online shopping program Clicklist for the past two and a half years, was inspired by the amount of food waste she witnesses at her job and had an ambition to combine her love of food with a passion to minimize the use of single-use plastic.
"I wanted to do something fun. Why can't sustainability be fun but also good for the earth?" Dedden said. 
Dedden's hypothetical sustainable market, Delite, represents the 'delightful, fun experience' she would want customers to have at the market, and the change in spelling references the fresh and healthy food that would be available.  
Dedden incorporated a clean and tasteful color palette, with produce puns on reusable shopping bags and posters to add her personality to the project.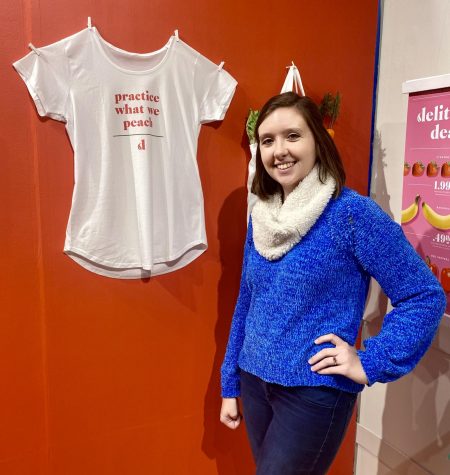 "I wanted to infuse fun and quirkiness because that's who I am," Dedden said. 
To stay on brand with sustainability, Dedden was also mindful of the way customers would purchase products in the market by including a checkout app prototype on an iPad in the exhibit. In the store, there wouldn't be any kind of printed receipts that you would scan.
"You would add everything that you're getting and you could check out with it," Dedden said.
The app would also provide nutrition facts and food pairing suggestions, and it helps you pick out what you might eat for dinner that night. Dedden's project isn't focused on zero waste, but to inspire others to be more mindful of what and how much they're throwing away. 
Although both Kremer and Dedden had a lot to accomplish for their projects, David Knight, gallery director, and Julie Mader-Meersman, professor of visual communication design, worked closely with Kremer and Dedden throughout the semester to offer advice and constructive criticism.
According to Knight, each student was allotted an 8x8x8 to 10x10x10 space for their projects and had to take this into consideration when designing their exhibits. Specifically, Knight helped Kremer acquire the glass casing for his artifacts and assisted Dedden with determining how to display her produce stands and hang her posters.
According to Mader, the senior exhibition is done in conjunction with the visual communication design project and is a requirement in the BFA program. Mader also teaches the senior thesis class that Kremer and Dedden took. The thesis class is the course seniors take when creating their capstone projects. Therefore, Mader was able to watch both projects grow from ideas to completed exhibits. 
"For the BFA, it's definitely the peak experience because it's independently conceived by the student," Mader said. 
According to Mader, the projects are very rich and deep in terms of the things to study and learn from.  
"This will be the last academic experience to completely independently research or experiment without constraints or typical real-world scenarios that might let them artistically continue to expand their assumptions of where they can go, so it's a good opportunity to test," Mader said.