'The Big Event' brings students together
Food, games and live music unifies campus organizations Wednesday night
August 22, 2019
Lots of unfamiliar people, a variety of odd yet exciting events and everyone in attendance confused and unsure of what they should be doing—NKU's first annual The Big Event was the perfect metaphor for college. 
The Big Event, which took place Wednesday night on the east oval lawn in front of Griffin Hall, featured a bevy of free food, games and live music for students to enjoy. Almost every fraternity and sorority on campus, student-athletes, coaches and several campus organizations were in attendance. 
"For the first time, like all of Greek life is together," said Rachel Henry, senior psychology major and president of sorority Phi Mu. "There's Panhellenic bid day and IFC bid day, but they're separate. I just really like the whole student org community all being together for something."
Colin Blouin, the coordinator of Fraternity and Sorority Life, conceived the idea for the event while working on a similar event in his time as Program Assistant of Fraternity & Sorority Life at Middle Tennessee State University. 
"We thought, 'What can we do that's similar to that?' And so working with the battle of the bands, as well as the large scale games and the dance party in the end to wrap it up, but also celebrate the school year starting; really, the concept was that we wanted to have something that was, well, big," Blouin said.
The purpose of the event was confusing to many; several students said they were unsure of what was actually happening, but showed up for the free food and the opportunity to socialize with people they hadn't yet had a chance to meet.
"I didn't know what this was coming here, and after coming here, I'm still not sure what this is, but there's some music," said English junior Ben Fooks.
Throughout the night, several musical acts competed in a battle of the bands for a $250 prize. To find the musical acts, a mass email was sent to all NKU students; the only requirement was that at least one member of the group was an NKU student. Artists Free Beer, Self-Similar, Trauma Illinois, Nichole Bezold, Endless Coffee Jutsu and battle winner Lost Henry performed on a stage placed in the east oval lawn.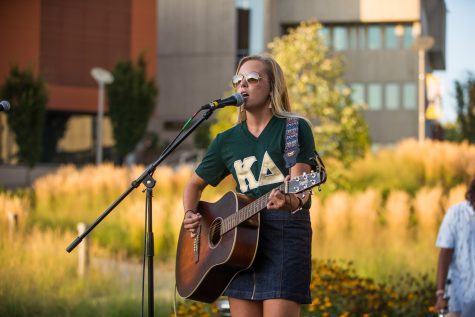 "I didn't know that Nichole [Bezold] could sing like that, she's amazing! She killed it. I had absolutely no idea," said Henry. "I loved the battle of the bands with the students. That was such a good idea."
Alexi De La Cruz, a senior management major and the student committee chair for the event, said planning on the event began back in April as a way to bring all of NKU's students together—in comparison to last year's Greek life-focused event Rock and Jock.
"[Rock and Jock] was great. People loved it. However, in terms of impacting the whole student life of NKU, we kind of said we might need to create a new event to rope in commuter students, housing students, everyone—even athletics," De La Cruz said. 
After months of planning, The Big Event was formed. The title, 'The Big Event', was originally a working title; however, after brainstorming, the committee ended up sticking with it. 
"We wanted a name that had some mystery to it. But at the same time, we didn't want to tag any specific group in it," De La Cruz said. "We brainstormed a few ideas, some including 'Norse,' things like that. But 'The Big Event' kind of just … it just worked!"
Teams comprised of members from different organizations competed in different games during the night, such as a hula hoop relay and an event where teams had to wrap someone in toilet paper and then race over to a finish line. In the end, the Blue Team, comprised of members from Theta Chi, Delta Gamma, Presidential Ambassadors and other organizations, won the first official Norse Cup trophy. As the night reached its end, students pulled out glow sticks for a dance party hosted by DJ Drowsy.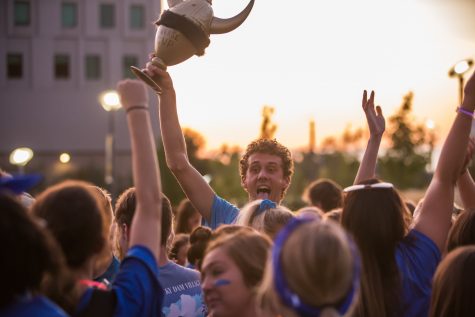 Political science major and Theta Phi Alpha president Michele Adams said the social aspect of The Big Event was ideal for NKU's community. 
"A lot of people were talking to people who they wouldn't normally talk to or getting to reconnect with people they hadn't seen for a while," said Adams. 
Blouin wants The Big Event to become an annual gathering to draw in students new and old. 
"The title might change, but the goal is that we're going to do something on this scale every year," Blouin said. "Our thought process as we were creating this is that we want this to be a tradition for the future, and be something even bigger than what was before."
Adams said she liked how much everyone enjoyed socializing at the event.
"The Big Event was a lot. It made me tired. But it was fun seeing all the different bands and having that nice little break in between the games," said Adams. "It was really cool seeing not just Greek life come together, but having the athletics, leadership organizations and everyone else."
Patrick Hirsch contributed to this report.