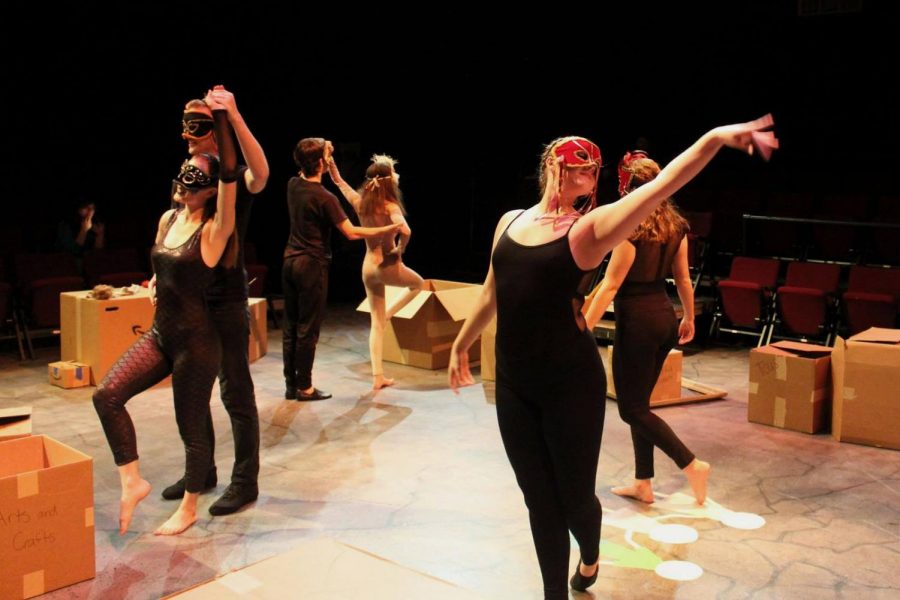 First-years showcased in 'The Secret in the Wings'
SOTA show plays in Stauss Theatre Nov. 9-11
November 8, 2018
The first-year show: an NKU tradition that has endured since the early 2000s, a time where freshman and first-year theatre students can get their feet wet and experience what it's like to perform on an NKU stage. For some, it's a chance for them to get their names out there on campus and in the community: their big break.
This year, the show is titled "The Secret in The Wings," which follows a young girl named Heidi who is left in the care of her anything but normal next door neighbor. The neighbor brings several fairytales to life in the family basement for Heidi. The show moves from fairytale to fairytale, as they all merge together. This is definitely a show that will leave the audience smiling and laughing as they leave the theatre.
"I think this will be a very thought-provoking show," cast member Erin Caudill said. "Since there isn't a clear point to the show, it gives the audience leighway to interpret it as they want."
Audience members will be taken on a journey and will be experience the brink of the imagination. Another member of the cast, Mae Miller, said the show will expand the audience's perspective on reality.  
"I think that the audience will appreciate the show because it will allow them to leave reality behind for a little bit, and be carried away with the fantasy of the show." Miller said.
Everyone involved in the show is super excited for the performances and for people to get to see everything they have been working on for the past couple months.
"I am really excited for the audience to see all of the hard work all of us first year theatre students has put in, and all the talent that the cast and crew has," Caudill said.  
This is definitely a show you will not want to miss. It will be showing Nov. 9-11 in the Stauss Theatre. Support your fellow NKU students, get your tickets here and get ready to go on a journey through your imagination!