Henry theatre brings the time warp back again
Can't shake the Halloween spirit? You can dress in costume and see a quirky Halloween classic live tonight.
November 3, 2018
After a one year hiatus, "The Rocky Horror Picture Show" returns to NKU on Nov. 3 as a fundraiser for the Henry Konstantinow Theatre, which hosts the School of the Arts' student-directed shows. This will be the third time in the studio's history that the cult-classic play is produced, directed and performed in "The Henry."
Located in Fine Arts 118, The Henry is where students produce, direct, write and perform both classic and original plays. "Rocky Horror" is the big fundraiser of the year that helps support the Henry and enables all other shows put on by the Henry to be free.
The show is especially popular around Halloween because people are encouraged to dress up when they attend the live performance. Those who haven't seen a live showing of "Rocky Horror" are known as "Rocky virgins" and will enjoy an initiation just for them. But be warned: for audience members who want to avoid cast interaction during the show, don't sit in the first four rows.
Matthew Schutte, a junior in the theater department and director of "Rocky Horror," said the performance lives on in spite of the show's tacky, kitschy source material.
"It's that sense of community that, yes, we all recognize that this movie is kind of bad," Schutte said. "But it's being a part of something."
For audience members with children, the 7:30 p.m. showing will be tamer and more family-friendly. To get the PG-13 experience, attend the 10:30 p.m. showing.
"It's coming together and being wildly inappropriate and having a good time and a good night,"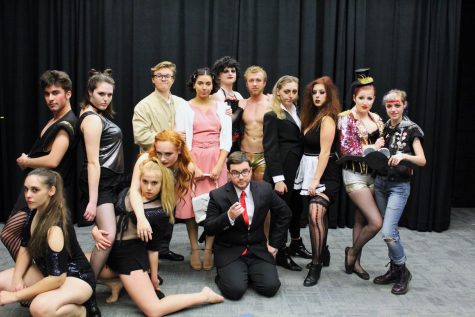 Schutte said.
Almost all of the budget went to paying for the rights to the show, so don't expect high production value. Schutte said there are a lot of "self-aware jokes to offset the big set pieces."
"One of my favorite parts of directing 'Rocky' is the ability to put gags into it and the little jokes," Schutte said.
Schutte believes this is the first time a student-produced and directed show has been performed in the Corbett Theatre. It's also the first time a Henry-size show has been in the Corbett. In the past, they've sold out every showing of "Rocky Horror" and only had about 150 seats. They hope to sell out twice as many seats now that they're in the Corbett.
The Henry, originally called Studio 304, was founded 10 years ago by students and faculty member Brian Robertson. Henry Konstantinow was in his 50s or 60s when he came to NKU to finish his degree as a theater student. According to Schutte, when Konstantinow left, he donated a lot of money to Studio 304 which then was renamed in his honor.
Schutte said that The Henry is for "anyone who wants to create, can create; anyone who wants to see art, can see art." Any student can get involved if they have an idea for a show, want to present their own work or perform.
The Henry presents around six shows per season and aims to perform one original student show. There are two more shows after "Rocky Horror" for the season and five shows next season.
"Rocky Horror" will be performed at 7:30 p.m. and 10:30 p.m. tonight in the Corbett Theatre. Tickets are $7 at the door.
The group is on Snapchat, Instagram and Twitter @insidethehenry and on Facebook @thehenrykonstantinow. To get involved, message them on Facebook.