Big Fish: Musical makes a splash in Corbett
September 21, 2018
"Big Fish," NKU's new production opening late September at the Corbett Theater, is truly the catch of the day. This musical, using catchy melodies and relatable characters, gives its audience two stories for the price of one.
In present-day reality, Will Bloom, a soon-to-be-father, visits his childhood home, attempting to mend a deteriorated relationship with his own dying father named Edward, whom Will regards as a stranger due to Edward's penchant for tall tales and avoidance of realism when it comes to his mysterious past.
Throughout the story, the narrative frequently shifts to the storybook past as a teenaged Edward is tasked with a whimsical adventure to save his hometown from destruction, encountering a witch, a giant and true love on his fantastical journey. These two stories, separated by time and reality, soon converge as Will begins to not only understand more about who his father really is, but also about being a parent himself.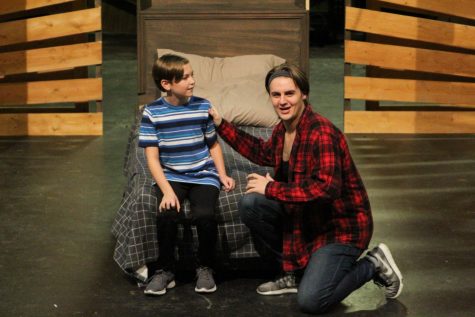 By blending these two stories together, "Big Fish" satisfies the audience's desire for a daring fantasy while simultaneously painting a realistic depiction of a family struggling to reconnect on borrowed time.
"Big Fish" is a family show that everyone can connect with on a fundamental level. Collin Newton, who plays the role of Edward Bloom, explained his own perspective.
"My character, just like everyone, wants his life to mean something," Newton said.
Bloom is a creative mind who finds adventure in the simplest of situations, and through this story, people are taught how to discover that same sort of fantasy in reality.
"People can relate to worrying about family all the time," Adria Whitfill, portraying Sandra Bloom said.
The play, while partially an adventure, also details a hard situation that every family has undergone in some fashion.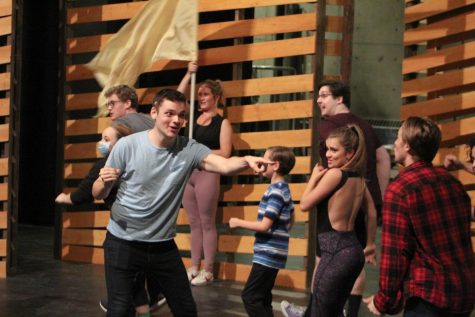 The musical is inspired by the motion picture of the same name, but NKU's own adaptation personally shines for its intimate portrayal that directly brings the audience into the fantasy. The set, generally composed of fabric and shadow, is expertly manipulated throughout the show, allowing the storytelling to always be at the forefront while also concurrently evolving with the plot as it weaves in between fantasy and reality.
Director Jamey Strawn is exceptionally proud of this fall production.
"It's an entertaining, beautiful story with a wonderful cast," Strawn said.
On top of being a brilliant show, Strawn believes something greater can be taken from the story.
"'Big Fish' tells us to do some soul-searching and to look for healing," he said. "It shows us how to release anger and learn to respect our elders…there's also this idea of dreaming bigger."
The production runs Sept. 27 – Oct. 7 at the Corbett Theater. Tickets can be purchased through the NKU box office or online at the NKU website.