Pixar designer breathes life into "Coco" in Digitorium
November 8, 2017
Young musician Miguel and his skeleton friend Hector danced across Griffin Hall's Digitorium screen. The duo serenaded inhabitants of the Land of the Dead, a vibrant and colorful world populated by singing and dancing skeletons, as well as an audience of NKU media students.
Christian Hoffman, character supervisor at Pixar, shared film clips and concept art for the studio's latest animated feature "Coco" in the Digitorium on Tuesday.
"Coco" tells the story of a young musician named Miguel who is transported to the Land of the Dead after stealing an enchanted guitar.
Inspired by the Mexican celebration of Dia de los Muertos, or Day of the Dead, the Pixar team spent months researching and visiting Mexico to learn more about the customs and traditions. Hoffman said several cultural consultants also worked with Pixar on the film.
"For 'Coco,' there was an extra importance on research because they wanted to make sure that they were being true to Mexican culture and that they were being authentic."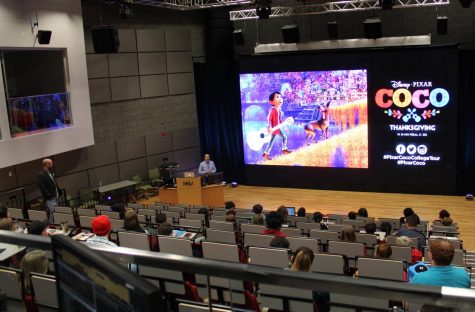 Hoffman said when it comes to character design, small details sometimes can make or break a character's authenticity. For character Abuelita, one such detail was switching her heeled shoe for a Mexican chancala.
"We saw that chancalas have this whole background, that it's something that people use as a threat. They take it off and threaten people with it, they use it as a tool to hammer, and so the fact that there's this whole subtext behind what chancalas are made the transition a little easier and made it an important change."
Hoffman outlined some of the challenges that come with building and animating characters. For instance, Miguel's canine companion, Dante, is a hairless Xolol dog with a goofy smile and long, flapping tongue.
During the presentation, Hoffman showed renderings and test animations of Dante reacting with his tongue in numerous silly ways.
"The director, Lee Unkrich, he was talking about how he wanted to treat this dog's tongue, it's really a big part of the humor of his character."
After graduating Carnegie Mellon University in 1996, Hoffman got his start in Pixar's interactive department. When that department closed, he was chosen to stayed and work on the animation team for "A Bug's Life."
Hoffman recalled digitally articulating the framework, or "rigging," the hands and feet for Heimlich, the hungry caterpillar.
"At the time that I was hired, you had to write code to rig the characters. We had a custom language we had to use."
Hoffman later worked on "Monsters, Inc.," "The Incredibles" and "Toy Story 2." He also worked as a character supervisor for "Monsters University."
He said one of his favorite characters he ever designed is Hector from "Coco," whose clumsy and humorous movements include dancing around with his head flying off his shoulders.
"He's this skeleton who's sort of down on his luck, he's being forgotten, so his clothes are tattered. He's got a broken rib cage, one of the bones on his leg is fractured and bandaged, he's got this really cool tattered straw hat and his hair is poking through the holes in the hat. We really threw the kitchen sink at this guy."
Hoffman said Pixar's newest film is unlike any other the company has produced.
"For this film, one of the reasons I was excited to get on it was we had this whole Land of the Dead to explore, to find out what a Pixar skeleton is. For me, it's almost like you're an explorer and you're going into this world to try and figure out what this thing is," Hoffman said.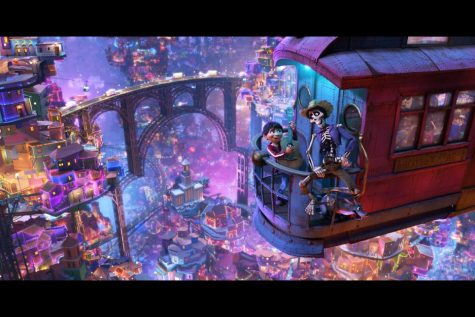 Hoffman suggested students interested in animation should specialize in one area of animation because studios like Pixar are increasingly looking for focused talent.
"For the most part, we like people to be really, really strong at one thing, and if they've got a minor in one of the other aspects, that's a great thing because it gives them an opportunity to learn."
Senior media informatics and EMB major James Meader said he appreciated Hoffman explaining how the animation process works at a large company.
"There was a lot of insight into how to get into modeling and animation at a big company like Pixar. The whole thing was eye-opening," Meader said.
Senior computer information technology major Zachary Hughes said he was impressed not only with the Pixar team's research for the film, but also the amount of work it took add vibrancy to its character design.
"It's really colorful, it's an interesting premise. I have high hopes for it. As someone who does not know much about Mexican culture, it will be interesting to see."
Disney/Pixar's "Coco" arrives in theaters on Nov. 22.