Ana England's 'Kinship' sculpts curiosity from ceramics
September 30, 2017
Ana England, a former NKU professor and acclaimed ceramics artist, is the subject of a solo exhibition at the Cincinnati Art Museum featuring pieces that span across 20 years. Primarily large, ceramic-based sculptures, her body of work melds elements of metal and wood together, scattering them throughout.
After viewing her work, she hopes audiences leave with an expanded idea of her exhibit's namesake: Ana England: Kinship.  
England led the ceramics program at NKU throughout three decades and is married to current NKU Sculpture Director Steven Finkie. She was granted emeritus status–an honorary standing that indicates a successful teaching career–In 2016 after retiring from the university.
Cincinnati Art Museum Curator Amy Dehan noted that England's work didn't stop after retirement. The two met through a raku pottery demonstration that England hosted at NKU alongside the American Ceramics Circle.
Raku is a Japanese style of pottery loved for its unpredictable outcomes; the piece is fired at a low temperature then put into a container with combustible materials, like sawdust or paper. From there, unique impressions and colors ignite on the surface of the piece due to the heat. Dehan was impressed by England, and the two have kept in touch ever since.
England's Night Sky Spiral II consists of numerous black ceramic disks with white raku embellishment and is arranged in a swirling s-like wave on the wall, alluding to the spiraling of galaxies. The piece was commissioned by the museum back in 2003 to hang permanently in the cafe. The cathartic style of raku reflects the nature of the universe in events like supernovas, earthquakes, or volcanic eruptions.
A year ago, Dehan says the two began to discuss putting on the Kinship exhibit. England then created two new works to tie her show together.
According to Dehan, England is a joy to work with because of her discipline, attention to craft and drive that manifests itself in creative goals.
The earliest piece in the collection, Spatially Expanded, was made in 1995 when England was trying to understand Einstein's theory of general relativity. It consists of three large disks of bowl-like plywood, bisecting ceramic globes.
During the creative process, she was met with more questions. She wants others to question their worldly experiences as well.  
"Look. Observe. Keep an open mind," England said. "I want people to be where they are and to look around and to see the cloud, or see that caterpillar over there crawling and wonder what it is."
This relationship between observation and curiosity continues throughout her work, along with the thread of "kinship".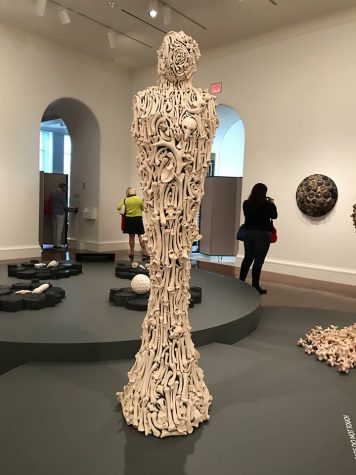 "I think that sometimes humans feel we are separate from nature," she cautioned, "But we aren't, and if we continue thinking that way, we do so at our own peril.
The vein of familiarity or a larger sense of family is exemplified in England's See, 2013, a ceramic half-sphere with eyes from many species peering through hexagonal honeycombs. In Self-Portrait With Ancestors, 1998, she shares her sense of unity with all living things, through assembling a massive humanoid figure composed of many different animal bones fashioned from porcelain.
Her work is technically sophisticated but maintains a sense of simplicity. England plays with macro vs. micro scale, juxtaposing different elements of nature against each other.
For example, she compares macro hurricane radar patterns to micro thumbprints in Shared Identity, 2016, and when looking side by side they appear more similar than different. She hopes this message of shared identity seeps into the hearts of audiences.
"['Kinship' is] not just the people who are related to us, or part of our tribe, or part of our religion," England explained, "But all the beings of the earth share kinship with each other.  I'm hoping if we understand that kinship, that we will respect each other more, that we won't be afraid of each other and that we will be kinder."
The exhibit opened on Sept. 8 and will be on display until March 4, courtesy of the Cincinnati Art Museum.