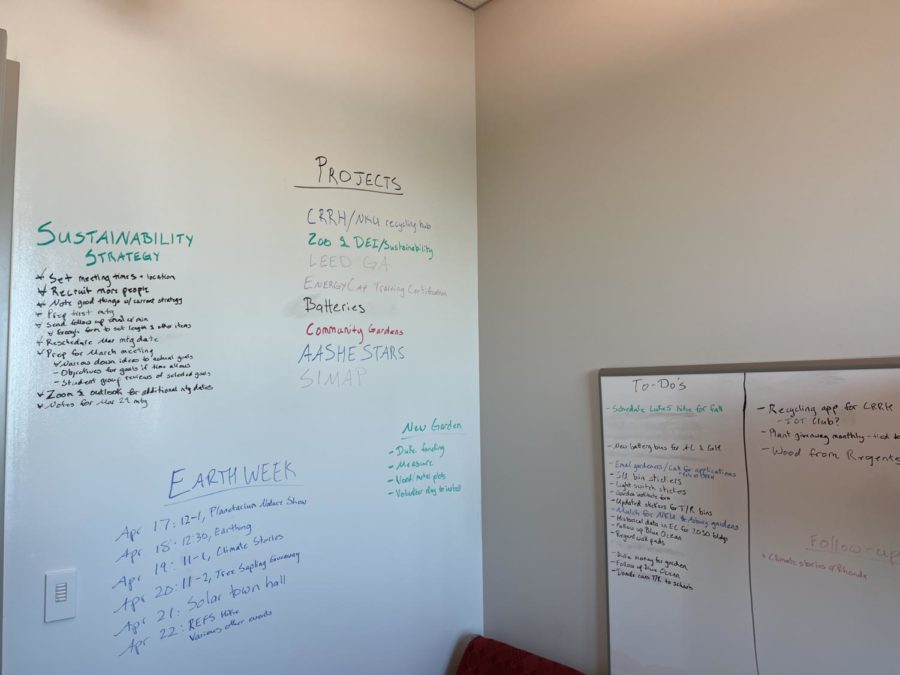 The state of sustainability on campus
April 30, 2023
When it comes to sustainability, NKU is doing something right.
NKU was named one of 455 Green Colleges by The Princeton Review in March. The Princeton Review is a resource for prospective higher education students and families to aid in decision-making during application and admissions processes as they select a higher-education institution and career path. Their "Review Guide to Green Colleges" compiled a list of schools worldwide that demonstrate strong sustainability practices and education initiatives by crunching data gathered from school-provided reports and student surveys. 
Criterias considered were quality of student life on campus, presence of environmentally conscious practices and programs, and student preparedness for employment in an economy and workforce being shaped by changing climate norms and social views.
Tiffany Budd, NKU's sustainability operations coordinator, completes a yearly institutional report on NKU's sustainability measures. Budd discusses sustainability undertakings like LEED buildings on campus—a rating system for the environmental friendliness of structures—education and academic opportunity in sustainability, and student-faculty environmental engagement groups in the report. 
Environmental considerations are increasingly important in the psyches of younger generations. A 2022 poll by The Princeton Review found that 77% of inbound college students agree that information about a university's commitment to the environment would affect their decisions in applying and attending a school. 
Budd's two current student interns in the Office of Sustainability, seniors Maria Osbourn and Shivani Patel, said a school's green efforts weren't on their mind when they were incoming freshmen looking for a school. Both agreed that sustainability would be an important factor if they apply for graduate school, however, illustrating the growing space sustainability occupies in the young generation's minds. 
Budget constraints have posed some obstacles for the NKU's sustainability strategies. Budd currently operates as the sole officer of sustainability, which she hopes to morph into a team in the future—a hope that the downsized budget will delay for the foreseeable future, she said. 
Budd's interns help her shoulder some of the workload, collecting and analyzing emissions and occupant safety data for reports and designing communication campaigns about sustainability strategy on campus.
Some sustainability initiatives, like energy efficiency attained by intentional usage of lights, heating and cooling, could actually be a money-saver, according to Kristine Hopfensperger, professor of environmental science and co-founding member of the Sustainability Engagement and Action Group (SEAG)
SEAG plays a key role in spreading awareness and educating the community about sustainability movements. SEAG is collaborating with the Office of Sustainability on the AASHE STARS report to gather a comprehensive baseline on NKU's strengths and weaknesses as a sustainable institution, which will be used to guide future strategies.  
According to Budd, the university is filing information on four of the report's five credit categories: Academics, Engagement, Operations, and Planning and Administration. The group started chipping away at the comprehensive report last spring, and Budd hopes to finish it this summer or early in the fall semester. 
Earth Week, which took place April 17-22, was a chance for the Office of Sustainability to turn heads to environmental focuses on campus, and to enthuse the community about the possibilities of a sustainable campus. 
"Sustainability is for everybody. And that everyone can do it in some way, and that we don't need to be perfect at it to make a difference. You just have to do something," Osbourn said. 
A bevy of events throughout the week provided spaces for people to connect with nature and learn about ways to tailor benign relationships between humans and earth. 
SEAG held an environmental storytelling event for Earth Week that encouraged community members to share personal narratives that depict their relationship or experiences with nature and climate. Events like these are designed to amplify sentiments people hold about the planet to inspire a foothold for sustainability advocacy and awareness, Budd said. 
Other events included a tree sapling giveaway, meditations and movie screenings. 
"Maybe they'll talk about it with other people and then other people will get interested in sustainability, and they'll check out the website and the learn stuff from the website and they'll reach out to me and we'll collaborate on projects, you know, so it kind of helps spread that awareness and produce future collaborations," Budd said of Earth Week's programming.
Pollinator-nourishing and contaminant-filtering rain gardens and bioswales, as well as an assemblage of 15 electric vehicle charging stations are some recent initiatives that elevated NKU to recognition as a Green College and that NKU's environmentally conscious entities hope to add to moving forward. 
Next in line for SEAG is a rewilding project that would restore natural habitat to vacant lawn space around campus. Budd hopes to survey land on campus to identify suitable plots to revert into natural space, pending university approval. Rewilding habitats adds food sources and shelter for pollinators and birds, sequesters carbon and reduces emissions from lawn mowing and human maintenance, according to Budd. 
"Action is what we really need now. Right?" Budd said.