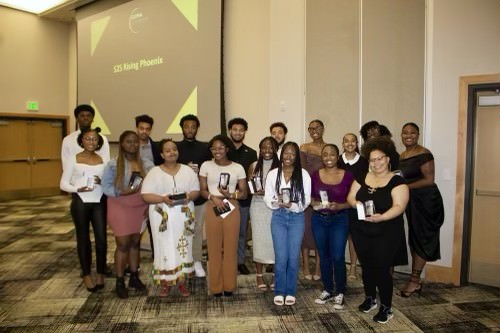 UJIMA: A celebration of "The Power of Us" in the African American community
April 7, 2023
The evening of April 5 was one filled with celebration as over 60 students, faculty and staff from NKU's African American community were honored at this year's Ujima ceremony. 
Ujima, meaning "collective work and responsibility," is the name given to the Black Faculty and Staff Association and the African American Student Initiatives' collaborative annual award ceremony, which recognizes excelling black students, faculty and staff. 
This year's theme, "The Power of Us," centered around the significance of togetherness in defining the success of the community.
SGA President-elect Isaiah Phillips commented on the evening and its importance to the African American community at NKU. "It increases that sense of hope," Phillips said. "Ujima highlights all the black excellence here and shines a light on a whole group of underrepresented people on this campus."
Emphasis was placed on the celebration of the power within young students who work diligently to succeed and represent the community. 
Many esteemed members of the NKU community were in attendance, including Interim President Bonita Brown, Board of Regents member Andrá R. Ward and Vice President of Student Affairs Eddie Howard.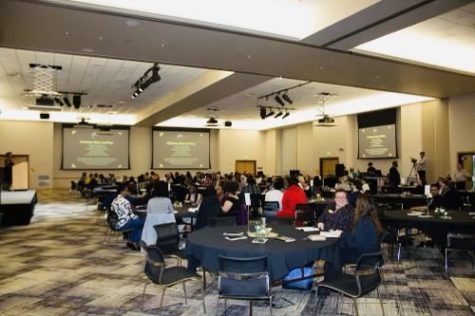 Over 100 guests were in attendance including representatives from various campus departments including University Housing and International Student Scholars and Services. 
Keynote speaker of the night and Chief Diversity, Equity and Inclusion Officer of NKU Darryl A. Peal inspired the crowd on the need for self agency and the importance of guarding it.
"It's that power within you that says, 'I will reach my goals, I will be in control of my life, I believe in my capacity and I will get through it,'" Peal stated.
Peal highlighted the effect of recognition and why ceremonies like Ujima are so important. "Because oftentimes, really brilliant, talented students of color aren't always recognized for their accomplishments, and it's even more important to be recognized by your own community," Peal expressed.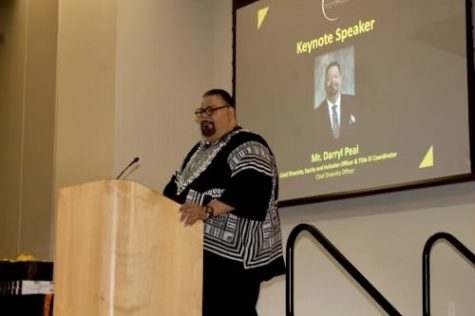 Following a catered dinner and a session of joyful mingling, awards highlighting academic excellence, community impact and outstanding performance were distributed.  
Winners were celebrated for their prestigious achievements and efforts, with the likes of NKU R.O.C.K.S receiving the Black Student Organization of the Year award, Director of AASI Greg Moore receiving the Outstanding Black Student Organization Advisor of the Year award and Residence Hall Association President Mohamed Omar receiving the NPHC Greek Man of the Year award.
"If in fact we don't do this, we don't take the time to applaud the students, the faculty, the staff and their sacrifice, it can get very lonely. Evenings like tonight give you an opportunity for the camaraderie, friendship and kinship with people you actually work with, and that doesn't happen for us everyday," Peal said.
As the academic year comes to a close, more award ceremonies will take to the stage but the inspiring theme of "The Power of Us" will continue to encourage the African American community to strive for excellence even beyond Ujima. 
Sara Aikman, interim assistant vice president for Engagement and Inclusiveness, noted her admiration for the African American community and nights like Ujima. "We have a lot of great students being honored here tonight and I would love to see a variety of student leaders from other student organizations attend and see what our African American student organizations really do."