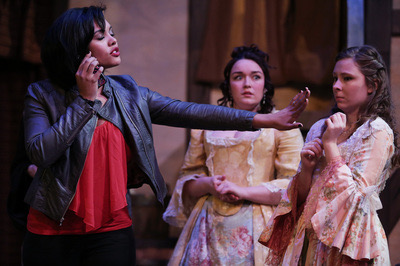 NKU alumni Miki Abraham lands role on Broadway
March 22, 2023
Miki Abraham, a 2015 BFA acting graduate, made her first Broadway debut on March 13. In the show "Shucked," Abraham is a swing for the lead role Lulu as well as the entire ensemble. 
Abraham has been involved with two national tours, cruise lines and regional theatres leading up to this point. While learning most of her skills through peers and practice, Abraham credits two professors who have left an incredible impact on her to this day. Corrie Danieley and Mike King, both associate professors of theatre performance, instructed Abraham during her time at NKU.
Danieley taught Abraham in multiple different classes such as Acting Two, Alexander Technique and Shakespeare Technique. These classes teach actors how to be present, mindful and authentic with the moment. Danieley describes the Shakespeare class as specifically challenging and recalls Abraham's strong grasp on Shakespearan acting.
"If you can handle Shakespear's text, you can handle any kind of acting that comes your way. I remember she gave some very strong, powerful performances in that class," Danieley said.
Abraham said Danieley was instrumental to her acting education. She talked about how it was rare to have a woman as a professor, saying they instantly connected and made it a goal to work together in multiple classes. This bond allowed Abraham to home in on her skills of quickly switching from role to role.
Abraham's last show was "The Divine Visitor", directed by Professor King. She was the lead character who travels back in time to a town from the 1600s. The lives of all the characters are changed based on this situation. The final role of the divine visitor was a "bucket list role" for Abraham.
King described how Abraham was terrific in this production and did not need a lot of guidance because she was naturally gifted.
King will be retiring at the end of the semester after 36 years at NKU. Abraham is his first student to be on Broadway.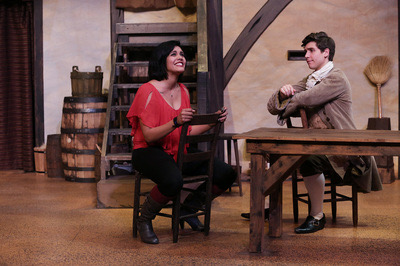 "I will miss working with students on a daily basis. Miki is a shining example of the kind of wonderful students we get at NKU," King said.
Almost eight years later, Abraham's Broadway debut has finally happened. The skills she learned at NKU are helping her find success in a swing role, which is a member of the cast who acts as an understudy for multiple roles. Abraham is responsible for covering five roles in case a crew member is absent. 
"NKU set me up in a place being comfortable creating my own art, that is something I am very thankful for. Having space to work on, community of people I am a part of, and a lot of us are in New York City. I am thankful for my time there," Abraham said.
The show opens April 4 with previews happening now. Directed by Jack O'Brian, and written by Brandy Clark and Shane Mclaney, "Shucked" is full of incredibly talented individuals.
"It is a cute heartfelt story of people set in their ways coming out of their bubble. People different  than you are still worthy of love… they are purposefully not telling the public what it is about. It is a secret and you have to come see it," Abraham said.