Fort Thomas Coffee embraces community through creativity and connection
March 19, 2023
Fort Thomas Coffee's mission and purpose is to embrace and foster a community environment.  Fort Thomas Coffee was founded by the Valentine family in 2012 and sold to the Smalley family in 2019. The Smalleys turned the shop into present-day FTC: Fort Thomas Coffee, Fort Thomas Connect (business center) and Fort Thomas Citadel (cocktail bar) which continues to foster the shop's original vision. Christine Smalley said "the Valentines did intentionally say that the next owners need to grow this space for the community," so that's what the Smalleys are doing.

The Smalley's mission statement for FTC is to "embrace community, to offer connection and belonging that inspires creativity and purpose through genuine service and hospitality." Christine said that FTC "wants people to walk in and feel like they belong, like it's their spot," as a community-centered place to come. She said that she believes "there is such beauty in doing things in the context of community."
Christine said that FTC tries to create a feeling of "hanging out in the living room and everyone is at home together where everyone belongs." This sentiment can be actively seen through the amount of community engagement that happens around FTC. 
Julia Lewis, the coffee bar manager, said community interaction is apparent at FTC through book clubs, veterans' clubs, friend meet-ups and many other community aspects. Lewis said FTC "is a sweet experience with the customers as well as the coworkers. We all kind of feel like a family, a community." 
Creativity has also played a huge part in not only FTC's founding and growing but also through the type of community interactions it fosters. Christine said that many times belonging "happens through building community and through making connections." She said that when we find purpose within the community context "we discover our uniqueness in a diverse community." She said she wants her team to understand that "every person who walks through the door is worthy of respect because they are highly valued."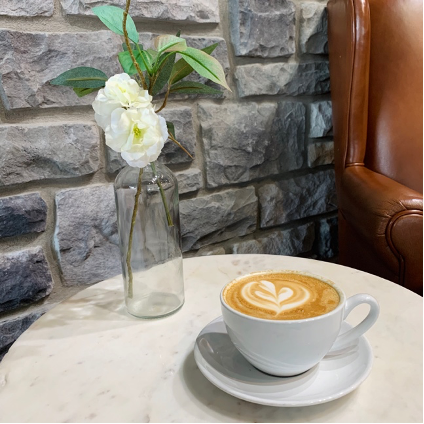 FTC uses coffee beans from both Deeper Roots and Seven Hills Coffee roasting companies, which carry on the tradition from when the Valentines owned the shop. Lewis talked about the drink variety at FTC, such as fun seasonal drinks, frappes, lattes, smoothies, alcoholic beverages and more. Christine recommends first-time visitors try their signature Honey Vanilla Cinnamon Latte, which combines the traditionally endearing ingredients of vanilla, cinnamon and honey to provide a new spin on coffee.
Christine also recommends visitors try the FTC Old Fashioned Cocktail at the Citadel Cocktail Bar, which provides a unique experience for consumers. This cocktail combines EJ Curley Bourbon with crushed orange and cherries over an ice ball. Customers can also order this drink smoked and can choose the type of wood used to give distinctly different flavors to the FTC Classic cocktail. EJ Curley Bourbon is used for taste as well as historical value because the distillery was founded the same year as Fort Thomas was.
The cocktail bar's name, Citadel, was inspired by the word meaning "tower on high land." FTC is located at the top of Highland Avenue in a building that was designed with a visual tower appeal. The name Citadel is also a nod to Fort Thomas's iconic Tower Park, which has been a huge part of the Fort Thomas community over the years. The town was originally referred to as The Highlands until a 1914 property-owner vote renamed it Fort Thomas for the original army post now enjoyed as Tower Park.
FTC's Connect Business Center also offers a variety of options for connection through rental rooms for meetings or a quiet study space. These rooms are equipped with a printer, copier and scanner, complimentary use of office supplies, drip coffee and snacks. 
FTC reaches to embrace community and fosters an environment of  belonging through the creation of spaces that encourage community interaction.
For more information on Fort Thomas Coffee, visit https://www.restaurantji.com/ky/fort-thomas/fort-thomas-coffee-/.