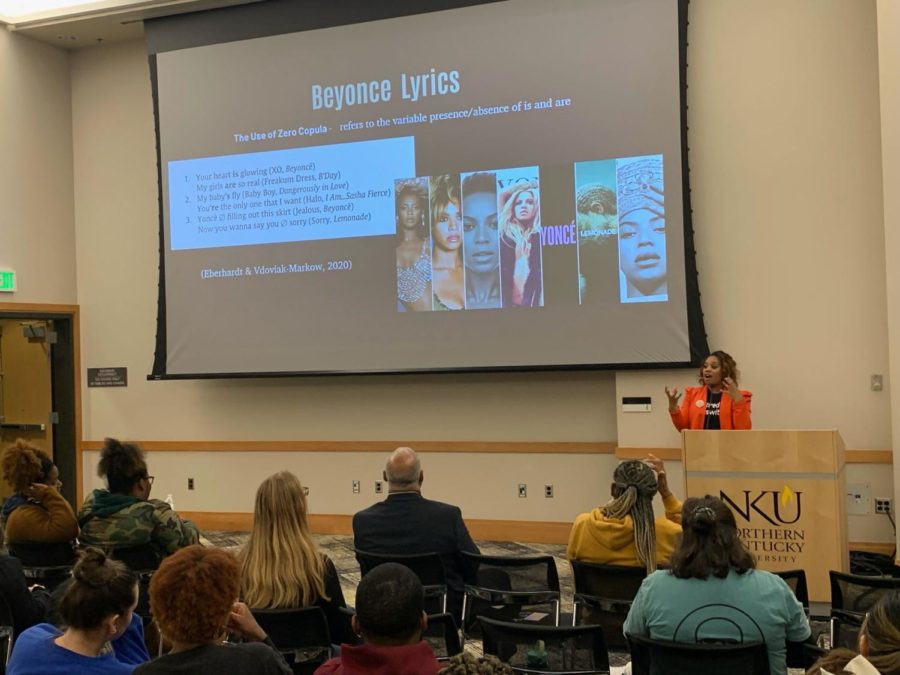 We Talk Right: A discussion of African American English, identity and progress
March 1, 2023
To conclude NKU's month-long celebration of Black History Month, the office of African American Student Initiatives hosted "Talking Black in America with Lauren Prather." 
The event, which took place on the evening of Feb. 28, included a screening of "Talking Black in America," a documentary made by the Language and Life Project at NC State University, followed by a short lecture about African American English and discussion about how African American students and staff have been affected by race and language.
The Office of African American Student Initiatives—located in the Center for Student Inclusivity—put on a multitude of events throughout February that highlighted both black history and the plights African American students face at predominantly white institutions. Last night's "Talking Black in America with Lauren Prather" discussed the racial discrimination many members of the African diaspora experience related to speech. "African American dialect is the most controversial English," Prather said when describing social and institutional criticism of African American English in relation to other forms of English.
The documentary "Talking Black in America" explored how African American English contains more cadence, tone and rhythm than other forms of English. Many African American communities speak solely A.A.E.
"In order for African Americans to gain access to 'white' spaces they are forced to 'code-switch' or speak 'traditional' American English in order to be considered intelligent," Prather said when describing how African Americans are forced to conform in order to be taken seriously.  The documentary also examined how African American English is accepted when used for entertainment and with the adoption and rebranding of AAE as "Gen-Z" slang by young white people.
At the close of the event, Prather asked the audience how they plan to advocate for themselves as well as their peers when confronted with speech discrimination. Freshman Eddie Minniefield recalled being taken out of class at his predominantly white school for speaking "bad English." Minniefield's experience is not a singular occurrence but a reality for many African Americans.
This event showcased that African American English along with other minority English speakers do not speak badly, they just do not speak the way white Americans speak.