Lou Lou's Cafe at Spare-Time showcases American fare and community heart
March 1, 2023
Lou Lou's Cafe at Spare-Time is a family owned and operated restaurant and sweet shop by Joe, Lorri, Maddy and Collen Kim. Spare-Time, in Alexandria, Kentucky, carries on a legacy of the historic 1950s diner Spare-Time with a neon vintage sign, timeless American nostalgia and a community-centered purpose. Known for their eight-ounce burgers and classic aesthetic, the restaurant owners call the Alexandria dining favorite an "upscale gourmet diner," providing incredible food and a small town feel while giving back to the community.
Lou Lou's Cafe at Spare-Time officially opened in February 2020, breathing life back into the historic Spare-Time diner from 1954. Collen Kim said that his parents started Lou Lou's Cafe at Spare-Time because they had long dreamed of owning their own restaurant and each had over 30 years of experience. Collen said that they "always wanted to own their own place. What better place than the town we all grew up in?"
The name Lou Lou's Cafe at Spare-Time originated from Collen's childhood when he and his sister would call their mother "Lou Lou," and then paired it with the long-time name Spare-Time to keep it familiar and original.
Spare-Time diner has also been featured in a couple movies including "Carol" (2014) and "Fresh Horses" (1988).
Collen said that the diner's mission is to try "to supply the freshest food possible while also trying to stay very affordable and also give back to the community," which can be seen through the business's involvement in local disasters like flooding in Eastern Kentucky and tornado disasters in Western Kentucky through providing donated supplies to victims. 
Spare-Time also gives back to its community through providing full meals to the 150 county first responders including firemen, police officers and dispatch on Christmas Day, as well as providing 50% off food for military and first responders year-round.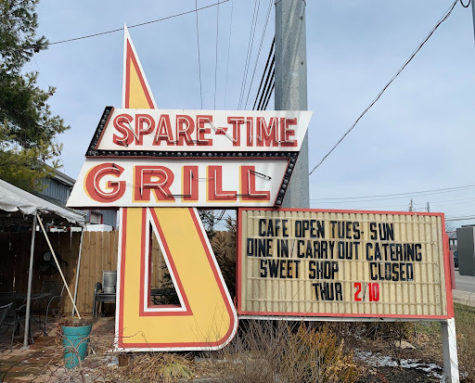 After overcoming the struggles of COVID-19, the restaurant was just able to open their sweet shop and bakery last year and their interior dining area this past November. Collen said that he is a "big proponent of trying to keep everything local" and recommended their signature burger: the "Bacon Whiskey Burger," which is an eight-ounce burger with caramelized onions, homemade barbecue sauce and Monterey jack cheese with a choice of side. Spare-Time offers daily specials as well as family meals on Thursday, Friday and Saturday as well as dine-in and takeout options. 
Lou Lou's Cafe at Spare-Time is located at 7807 Alexandria Pike, Alexandria, KY 41001. Spare-Time's menu, hours and any additional information can be accessed through their website, Facebook or by phone at 859-448-9800.