Brass Key Coffee fosters safe haven for community interaction
February 20, 2023
Tami Trunick said that her mission at Brass Key Coffee (BKC) is to serve God and serve people by offering customers a safe environment where they can "feel at home and have a good cup of coffee."   
Located seven-and-a-half miles from NKU's campus in Alexandria, Trunick opened Brass Key Coffee to become a local hub for students and other demographics. She named the coffee shop after the former community gathering place of the Brass Key Swim club, where the coffee shop now is located.   
The inspiration behind BKC, Trunick said, began with the idea of wanting a place for the community and the young folks, based on a sentiment from Trunick's children regarding the absence of a teen hangout in Alexandria. BKC officially started to take form in 2019 when the former 22-year P&G employee Trunick had a rough day at work. Trunick was tired of the company agendas and didn't feel right at the job anymore due to personal beliefs.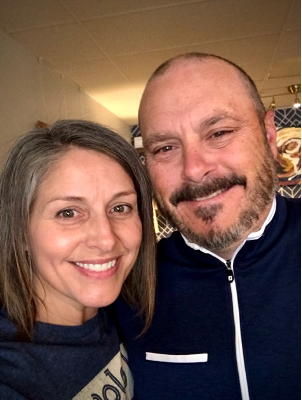 Trunick said that a defining moment of the creation process of BKC was when "someone put a little sign in front of me that said: 'all I need is a little bit of coffee and a whole lot of Jesus,'" and I just sat there and wondered why am I doing this [job] when I could actually be doing something that I could enjoy."
Trunick ended up calling her uncle, a property owner, and requesting a property space. Later on that year, Trunick took possession of a property and started revisions. In 2020, BKC was opened and established. 
The idea of BKC was rooted in Trunick's growing-up years when she said that "people would show up in the evenings or on the weekends, and my grandma-mom would always have food." She said it was all about people stopping over and hosting them well. 
BKC's missions and values were inspired and drawn from the House of Prayer in Wilmington, Ohio and Bad Ass Coffee in Santa Rosa. The House of Prayer was especially meaningful to Trunick, which she said was an old building where the walls were painted with chalkboard for people to write prayers on, and a coffee pot was in the back room for whoever wanted some.
Trunick designed the aesthetic elements of the coffee shop based on the idea that her grandparents, who survived the Great Depression, taught her. "If it's broke you should fix it and never throw anything away," and instead ask yourself the question, "How do you take something and breathe new life into it?" She said that these thoughts highly influenced how she decorated the coffee shop with vintage furniture and decorations. 
The aesthetic environment is also influenced by Trunick's favorite color navy blue and the idea of taking something that is ugly and making it beautiful. 
The owner is committed to serving the community and said she wants BKC to be a safe haven. She is determined that if BKC isn't helping the community, she will close the shop immediately.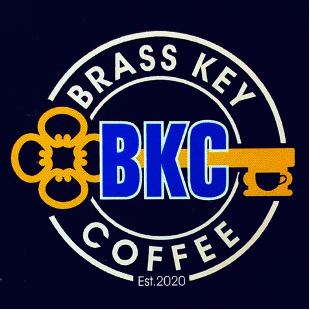 Trunick looks at Brass Key Coffee as serving much more than just coffee; she said their motive is personal connections and wanting individuals to know that they're not a customer, they're a guest in our place and we are somebody who cares about them. She said that she "want[s] to give them a place to come and feel at home and give them a good cup of coffee." 
Brass Key Coffee's website defines its purpose as "to bring community together, to have fun, create and build relationships, encourage folks, to help sustain farmers, their family and the workers, and to serve a really good cup of coffee" for anyone who walks in the door. 
BKC uses direct trade, responsibly-sourced beans and local coffee roasters for their coffee. Trunick said these procedures are a way for BKC to help sustain third-world nation farmers, their families and employees.