Emerging Choreographers' Showcase lights up Greaves Concert Hall
November 22, 2022
A packed Greaves Concert Hall was brought to life on Monday, Nov. 21 as NKU's Emerging Choreographers' Showcase captured the stage. 
Audiences were entranced by the 10 pieces that came to fruition through the ambitious minds of NKU students. Emerging Choreographers' Showcase (ECS) is all about letting passionate student dancers get a taste of performing and pulling off their own pieces in front of an audience. 
For senior English major Jess Shepherd, choreographing her own dance and watching other talented students perform it is a completely different ball game. 
"To give my choreography and my inspiration to my dancers and just seeing what they did with it was just so special to see on stage. It's just a very life-changing thing to see," Shepherd said.
Shepherd served as one of three artistic directors for the showcase in addition to being a choreographer. The senior said the artistic directors had been working since May to put together all the elements—advertising to students, putting pieces together, conducting auditions, holding tech day on Sunday and so much more behind-the-scenes work.
Sophomore audience members Jayden Clark and Emma Tupman praised the showcase and the time the dancers had dedicated to putting on such a wowing performance.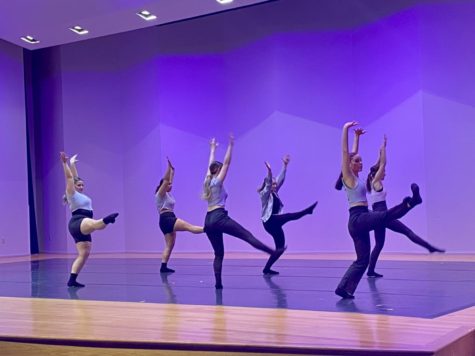 "It was amazing, I absolutely loved it. It's incredible having the time, especially during the semester. I couldn't even think of that," Tupman said of the dancers' preparation.
Aimi Matsui, senior Japanese international student, was one of 10 choreographers who breathed life into their dance inspirations and saw the completed product Monday night. Matsui's emotional piece "This is Me" told her story as an international student and expressed her journey of hardship to happiness.
"At the beginning of this year it was so tough for me because I had a language barrier and I didn't have any friends here so I felt so lonely. These days I've made many friends and I feel thankful for NKU and everyone I've met here. I wanted to convey my beautiful story to everyone," Matsui said about her inspiration for the dance piece. 
Matsui was the only international student to be a part of ECS, and while she says she struggled at times, seeing the final product was well worth it. 
"This is Me" was the final piece of the night, and by the conclusion many teary eyes could be spotted throughout the concert hall. A standing ovation was awarded to the performers and choreographers as they took their final bows. Getting to see every student group take their bows and be recognized by the audience was Shepherd's favorite moment of the night. 
After the conclusion of the show, Matsui said she had many friends—and many people she had never met before—express how much they loved her piece and how touching it was. Matsui said she wants to take this motivation to show other international students to try new things even if they're challenging.
"I just want to tell other international students, 'I did it,'" Matsui expressed. 
While Shepherd is looking forward to being able to breathe for a bit and do normal things—like taking a nap—she will hit the ground running with dance concerts in the spring. The English major looked toward the future and pointed out that the NKU dance community is for everyone—no matter what major or future path.
"[Dance] is for anyone who wants to be a part of something super special," Shepherd said.