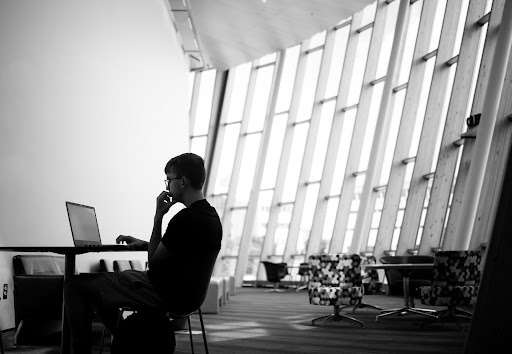 How managing a university's IT department can come with hidden adversity
November 14, 2022
NKU has a small IT team that is mostly student and alumni-led, but it has been tasked with keeping 10,000 plus students and faculty satisfied despite little manpower and financial burdens.
During the pandemic, students and professors migrated to a digital age of education, this we already know. IT departments across the globe faced a drastic workload with little to no acknowledgement. 
Keeping tens of thousands of students happy with online learning is a difficult task; however, NKU's IT team faced the challenge and managed to keep students mostly satisfied. The new challenge that beckons is recovering from that devastation and switching gears to maintain a hybrid learning environment.
"COVID really helped to shift to that digital age. People have a higher expectation for a hybrid environment," Mark Neikirk said, executive director of NKU's Scripps Howard Center for Civic Engagement. 
Neikirk helps the campus keep students engaged through social media and the department's website. This motivation for online engagement has increased the interactiveness with websites, which ultimately has increased the need for NKU's IT team.
NKU sees over 10,000 students on average and has an IT department that is almost entirely student and alumni led. 
"We have nine directors and associate directors, all of them were students,"  Jennifer Taylor said, the associate director for Special Projects in the Office of Information Technology.
Taylor claims that most of their staff is composed of students due to the immediate availability after having worked with the university in the past. With such a vast student demographic, it can be beneficial to have former or current students run the program since they have familiarity with the tools students have access to.
Although the IT department is mostly run by familiar faces, there are still several challenges the team has to overcome.
"Everyone hears about vulnerability," says Greg Thompson, director of IT Infrastructure.
According to Thompson one of the largest concerns for NKU is data security.
"My team is responsible for the back-end side of things that aren't so obvious," Thompson said.
"People don't wake up in the morning thinking 'Hey, how can I lose my social security today?'" said Bo Vyhkovanyuk, Chief Information Security Officer. Vyhkovanyuk worksclosely with Thompson to ensure the campus' online information is secure and is working to implement multi-factor authentication for students and faculty.
"You lock your car in a bad neighborhood, common sense kinds of things, people in the digital world are becoming more familiar with these things," Vyhkovanyuk said.
Keeping digital security intact is always difficult for any IT department, but it's especially true for a university with limited finances.
"We manage, finances are always going to be a problem, but we manage,"  Taylor said.
Anything from equipment, software or even employment can be taxing on any company managing technology, but a university like NKU is especially burdened having mostly temporary employees. 
It can be difficult to find students that are willing to make the commitment to extensive hours. According to Taylor, NKU reaches out to undisclosed local IT programs that assist with the workload when an issue is either out of their scope of ability or they have a lack of support.