Honoring individuals with Miss Krimson and Kreme scholarship pageant
November 14, 2022
Miss Krimson and Kreme, a scholarship pageant hosted by Kappa Alpha Psi Fraternity, Inc., will be taking the stage by storm on Friday, Nov. 18. 
Seven young women will be putting their best foot forward on Friday as contestants for Miss Krimson and Kreme. The women are all pining after a $1,000 scholarship which will be awarded to the winner.
Unlike many pageants students may have experienced or watched through Toddlers and Tiaras, Miss Krimson and Kreme is not based on beauty and instead hopes to highlight the intellect, personality and talent of the contestants, according to Daniel Myers, Vice Polemarch for Kappa Alpha Psi and coordinator of the pageant.
"I'm not trying to go up there and have girls just showing their bodies because that's not it. We really want to focus on showing their intellect as an individual, showing their talents, showing their personality, and really allowing them to just show everyone who they are," Myers said.
Miss Krimson and Kreme was started in 2014 by the PiPi chapter, but it has not taken the stage since 2019 because of the COVID-19 pandemic. The returning event hopes to gain traction with the campus community and features many aspects to engage the audience and give back to a campus resource. 
Before the kickoff of the pageant at 7 p.m., a networking event will take place in the SU ballroom at 5:30 p.m. Myers said there will be a few curated companies present to give students the opportunity to network. It will be up to attendees to decide how involved they want to be; there is no pressure to talk with the professionals, but he encourages students to come in business casual attire and take advantage of the opportunity. Attendees will also have the chance to partake in some food, enjoy the music and take in the scene before the pageant begins. 
Tickets are required to get into Miss Krimson and Kreme, which cost $10 pre-sale or $15 at the door. 20% of all ticket sales will be donated to FUEL NKU, a free food pantry for all NKU students. Myers said deciding to give the proceeds to FUEL was an easy choice based on the impact the resource has had on him and many other students. 
Pageant contestant and senior integrative studies major Talitha Edwards says she hopes to see as many people as possible turn out for the event. The girls have put extensive practice into their performances, gathering six hours a week as a group on top of individual preparations. 
"Outside of practice we have to prepare our talents and then of course find our outfits and dresses and then fundraise for sponsorships to help pay for the dresses and outfits," Edwards said.
The pageant will begin with an opening stroll and dance, and then proceed into four distinct rounds: introduction, talent, fashion, and question.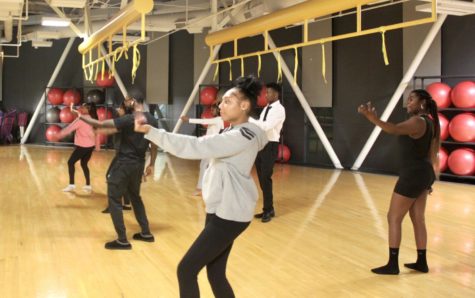 Tyana Rasberry, freshman criminal justice major, is participating in Miss Krimson and Kreme and pointed out the preparation that has gone into each round. 
"We've been practicing for well over a month now. We had to come up with the dance all on our own. We didn't have a bunch of choreographers, but it's what made it fun," Raspberry said.
The fashion round will be Harlem Renaissance-themed and the girls have all been able to choose their own outfits and put their unique spin on the concept. For Rasberry, having the freedom to choose her own outfit while also being able to learn more about the Harlem Renaissance period comes with much excitement.
Edwards hopes the campus community will come out to support Black organizations and the programming they are working to put on. Many of the bigger events on campus are typically hosted by Panhellenic Council or Interfraternity Council, Myers said, and this event is really shining a light on the Black community. 
"We're more than just the clothes we wear, the things we do, we're a culture," Myers said.
Rasberry said although the pageant is a competition that comes at pretty large stakes, she has been surrounded by other strong women who are motivating one another to do better.
Three past fraternity brothers and two previous winners of Miss Krimson and Kreme will make up the judges' panel, all of whom have no affiliation to the contestants and will make a non-biased determination of who will take home the $1,000 scholarship.
"Come see these young ladies who have been working and support them as they have put in this work," Myers said. "We're going to have good music, we're going to have good dancing, there's some food beforehand. Come through and have a good time."
Tickets can be purchased here for $10 pre-sale and will be available for $15 at the door. The networking event will begin at 5:30 p.m. in the SU ballroom, with the pageant to follow at 7 p.m.