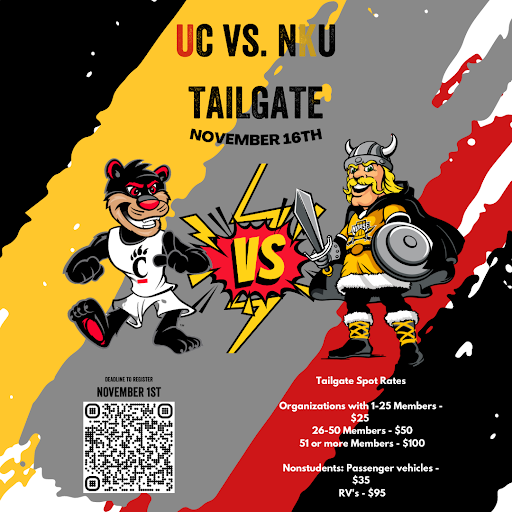 Center For Student Engagement looking to boost campus involvement
November 14, 2022
Following the COVID-19 pandemic where quarantining was so prominent, it appears that a lot of students never got the chance to learn how to interact on campus. 
Director of Student Engagement Brittany Jackson says the best way to support student engagement is to focus on the resocialization of students.
Most students tend to come to class and then go home, socializing mostly with close friends in a private setting. Fewer students get involved on campus by joining clubs and even fewer students get involved by becoming leaders at NKU. 
"Students are engaged on three levels: Participation level, Engagement level, and Leadership level, in that order," said Brandon Allen-Jolly, Assistant Director of Student Engagement.. 
Jackson suggests that the best way to get resocialized as a student post-pandemic is to go to everything. It is important to figure out what kind of events offered on campus you find entertaining. 
According to the Center for the Study of Student Life, students who are highly involved on campus are three times more likely to be considered by employers and 18% more career-ready than the students who are not engaged. 
Jackson and Allen-Jolly are working toward bettering the events planned this semester and next semester to attract the most students.
For instance, the carnival that took place on Oct. 4 was a crucial stepping stone for the department of Student Engagement. 
This event was rescheduled from 12 to 2 p.m., when most students are in class, to 4 to 7 p.m. to allow more students to join. Jackson recalled getting chills when a student came up to her and expressed how the time change allowed her to attend the event with her three friends. 
Both Jackson and Allen-Jolly have expressed how important it is to hear feedback from students. As Jackson said, "We don't know if you don't tell us!"
Jackson and Allen-Jolly noted how crucial it is to hear back from students about the pros and especially the cons of events. This way, the department can continue to produce the best events possible for students.
Coming up are the University of Cincinnati basketball tailgate on Nov. 16 and the Exam Jam on Dec. 7. 
The tailgate, outside of NKU's traditions, will be occurring from 4 to 6:30 p.m. before the game that day outside the soccer complex. Different organizations will be there with different activities from floor games—like giant chess—to grill outs. 
The Exam Jam will take place around finals as a de-stressor for students. There will be corn hole, a crafting table, a relaxation space, skating, floor games and more for students to enjoy after the stress of finals.