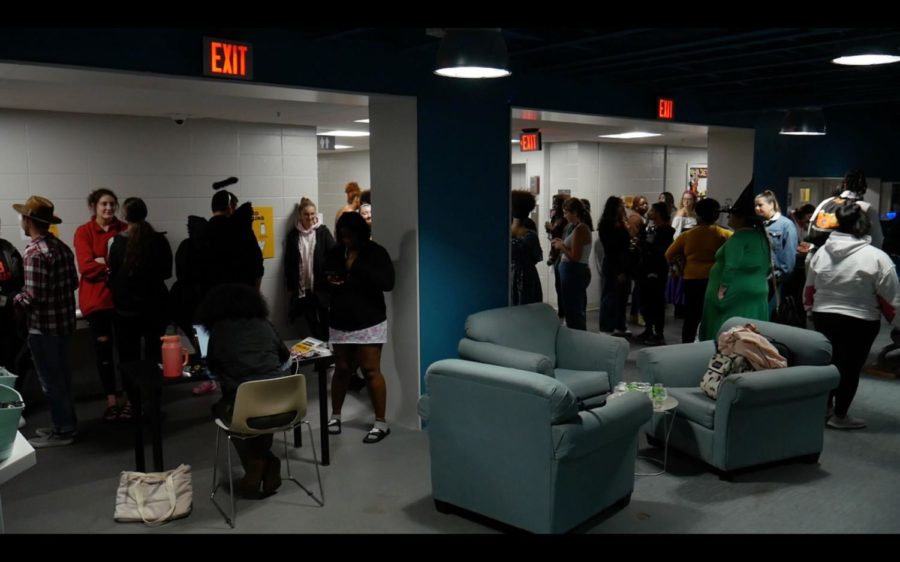 Community, collaboration and change: How this year's haunted house is influencing change on campus
November 1, 2022
The Resident Housing Association in collaboration with the Northern Kentucky Leadership Institute and Friends of Dorothy hosted a haunted house at Callahan Hall on Monday, Oct. 31. The leadership of RHA, Leadership Mentors, and Friends of Dorothy feel that this event and their collaboration could be the catalyst for change on campus.
Jimmy Renton, president of Friends of Dorothy, described the organization as a group of masc-aligning queer individuals who want to provide a safe space for masc-aligning and queer individuals and anyone who is exploring their gender identity while promoting greater unity. The haunted house event was made possible by programming funding from the three participating organizations, Friends of Dorothy helped fund the haunted house with their Victor E. Coins programming fund award.
"We were awarded $2,000 in programming funding, and we decided to use it to not only help queer individuals on campus but to encourage community between everyone on campus," Renton said.
In Friends of Dororthy's pursuit of reaching masc-aligning queer individuals on campus while encouraging community, they decided to host a Halloween event for the student body. Renton asked Tiffany Mayse, director of the Center for Student Engagement, about possible opportunities to throw a Halloween party. Mayse informed Renton that it was too late for Friends of Dorothy to put on their own event but there was an opportunity to collaborate with RHA and Leadership Mentors.
Friends of Dorothy jumped at the chance to collaborate and help on such short notice.
"As president I want Friends of Dorothy to get involved with other organizations, not only organizations focused on LGBTQIA+ issues. We want to promote leadership and advocacy. We have members who live on campus, and we want to show them that there are resources available for them outside of Friends of Dorothy," Renton stated when asked how they hope this event will impact Friends of Dorothy's members.
As a relatively new organization, Renton hopes that creating new partnerships with larger, more established organizations will help promote queer visibility on campus and build an education and support-based space for all. They described NKU as a relatively kind and accepting environment but named the vandalism of "The Rocky Horror Picture Show" rock in 2021 as evidence that some progress still needs to be made regarding the treatment of queer individuals on campus.
With Ray Archer and Quinn James, two founding members of Friends of Dorothy graduating in the winter, Renton hopes to build membership, host larger events and form more collaborations with other organizations as president to thank them for creating this safe space.
Renton is grateful for this collaboration with RHA and Leadership Mentors; they view their partnership and possible future partnerships as integral to the growth of their organization. Along with Renton, leaders of the Resident Housing Association and Leadership Mentors view the haunted house and their collaboration as a benefit to their respective organizations.
"Our collaborative goal is to provide students with the opportunity to celebrate Halloween and enjoy themselves even if they can't get off campus," president of the Resident Housing Association Mohamed Omar said about his main goal for the haunted house.
This collaboration initiated by the Center for Student Engagement is helping Omar fulfill his vision of what the Resident Housing Association can accomplish.
"Many student organizations have similar ideas but can't always fulfill their ideas by themselves. The Center for Student Engagement connects organizations a lot of the time so that these events can be executed successfully. We brought our idea to do a haunted house to Student Engagement and were informed that Leadership Mentors and Friends of Dorothy wanted to have similar events. After having a simple conversation, we decided to collaborate," Omar remarked.
The last few weeks have been filled with constant meetings between the three organizations to ensure the best possible execution of the haunted house.                                    
Omar feels that this haunted house can provide more positive attention for the Resident Housing Association. After RHA's movie night at the beginning of the semester, interest in the organization was heightened and Omar hopes that this event will do the same.
"I hope that this event sets the standard for RHA. We can have diverse programming, our programming doesn't have to be limited to just housing. We can have a plethora of events. We can have haunted houses, we can have forums, we do not have to be boxed in, we can be creative with our events. I hope that the haunted house lights the way for more events like it in the future," Omar explained.
Hanson Nguyen, vice president of Leadership Mentors, shares Omar's sentiment about hoping to continue collaborating for future events.
"I feel collaborating with other organizations brings different worlds together and allows us to meet students on campus from different communities. These events provide us with the opportunity to hear the different perspectives and needs of the student body in a way only these types of events can," Nguyen said.
Nguyen hopes that collaborative events will help Leadership Mentors attract a more diverse membership. Events with smaller organizations give Leadership Mentors the opportunity to connect with possible members on a more intimate level than they normally would.
Along with the benefits of event collaboration for Leadership Mentors, Nguyen wants people to know that the main goal of Leadership Mentors is to help empower students to be better leaders.
"My hope is that the haunted house provides a great Halloween for all students who attend but especially for the students who can't leave campus. I didn't have a car until my junior year and was unable to leave campus for Halloween for my first two years. I want to provide a fun Halloween for students on campus and off campus. Having fun, free events on campus allows students to have fun without having to spend money," Nguyen said.