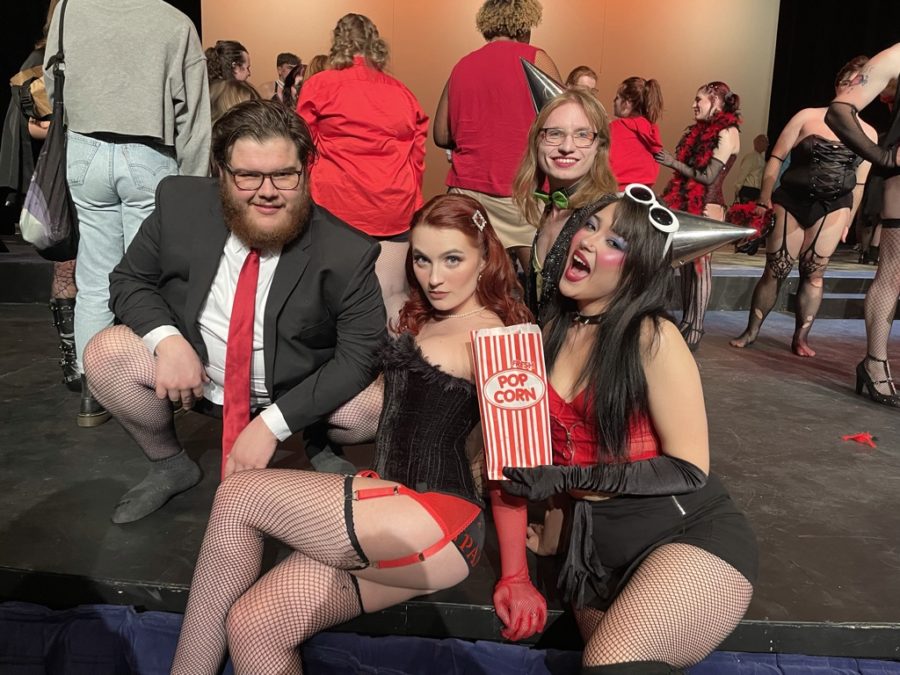 "The Rocky Horror Picture Show" was back this fall with four shows
October 16, 2022
In accordance with the Halloween season, "The Rocky Horror Picture Show" was back on Oct. 7 in the Corbett Theater at NKU. This show was the fifth annual fundraiser for The Henry Konstantinow Studio Theater, which is here on campus and entirely student-run. This show enables and funds other shows to be able to happen in the Henry Theater. 
Andie Angel, senior musical theater major and this year's director for "The Rocky Horror Picture Show," who was in the show last year, expressed how important the production is not only for the actors, but those in the audience as well.
"What makes the shadowcast so special are the people that come out and perform in it and the people who come all dressed up," Angel said. "It's one huge community of people that aren't afraid to just come and be themselves for a night."
Since shows were 18 or older, attendees could expect a rather explicit night. Max Mason, a sophomore musical theater major who played Magenta in this year's show, said it was expected to see scanty clothing. This is on top of audience interaction, but before going into the theater attendees were briefed on this. 
"They [the audience] are briefed when entering: 'This is what could happen,'" Mason stated. 
Mason explained that newcomers, or those who haven't seen "The Rocky Horror Show" live, are called "Virgins." They were given a "V" on their forehead in lipstick before entering the theater. Then, right before the show starts, all of the newcomers play the customary virgin games at the beginning of the show. The director or producer calls audience members that have a "V" on their forehead to the stage, Mason explained. They then go on to play a game in front of the audience. This is not mandatory; however, the show was meant to be an enjoyable time for everyone.
For a general rule, the audience was expected to be interacted with during this performance. No matter what one's status was going into it, the cast would occasionally run through the audience, touching people and so on. 
Attendees were also encouraged– but not required– to dress up. While for many this can mean lingerie or fancy wear, Angel explained it's all about wearing what ultimately feels comfortable. Whether that be pajamas, jeans, a suit or so on, everyone is encouraged to be themselves. 
Angel described a time where she saw "The Rocky Horror Picture Show" in Cincinnati and wore a tank top, shorts, a robe, fishnets and a funky hat. The experience was the same as those dressed in a shirt and jeans. 
"We've all put our heart and soul into this," Mason said. 
This show is a shadowcast, meaning the movie was playing behind the actors while they were performing. It wasn't like any other theater show either; Angel explained how people in the audience were encouraged to participate. Whether that be engaging with the props, yelling at the actors while on stage or getting up and dancing to a song, it was a very energetic show that provided a very unique experience.
"Getting to have that many people in the audience and getting to put Rocky Horror onto this huge stage with a huge projector, and crazy lighting and lighting effects," Angel said. "It has been such a cool opportunity, especially as a student director, to be able to put something I've worked on such a huge scale."
Luke Eisner, a junior theatrical design and production major, was the light designer for this show. He explained the open-endedness of the lighting for this show since it is a shadowcast. There was no right way to do it and having that freedom is very special. Eisner got to sit in on the rehearsals, see all that he could do and work with that freedom on this production. 
"One of the nice things that Andie lets me do is go out with it," Eisner explained. He said last year he got to "go crazy" with it, and rarely do light designers get to do that with productions. 
Tickets were available to purchase online and in person before all four showings. With the show being in the Corbett Theater, a larger crowd was expected with over 300 seats available. The first four rows had the most interaction in the past, according to Mason. 
The four shows were on Oct. 7, 8, 13 and 14 starting at 11:00 p.m. and going until about 2:00 a.m. Two ticket types were available for the showings, starting at $10 and going up to $15 depending on purchase of the tickets online or at the door. Different sales were available online for the last two showings to encourage a larger audience. 
"Rocky is a safe space for everyone to express themselves, so come as you are and support our student theater. Have fun for an incredible cause," Angel said.