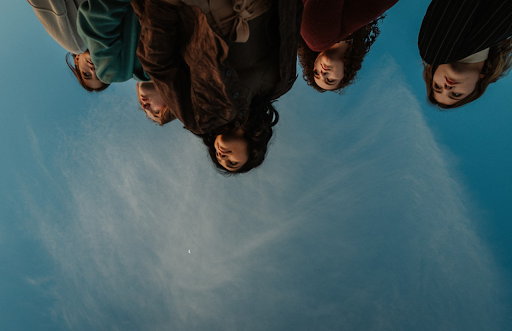 Hannah Wentzel – Dreaming, Depleted, and Disengaged
Though Hannah Wentzel's photos were each named separately, they work together as a series. She noted that her goal was to make them look like a series even though the content was different. To do so, she manipulated the color and order of the photos in the exhibition. 
Through the curation process, Wentzel wanted to make sure that the photos she chose depicted her style as an artist. 
"I wanted to get five females that all had different styles and different opinions on things. I got my favorite colors [to dress them in] and went to a place that is symbolic to me," Wentzel said. 
Not only does the exhibition allow students to have a voice, it gives them the opportunity to showcase their work to the campus, who may not otherwise see it. Being a freshman, Wentzel was excited about the exhibition, as it served as a start to her photography being featured on campus.
"It was kind of my first time being able to put my name out here at school, because I'm a commuter. So, it is hard to meet people in general," Wentzel said.
Going into the spring season, photographers become busier when it comes to clients. The same goes for Wentzel, and the exhibition offered a nice transition into the new season.
Wentzel said, "[The exhibition] was actually really motivating because the spring and fall are really busy seasons. So I just came out of winter where it's not as busy. It was a really nice push for me to get a little bit more creative and stray away from normal clientele."
Being in a college exhibition, students are introduced to what the exhibition world looks like and gives them experience when presenting work to the public.
Wentzel in particular notes that, with this experience, she is ready to take part in more exhibitions at NKU in the future.