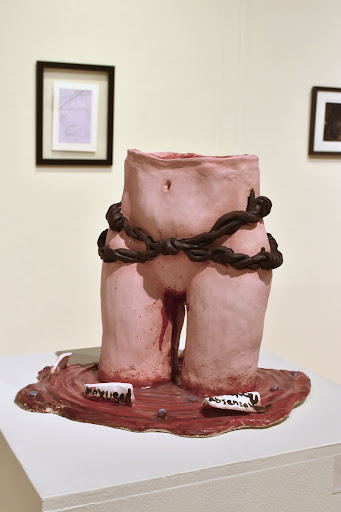 Bridgett Hancock – Overdramatic
Bringing light to issues women face when going through the menstrual cycle, drawing BFA  major Bridgett Hancock brings in her personal experience to relate to the audience. Hancock hoped to bring a visual representation to a largely internal and unseen struggle.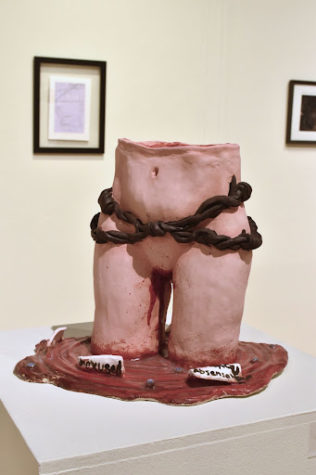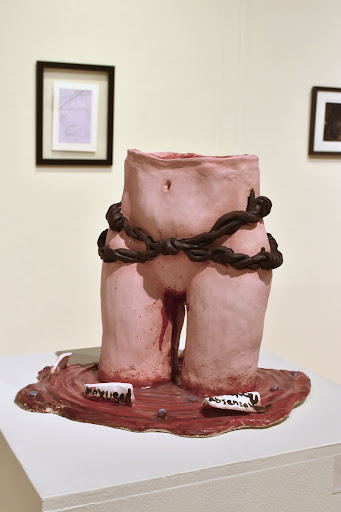 "I wanted to give a visual for people, because it's something they can't really see and it affects me a lot. I'll be missing classes and work and people consider that to be an inexcusable absence situation. It is a symbol of how much I'm missing out on while I am in so much pain," Hancock explained.
As many say, just because you can't see something does not mean it does not exist. Said simply, Hancock's piece not only reflects the menstrual cycle, but the consequences that come with it. Societal expectations for women to remain active while in pain is covered in this piece.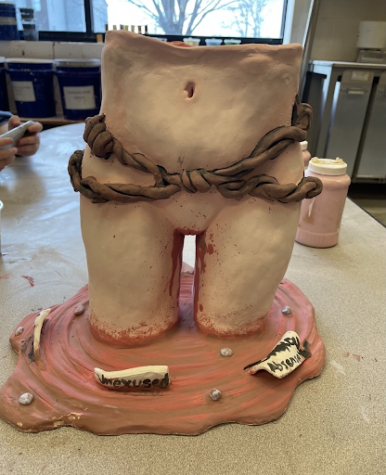 Much like the other artists part of this exhibition, Hancock's message goes far beyond her stoneware work. She hoped the audience would gain a sense of empathy for those who experience painful and uncomfortable menstrual cycles.  
"It is something I want people to see and have more awareness of. Like even though they can't see the pain, it is very much still there and affects people who have to deal with it," Hancock said. 
Hancock noted that she has recently been struggling with her art lately. To have her art featured in an exhibition has boosted her confidence and has let her know that her work is getting the attention she has hoped for all along.