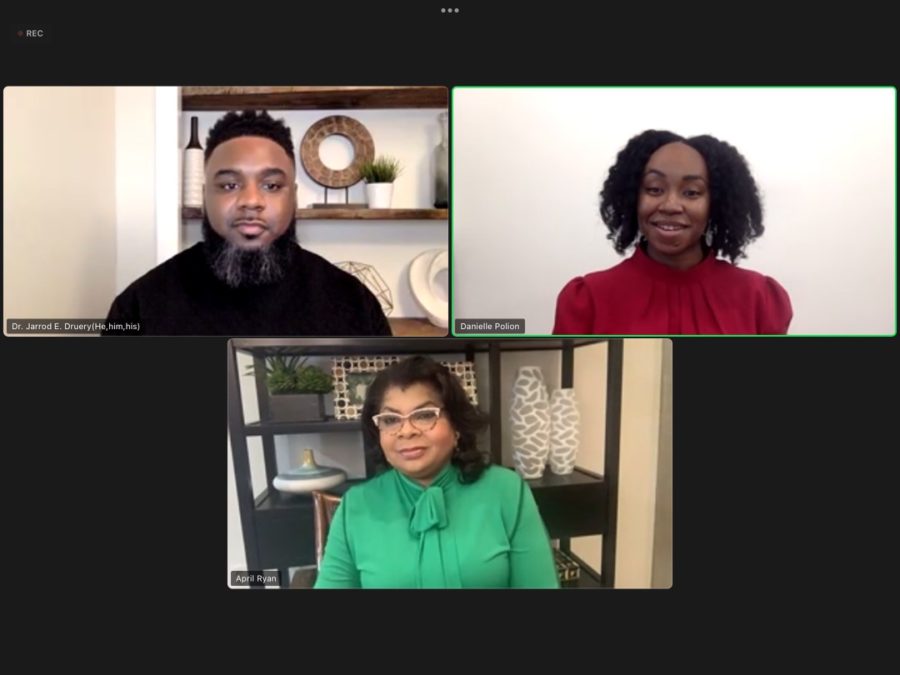 April Ryan speaks at Black History Month Keynote Presentation
February 25, 2022
Thursday evening, NKU's faculty and students heard from April Ryan as a part of the Black History Month Keynote Presentation. This event was moderated by assistant professor and doctor of education program Dr. Jarrod Druery and senior electronic media and broadcasting major Danielle Polion. 
Ryan, an author, CNN political analyst and Washington D.C bureau chief at TheGrio has covered the White House for over 25 years. Throughout Ryan's time as a White House Correspondent, she has covered five presidencies. Ryan also is only one of out three African Americans to serve on the White House Correspondents Association in the organization's 100-year history. 
During the event, panelists asked Ryan questions from lots of different topics, ranging from issues of diversity, voting rights and other questions audience members had. When audience members registered for this virtual event, they were given an opportunity to put any questions down for the panelists to ask Ryan during the event. 
One question asked Ryan her thoughts on higher education, specifically for young Black students. Ryan discussed how she feels that her college degree got her to where she was today. 
"Learning is constant. I am a firm believer like my late mother used to say, you know, you can be anything you want to be as long as you work hard and get a good education. And I do believe that's the truth," Ryan said.
This led Ryan to discuss how she got the position she has today as a White House Correspondent, saying that she ultimately did not seek the job out at first.
"The company that brought me into the White House looked for me because they saw the work that I was doing. I was always hungry for news," Ryan added. 
Ryan also discussed challenges she has faced as a journalist, going on to describe instances of physical assault and even death threats. 
"You are not exempt from being hit, death threats, having your badge pulled. It's tough but you have to have a strong support system, tough skin and know what you know," Ryan said. 
With there being on-the-job challenges to be a journalist, other issues Ryan mentioned include the need for more diversity within the field.
"I'm hoping that there are more faces of all walks of life," Ryan said. "Broadcasting is white male-dominated and I just hope that changes." 
However, issues of diversity have not constrained Ryan when trying to fight for other Black Americans. Ryan used her position as White House Correspondent to ask important questions during the Clinton administration, like when many Black farmers were hit hard by the aftermath of Katrina. 
Polion described how thankful she was that Ryan asked these questions. 
"Seeing the power of your questions and being able to make a difference and a change is so impactful, so thank you," Poilon said. 
One of the last questions asked during the event was what was next for Ryan. Ryan responded by announcing that she is in the process of writing her next book "Prayerfully". Ryan has written three other books and mentioned a goal that she hopes to achieve by being on The New York Times Bestseller list.
"My bucket list is [to be on] The New York Times bestsellers. One of the books was on The Washington Post Best Seller List, but my bucket list is to be on The New York Times bestsellers list," Ryan said.