NKU's Baptist Campus Ministry to host pancake event for all students on Monday
The pancake dinner will take place at the Baptist Student Center
December 12, 2021
NKU's Baptist Campus Ministry (BCM) is gearing up for its traditional pancake dinner despite last year's hiatus. The pancake event will occur on Monday, Dec. 13 from 8 p.m. until midnight at the Baptist Student Center. 
For as many as twenty years, Baptist Campus Ministries across the state of Kentucky have held the event as a way to relieve the stress of finals, according to NKU BCM Director Josh Skipper. 
Students can experience music, fellowship, coffee, hot chocolate, and of course- pancakes with a smorgasbord of toppings. The pancakes are made hot and fresh by the ministry's students and all NKU students are welcome to attend.
"It's a relaxing environment and a chance to talk with other students and feel welcomed by other BCM students," Skipper said. 
Skipper, who has been the ministry's director for nine years now, recognizes the busyness and stressfulness of finals week, especially in the midst of the pandemic. The traditional pancake event was unable to occur last year due to Covid-19, but the organization is hopeful to see success in the return of the event. The director noted his appreciation to NKU's administration for taking the necessary steps to protect students last year, while allowing for student organizations to bring back in-person events- like the pancake dinner- this year. 
"This year's pancake event is rejuvenating and brings hope. Our students are more excited than ever to get to serve our campus and are hopeful this means we will get to continue this in the future," Ashleigh Caudell, an intern at the BCM and NKU alum, said.
Caudell noted that the pancake event brings together many people from different parts of campus, since all students are encouraged to attend, no matter their beliefs.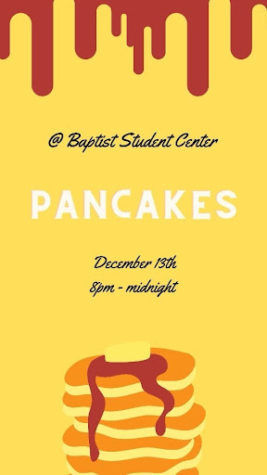 "I have gotten to meet so many people that I would not have had the opportunity to if not for pancakes. Getting to provide a service and a safe and relaxing space for students in such a stressful time is the best part for me," Caudell said. 
BCM Student President Paul Miller shared the mission statement of the ministry: "To Know Christ and Make Him Known on Our Campus." They accomplish this mission by outreach events such as the one that will take place Monday night. 
"We want to reflect Christ's love on our campus and be able to have community time together," Miller said. 
Director Skipper vocalized that any student interested in seeking out more information on the ministry or its beliefs will have the opportunity to do so. Additionally, any student simply looking for comfort food and a supportive community will find that as well. 
"We want to give [NKU students] hope and pray for them. We want to provide an outlet for any conversations about their faith or have pancakes and go with no obligation," Skipper said.
Intern Caudell shared the same sentiments, stating, "I would love this event to help get the name of not only the BCM but of Jesus out on campus. The BCM is a place of love, truth, and connection, and I would love to see more students get involved and experience Jesus and community."
The Baptist Student Center is located at 1 Nunn Drive, Highland Heights, Ky 41076, in between Landrum Hall and New Residence Hall. More information can be found on Instagram @nkubcm.