Isabel Sleczkowski
Senior Philosophy and Theatre BFA Major
Isabel Sleczkowski felt the blood pressure cuff squeeze her arm. She knew another 30 minutes had passed. Between the cuff, an IV, a pulse oximeter and her relentless fatigue, she could hardly hold up the book she brought to read to pass time. 
A few hours earlier, Sleczkowski's fiancee dropped her off at the emergency room. This was her second time in a month; she knew the drill. She wasn't afraid to be firm and direct with the ER staff about her needs. 
"I think I have COVID. I can't breathe and my chest hurts. Help," Sleczkowski told the person at the front desk as she was gasping for air. 
It was around dinner time, no later than 6:00 p.m. The staff didn't seem to be in a hurry as they were 10 days prior for Sleczkowski's first ER visit. 
"OK, keep your mask on and go sit in the waiting room," the front desk worker told her. 
She found a seat in the waiting room and tried to not touch anything—not knowing what potential germs were around. A few minutes passed, and she was called back. Two nurses started attending to Sleczkowski. One nurse took her temperature while another checked her oxygen levels. They started an EKG, inserted an IV and set up a blood pressure monitor. Sleczkowski, in too much pain to do or say much, allowed the nurses to remove her shirt to make her chest more accessible for the EKG. 
Sleczkowski didn't wear a wired bra this time because she knew she'd likely need a chest X-ray, and taking off a bra while gasping for air didn't seem too appealing. 
After the nurses inserted various medical instruments into or on Sleczkowski to monitor her vitals, the chaos subdued. She was alone in the ER, waiting for someone to give her an answer about what was wrong with her. 
A doctor told Sleczkowski it's likely she has COVID-19. However, weeks earlier on July 18, she tested negative. She told the doctor about this. 
"You have COVID," the doctor said to her, clinically diagnosing Sleczkowski with COVID-19, the respiratory disease that has infected over tens of millions of people worldwide.
Potential exposure to COVID-19
Weeks earlier, Sleczkowski was healthy. On July 6, she started filming a video for Norse Violence Prevention Center (NVP)—a center on campus that provides resources for students impacted by sexual assault, dating violence, stalking and more. 
The group was very small—no more than six people. They all social distanced and wore masks, only removing them briefly to film scenes. After a scene was shot, they immediately put their masks back on. 
A member of her filming group for NVP developed coronavirus-like symptoms but hadn't tested positive yet. 
On July 16, Sleczkowski started developing COVID-19-like symptoms, such as mild chest aches and trouble breathing. She thought it was a side effect of another medication she was taking at the time, so she brushed off her symptoms at first. However, two days later, Sleczkowski decided to get tested for COVID-19 as a precaution.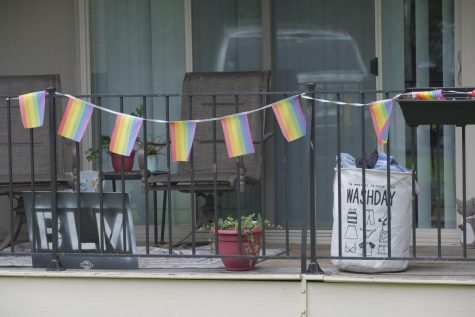 Sleczkowski struggled to find accessible testing locations near her, but she eventually found a drive-thru test at a church in Cincinnati. Sleczkowski's fiancee, Emmy Kaeppner, had symptoms of COVID-19 as well, so they both scheduled their tests. 
"The day I got tested, I marked that I had no symptoms, even though I had been dealing with chest pain and, subsequently, trouble breathing. Those were so far apart in my head—the possibility of me being exposed to COVID and my chest pain," Sleczkowski said. 
After she was driving back home from getting tested, it struck her that she might actually have COVID-19. She acknowledged that she had been having chest pain and other symptoms that could be coronavirus-related, but she thought she was just overreacting. 
Facing her mortality
Two days later, on July 20, Sleczkowski's friends and family encouraged her to go to the ER. 
"It just got really worse, really fast. I think I had been so dismissive of my symptoms that I wasn't even realizing everything that was going on," Sleczkowski said. "I just kept writing it all off to coincidence."
Her shortness of breath was so intense that she could hardly finish a sentence. After talking to her and Kaeppner's mom on the phone, Sleczkowski decided to go to the ER. Kaeppner drove Sleczkowski but couldn't come in with her due to COVID-19 visitor restrictions. 
Sleczkowski said she was slightly worried about going to the ER because she typically doesn't get sick. 
"I don't really get sick. I don't really go to the ER. The only times I've ever been to the ER have been for a broken ankle once, I think. I've gone with other people to take them and then I'll sit with them, but I'm never the one in the bed," Sleczkowski said. 
After telling the ER staff she thinks she has COVID-19, they settled her in and began running tests. Sleczkowski began thinking about dying and how her death would impact others. 
"It's something that I can tell the people around me are worried about, and they won't say it. It's like this really taboo thing," Sleczkowski said. "We all know that COVID kills people. We know that it kills people our age, too."
While sitting in the ER hospital bed, she created a Google Doc titled "In Case I Die," where she detailed how she wants her finances and belongings allocated, as well as other essential information. 
"I just started typing because I don't have a will because I'm 21. That's not something that I had thought about before," Sleczkowski said. 
Currently, Sleczkowski doesn't feel like she's dying. But when she was in ER for the first time, she didn't know that. She said she doesn't deal with death the way most people do; she's not religious. Death isn't something Sleczkowski fears, but she does enjoy living her life on earth. 
"I want to get to do the things," Sleczkowski said. "I want to get to have the wedding, and I want to live past COVID, and I want to have a family."
Recently, Sleczkowski talked with her fiancee, Kaeppner, about what to do in the event she's hospitalized. 
"If I go into the hospital again, and it seems like it's really bad, we're just going to get married in the hospital. And then if I die, then we'll have gotten married, which is what we want," Sleczkowski said. "But if I don't, then that's great and then we can just celebrate it later."
Testing negative 
After she was discharged from the ER on July 20, days passed and her symptoms worsened, but she hadn't received her test results yet. Sleczkowski called the Cincinnati Health Department and they looked up her results. She tested negative for COVID-19.
"I crumpled, kind of. I had been convinced that I was overreacting and this really just affirmed that to me," Sleczkowski said. 
She continued taking medicine, vitamins and fluids as directed by doctors. However, she progressively was getting worse everyday. She decided to take another COVID-19 test on July 29 but still tested negative. Her doctors believe she took her first test too soon and that the second test was a false negative. 
On July 30, she went to the ER for the second time. They treated her symptoms and clinically diagnosed her with COVID-19. Since then, Sleczkowski hasn't been back to the ER, but she has spoken to doctors, nurse practitioners and infectious disease specialists virtually. 
Currently, a typical day for Sleczkowski involves waking up, going to the bathroom and immediately getting back in bed. Kaeppner brings her breakfast before they both start their online courses. She takes Tylenol and her inhaler every four hours, as well as plenty of fluids—such as Pedialyte, Gatorade and water. 
She takes various vitamins—such as magnesium, vitamin D3 and BC/Zinc. She also takes Famotidine to help with inflammation, and she takes Dramamine, to ease nausea, as needed. 
On any given day, her symptoms include chest aches, shortness of breath and trouble breathing, low oxygen, muscle pains, sore throat, fever, chills, abdominal pain, nausea, fatigue, increased heart rate, numb toes and fingers, difficulty sleeping, earaches and more. 
She reached out to all of her professors before the semester started, and she said they have been understanding. On Zoom meetings, she tries not to push herself too much and sometimes goes to bed early if she feels overly exhausted and/or fatigued. 
The personal impact of a pandemic
Sleczkowski said one of the harder aspects of being sick is losing physical intimacy between her and Kaeppner. Doctors advised them not to kiss until they can confirm neither one of them is contagious. 
"Mostly what [Kaeppner's] dealing with is being worried about me, and I can't really fix that, and I can't even kiss her to be like, 'it'll be OK,'" Sleczkowski said. 
She said the pandemic has made her angry at the government for not doing enough and at her peers for not taking it seriously. Sleczkowski said she's seen friends of hers traveling unnecessarily and going to parties. It's made her question if she wants to be friends with them. 
"While I wanted to be optimistic about the pain ending, now I'm like, 'how long is this going to go on?' Because I did everything right and I still got sick," Sleczkowski said. "Because as long as you have to work and/or you have to go to school, you can't avoid spreading it—even not purposely.