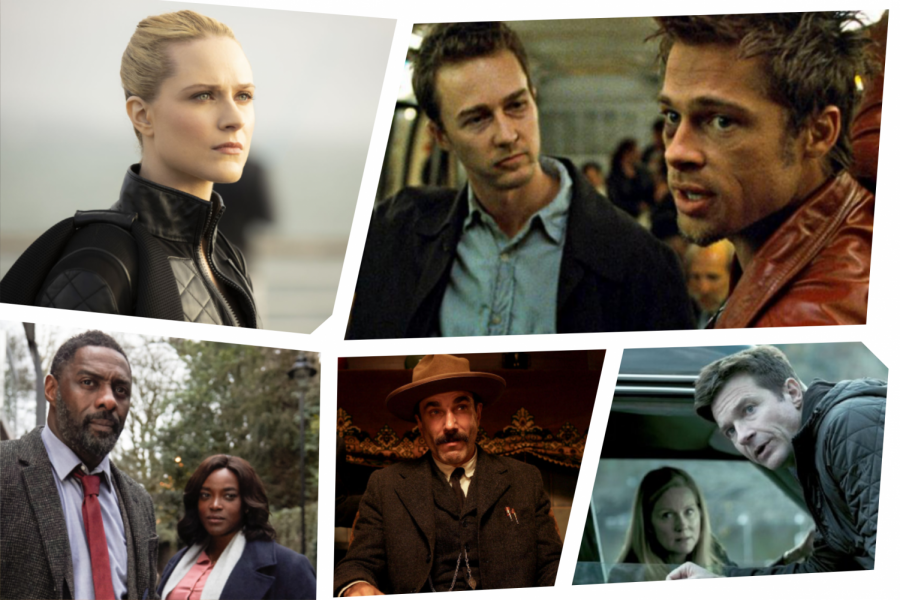 What's coming to streaming in March
Get ready to binge-watch the latest shows
March 4, 2020
Feeling lucky this month? If you're a fan of some of Netflix's most famous originals returning this month, or of any of FX's series, you might be. Spring break is coming up, and weather forecasts aren't looking too great, so it's time to get out from all the rain and stay inside to spend break catching up on new seasons of old favorites.
With a new month comes new additions to streaming services, so read on below to find out what Netflix, Hulu, Amazon, HBO and the Criterion Channel have in store this month when you're looking for your next television binge or new favorite film.
Netflix
Ozark, Season 3 (3/27)
Everyone knows about this one by now, right? This dark crime drama (dark in content and also just straight up dark to the point people had to turn up their TV's brightness) takes a lot of cues from TV classic "Breaking Bad," including its casting of a popular comedic figure in a serious main role. Season two launched in 2018 to negative reviews, but early reviews for season three have been much more positive. If you're somehow hungry for more prestige drama, "Ozark" might be worth your time. Expect to see this one at plenty of awards shows.
Castlevania, Season 3 (3/5)
This animated adaptation of the classic Dracula-hunting video game wowed fans when it debuted in 2017, and 2018's second season drew critical acclaim for its bone-chilling visuals, exciting action and surprisingly deep lore that even rivals other similar stories like "Game of Thrones." The show also boasts a star-studded cast of Hollywood names like Richard Armitage, Lance Reddick and Bill Nighy. Fans of dark fantasy shouldn't hesitate to jump on this one immediately.
There Will Be Blood, Paul Thomas Anderson, 2007 (3/1)
2007 was a fantastic year for movies. "No Country for Old Men," "The Darjeeling Limited," and, yes you guessed it, "Ratatouille." But Paul Thomas Anderson's follow-up to his 2002 critically acclaimed "Punch-Drunk Love" is one of the best films of the decade, if not the century. "There Will Be Blood" stars Daniel-Day Lewis as ruthless oil prospector Daniel Plainview during the Southern California oil boom of the late 19th and early 20th century. Based on the Upton Sinclair novel "Oil!", this one is a critique of how capitalism gives rise to monopolistic empires, such as John D. Rockefeller's Standard Oil.
Hulu
FX on Hulu (3/2)
FX has long been known as the last bastion of great TV on network television, with famous dramas like "Fargo," "The Americans," "Justified" and "American Horror Story" sweeping awards shows and comedies like "Atlanta" and "It's Always Sunny in Philadelphia" drawing tons of adoring fans. For years, though, none of their shows have been easily accessible—until now. On the 2nd, nearly all of FX's catalog will be available on the service, and new episodes of its shows will be available the day after they air on TV. If you've never seen any of FX's shows, get to it—you've really been missing out.
Little Fires Everywhere – Hulu Original Series (3/18)
Will someone please tell Reese Witherspoon she doesn't have to keep starring in roles where she plays a tortured mother in a picture-perfect family with dark secrets? ("Big Little Lies" season 1 was perfect, though, so no complaints here.) Hulu's latest original series is based off Celeste Ng's popular 2017 novel, and also stars Kerry Washington—best known as Olivia Pope in Scandal—as the woman who upends the lives of Witherspoon's family.
Good Will Hunting, Gus Van Sant, 1997 (3/1)
This 1997 Best Picture nominee stars Matt Damon as janitor Will Hunting and Ben Affleck as his best friend. Hunting, an unrecognized genius, begins studying mathematics with a distinguished professor (Robin Williams). Williams won Best Supporting Actor and Damon and Affleck won Best Original Screenplay for this heartwarming drama. It was also listed at #53 in The Hollywood Reporter's list of "Hollywood's 100 Favorite Films." Look, we've all heard of this one by now—it's a perfect movie to rewatch at any time, and anyone who hasn't yet seen this gem will be delighted.
Amazon Prime Video
Making the Cut (3/27)
Designers will make it work once again in Tim Gunn and Heidi Klum's new series "Making the Cut," where they tour the world in search of exciting, new voices in fashion. Think if "Project Runway" went to a different city every couple episodes, and you've got a pretty good idea of what Amazon's going for here. In following with Netflix's recent trend of weekly episodes for reality TV, two episodes will drop every week.
Luther, Season 5 (3/23)
This much-beloved crime drama starring Idris Elba returned in 2019 after a four-year hiatus to air its fifth and final season on BBC in 2019. Season 5 sees the return of fan-favorite psychopath Alice Morgan back to stir up trouble and a grisly mystery to tie up loose ends from the series' past. If you haven't dug into "Luther" yet, ask yourself this: when else will you be able to watch a TV series with Idris Elba as the star again?
HBO
Westworld, Season 3 (3/15)
It's finally back. After a two year hiatus, HBO's robot sci-fi western drama is returning with new episodes—and, judging by the trailer, has upped its budget even further now that the network isn't pouring all of its cash into "Game of Thrones." Season 3 seems to be a drastic switch from seasons prior, with the arrival of Aaron Paul playing the new main character and the story now taking place in the human world to focus on the revolution promised at the end of season 2.
Fight Club, David Fincher, 1999 (3/1)
If there was ever a competition for "movie poster that ends up on college dorm walls most frequently" "Fight Club" would be the obvious winner. Edward Norton stars in this mind-bending thriller as a man who meets soap salesman Tyler Durden (Brad Pitt) and gets drawn into an illegal fight club that spins out of control in more ways than one.
Criterion Channel
Safe, Todd Haynes, 1995
This psychological horror-drama stars Julianne Moore as a woman who comes down with a mysterious illness that doctors are unable to treat. She is forced to isolate herself from her community and is eventually alone. "Safe" was voted the best film of the 1990s by The Village Voice in 2015, and has been seen by many critics as a metaphor for how the Reagan administration handled the AIDS crisis in the '80s.
Scores by Quincy Jones (1964-1972)
Twenty eight-time Grammy winner Quincy Jones didn't just work with greats like Frank Sinatra and Duke Ellington—he was also an accomplished film composer, doing scores for classics like "In the Heat of the Night," "The Italian Job" and "Bob & Carol & Ted & Alice"—three of the 16 titles available in this new collection, all scored by Jones.