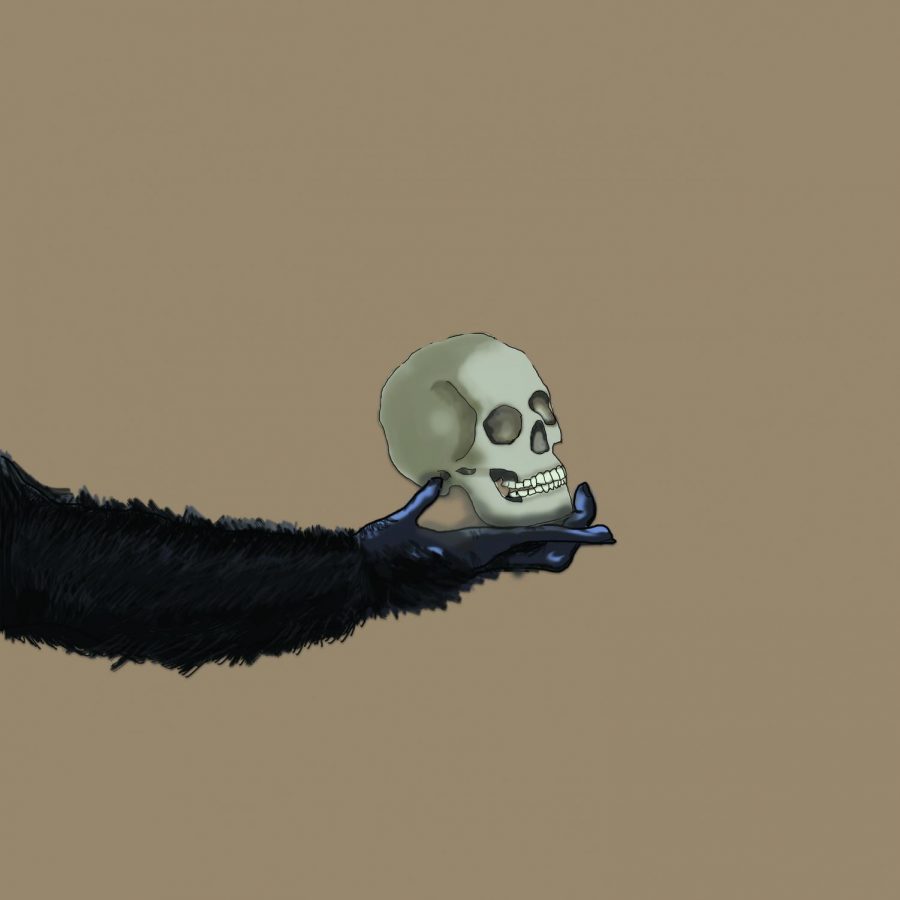 No Bones About It: Evolutionary Studies is Skeletons of Fun
February 27, 2020
The evolutionary studies minor at NKU fuses anthropology and various natural sciences to build a complete picture of the evolutionary history of the world and the creatures inhabiting it. The wide array of courses and unique field trips and opportunities this minor provides make this program shine. 
Evolutionary studies students can expect to see all manner of sciences in their classes. Students take geology, psychology, biology and anthropology as required courses and can be taken along with philosophy as electives. Some of the more unique elective classes in this 25-credit hour minor include animal learning, evolutionary neuroscience and primate sexuality. 
Dr. Monica Wakefield serves as the program's director and professor of the primate sexuality course. According to Wakefield, the class is an in-depth look into the science of human reproduction and mate selection as compared to that of our closest living relatives, the primates. 
Several of the minor's courses feature field trips. In the Behavioral Field Methods course, for example, students visit the Cincinnati Zoo once a week to record data and make observations about primates housed by the zoo. 
Other courses within the minor feature trips to NKU's Research and Education Field Station, which offers students a home base to explore and study over 155 acres of wetland and wooded area in Northern Kentucky.
As far as careers, Wakefield believes this minor could fit well with a variety of disciplines. Evolutionary studies minors may find their skills put to work in the fields of paleontology, biological anthropology and psychology. Students can also study animal behavior, the fossil record or the evolution of societies and their nuances. 
"I recommend this minor to anyone who is open-minded and curious about understanding how evolution works," Dr. Denice Robertson, lecturer in evolutionary studies and biology, said.
Wakefield said students with an evolutionary studies minor can cultivate teamwork skills, good research practices and an understanding of scientific ethics useful inside and outside the STEM world. Even students in psychology, forensics or archaeology could benefit from understanding the driving forces behind what makes humans the way they are.
Wakefield also pointed out the special importance for nursing or pre-med students to understand the concept of evolution in great detail. In a fast-paced medical field, understanding how to combat issues like antibiotic resistance or diseases that quickly mutate or evolve are extremely important. Students in the medical field also need to have a good knowledge of the human body and its potential ailments. 
"You really can't understand a lot of our medical conditions and our health without understanding the how and why they came about through evolution … it's all based on evolutionary theory," Wakefield said. 
While the program started with just one student when Wakefield took over, only about 11 students at any given time have the minor declared. Lindsey Meador was one of the first students to earn the minor and is a graduate of NKU. 
According to Meador, she would sell grilled cheese sandwiches to raise money for the anthropology labs to acquire or replace materials or casts of bones. She said she and her fellow students had to fight to get more biological anthropology classes added to NKU's catalog. 
Meador said these funding struggles, as well as the critical thinking, problem-solving and public speaking skills she picked up from the coursework, have benefited her immensely—even leading her to take a trip to South Africa to study meerkats. 
"While I am not in a 'typical' anthropological field at the moment, any former anthropology student will tell you that we use what we learned in our studies every day," Meador said.
For students interested in the minor, Wakefield recommends first taking Biological Anthropology, an introductory overview of what anthropology is all about and a minor look at many subjects mentioned above. In addition to providing a first look at the vast array of fields involved in Evolutionary Studies, the course counts for a science and lab general education credit. 
For any questions about the evolutionary studies minor, students may contact Dr. Monica Wakefield at wakefieldm2@nku.edu.