New professor bolsters audio production program
Ashley Shepherd, audio production professor, brings his expertise to NKU's classrooms
January 21, 2020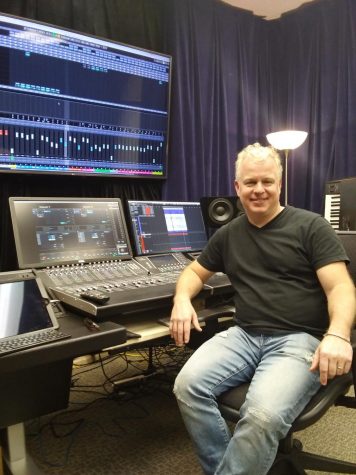 If you've ever heard songs by Peter Frampton, WALK THE MOON or Adam Lambert, or watched an episode of "Seinfeld" or "Everybody Loves Raymond," you've probably heard audio production work from Ashley Shepherd, the new NKU audio production professor of practice.
Some faculty positions require professors to have doctorate degrees; however, according to Brad McCombs, NKU music department head, this position was not one of them.
"In this case, we wanted someone who had lots of experience with the knowledge base, so a practicing artists audio producer, and that's what we got with Ashley Shepherd," McCombs said.
A professor of practice both helps students in their field and helps the university as a whole. For Shepherd, that includes putting the studio and control room together and tying some of the other rooms together so that the students in the program can one day record different performances from around the Fine Arts building all from the control room.
"So, the idea here is a lot of synergy to try to bring the musicians into the audio production," Shepherd said. "You know, a lot of the students who are in audio production are obviously also musicians. So, getting the whole population of the school to work together to create recordings. That's the idea."
Shepherd credits his passion for both music and audio production to school. He played trumpet in the school band for a long time, but it was his seventh-grade year when he found the need to pick up a different instrument.
"I was a trumpet player, then I got braces," Shepherd said. "With braces it's kind of hard to play trumpet. I switched to tuba, which brought me to the electric bass."
According to Shepherd, the electric bass was tied into other sound equipment like the synthesizer or amplifiers, which he was fascinated by. Over time, he became interested in the technological aspect of music as well as the performing aspect.  During a presentation his freshman year of high school, he found his dream college.
"When I first learned about Berklee …  it seemed like a really exciting place that was doing everything I wanted to do," Shepherd said.
Shepherd attended University of Cincinnati College-Conservatory of Music (CCM) for a semester prior to beginning at Berklee College of Music in Boston, where the musicians were working together within the different genres such as jazz, rock and pop and creating contemporary music. Shepherd hopes to apply what he learned at Berklee into his own teaching here at NKU and provide the students with similar opportunities. 
"Here at NKU, I think I sense a lot of desire for that sort of opportunity," Shepherd said. "I'm trying to bring a little cool to the experience here at the music school by providing an opportunity to do projects."
The first project that Shepherd assigned to one of his commercial music production classes was to take a popular song of their choosing and create a cover of it in a different genre. The students ended up choosing to record a ska version of Billie Eilish's "Bad Guy." It was a real project that the students got to plan, produce, record and edit themselves to both gain professional experience and produce something for use on their resume.
"We up the tempo, put real drums, real instruments, real musicians behind everything," junior and audio production major Garrett Crider said.
According to Crider, the cover of "Bad Guy" was recorded in late September. The class has been in the studio for post-production of the recording ever since. The idea behind the class was to put the students in the position of a music producer, which meant for the project, they were tasked with getting together a group of musicians to record the "Bad Guy" cover and creating the schedule for what needed to be done before recording could begin.
According to Crider, the students in the audio production class had to hire musicians, and were not able to play any instruments themselves so that they could be in the control room.
It's Shepherd's goal to be able to move away from the "looking at stuff on the chalkboard" method of teaching with his classes, and move into creating something tangible that students can be involved with and put their names on, utilizing the facilities NKU has provided
"I think he's really engaged, and he knows a lot, not only about audio production, but also just how to set up spaces correctly," McCombs said.
Shepherd has been instrumental in setting up the studio, according to McCombs. It was his idea to set the system up in a way that the students could record performances in Greave's Concert Hall, Stauss Theatre and Corbett Theatre all from the control room of the studio.
"He's been very helpful on that as we sort of look at expanding the audio production studio in terms of these other spaces," McCombs said.
Some of that experience and knowledge comes from setting up his own studio, Audiogrotto, in Newport. It started after the birth of Shepherd's second child, when it became clear to him that he needed to move his personal studio outside of the house and into a new space. He purchased an old church in Newport, which now has two control rooms and several spaces for recording. The studio has been used to record everything from records for local musicians to commercial use for company ads such as Proctor and Gamble for the past 10 years.
"We kind of came from different sides of the block," Shepherd's business partner, Matt Hueneman said.
When they first began their business, Picture Music, Hueneman worked in radio and TV—the more commercial side of audio production. Shepherd, on the other hand, had been working in studios, recording bands. For Hueneman, working with Shepherd was a rewarding learning experience.
"It's [working with Shepherd] kind of like, you know, when you go to a restaurant and you buy a steak, and then you know, it's decent," said Hueneman. "And then you go to Jeff Ruby's, and you go, 'Oh, that's how a steak really should be done.'"
It was a sentiment that Crider, who feels that he has learned more in this past semester than he has in the past two years spent in the audio production program, agreed with. Crider had built an at-home studio in his house last October, but hadn't been knowledgeable enough about the equipment to be able to use it to its full potential until taking classes with Shepherd.
"He's just a step above all the other people I've worked with in studios," Crider said. "He just has this killer instinct where he knows exactly what to do and get exactly the right sound, because he's thought about."
Both McCombs and Crider are interested in seeing where the Shepherd takes the audio production program at NKU, and look forward to seeing the program continue to grow.
"I'm incredibly enthusiastic about him and I've loved working with him this semester," Crider said. "I can't wait to continue expanding my bank of knowledge."