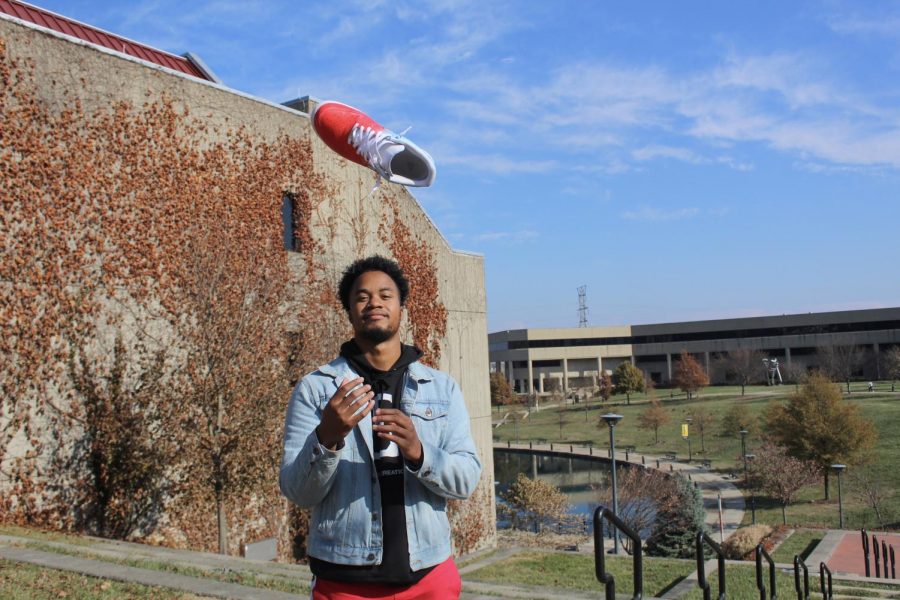 How a student's business went from his garage to competing in Silicon Valley
November 22, 2019
Isaiah Kelly started painting shoes in his garage as a hobby. Now, after taking part in the INKUBATOR program, he's earned $7,000 in seven months.
Kelly began his shoe restoration and design company, Smoove Creations, during his freshman year of college after watching a 12-year-old do the same on YouTube. He saw how successful a YouTuber was restoring and painting shoes, and decided to take the idea to his own kitchen table and garage.
Kelly first worked at a Shoe Carnival store, and being around shoes for 40 hours a week turned him into a sneakerhead.
"I didn't care about shoes or apparel—how I dress. I didn't care about any of that. I just love shoes," Kelly said.
Kelly said he spent two to three weeks working on his own shoes before he received his first phone call. The client was a father wanting a pair of shoes for his daughter's birthday. He finished the custom sneakers with a friend, who he split the payment with. After that, he realized his hobby could have a payoff.
"It was really cool just to have a hobby and just know that I could at least have some type of money and make some type of money from it," Kelly said.
Four years later as a senior, his one client has turned into multiple clients—several of which are online through Etsy. On his store page, he sells custom painted sneakers—mostly Nike Air Force 1s, which are his favorite to make—but he does special orders as well, like the T-Mobile-branded pair he did for a store in Louisiana. His biggest client so far was Cincinnati Bengals linebacker Preston Brown, who he designed a pair of cleats for.
Kelly was a member of INKUBATOR's project class of 2019. INKUBATOR is a 12-week program that allows NKU students and alumni to take their business start-ups and learn the ins and outs of operating a business while also giving the students resources and connections in the area.
Kelly said when he first started INKUBATOR, he didn't know how to run a business because he is a media informatics major. He said everyone else in the program had taken business classes and knew they wanted to be involved in business. However, he didn't know if he wanted to pursue Smoove Creations yet.
"I had no idea what I was doing, what was going on, I didn't even know I really wanted to do this. I just kind of like dove into the unknown and took the initiative," Kelly said.
Kelly learned businesses are a team effort, so he brought on senior DJ Sherman as the marketing coordinator. Together they decided that Sherman's marketing and electronic media and broadcasting majors would best suit maintaining the website and Instagram.
While Sherman's been on the team, he said that Smoove has had to overcome struggles, and he's seen Kelly face them head on.
"Most of our hardships become our blessings," Sherman said. "It always seems like it's a blessing right around the corner."
One of the people that has gotten to see Kelly's process has been his girlfriend Arah Samuels. Samuels said that she has seen the work that goes on behind the scenes and how much time Kelly has put into his dream.
"He works really hard and God's been blessing him a lot," Samuels said. "He's grown in his faith and it shows."
In October, Kelly won the Entrepreneurs' Organization's Global Student Entrepreneurship Award Cincinnati Regional Competition. This entered Kelly and the rest of the Smoove Creations team in the national competition in Silicon Valley, California against 30 other student entrepreneurs in the nation. Sherman said he never saw the business going from Kelly's garage to a national competition in California.
Kelly is the first NKU student to win the award.
"It's honestly really crazy. Just thinking about how far I've come. When I started, I was doing stuff in my kitchen table and on my garage," Kelly said. "I expect [California] to be a surreal eye-opening experience. Of course I'm going to compete, so I want to win, but to me, I can't lose because even if I don't win, I still get the opportunity to be amongst so many great people that I can learn from. That's what I'm really excited about."
Kelly hopes Smoove Creations grows beyond the region, but also hopes Cincinnati will remain the central space for his team to work. Kelly has now decided to enroll in NKU's business administration graduate program after graduating this upcoming May.