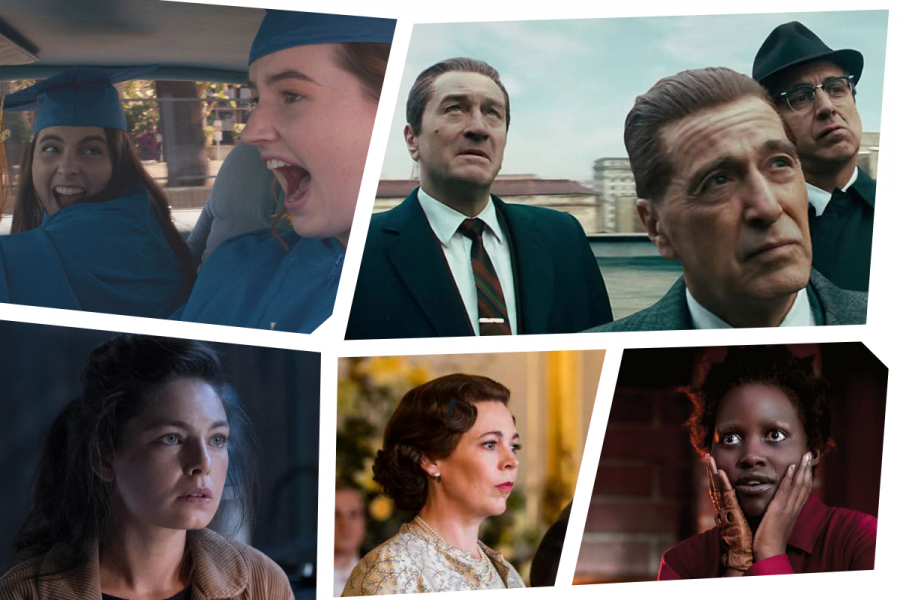 What's coming to streaming in November
Get ready to binge watch the latest shows
November 7, 2019
Don't you love Cincinnati's weather? We went from 80 degrees to 40 degrees in about a week's worth of time. With these chilly temperatures, it's the perfect time to snuggle up under a blanket and binge-watch some of the new shows available. Netflix, especially, is having a killer month, with one of their best slates of original content in quite some time.
With a new month comes new additions to streaming services, so read on below to find out what Netflix, Hulu, Amazon, HBO and the Criterion Channel have in store this month when you're looking for your next television binge or new favorite film.
Netflix
The Irishman – Netflix Original Film (11/27)
It feels weird to say one of the best films of the year, made by one of the greatest directors to ever live, will be a Netflix exclusive. But that's exactly what's happened with "The Irishman." Martin Scorsese, who previously directed mob epics "Goodfellas" and "The Departed," returns to the world of the mafia with this film based on the nonfiction novel "I Heard You Paint Houses" by Charles Brandt. Robert De Niro, Al Pacino and Joe Pesci star in this three-and-a-half-hour drama that's being hailed by some critics as the best crime-related film in years.
The King – Netflix Original FIlm (11/1)
This historical epic, starring Timothée Chalamet and Robert Pattinson, is certain to produce a new phone background for some sorority girl somewhere on campus. Based on the plays "Henry IV, Part 1," "Henry IV, Part 2" and "Henry V" by William Shakespeare, this drama stars Chalamet as Henry, Prince of Wales. This film seems to be Netflix's attempt to make a "Game of Thrones"-esque drama without the dragons, so expect lots of elaborate, period-accurate costumes and lots of (literal and figurative) backstabbing.
The Crown, Season 3 – Netflix Original (11/25)
For a different style of historical period drama, the Queen Elizabeth-centric series "The Crown" returns for its third season, with a brand-new cast. To reflect the aging of the characters, the roles previously played by Claire Foy, Matt Smith and Vanessa Kirby have been recast, and are now played by Olivia Colman, Tobias Menzies and Helena Bonham Carter. Fans of the series should be pleased, as the high production values, incredible acting and amazing direction from the other two seasons will most likely carry over to this one.
Hulu
Booksmart, Olivia Wilde, 2019 (11/18)
This quirky film was praised upon release earlier this year for breathing new life into the coming-of-age genre. It features two high school senior girls, Amy and Molly, who worry that they may have wasted their high school years studying too much and decide to go to a party. "Booksmart" has garnered critical acclaim for its positive portrayal of LGBTQ+ youth and its discussion of issues that are important to the current generation.
Creed II, Steven Caple Jr., 2018 (11/15)
Adonis Creed returns to the ring in this sequel to the surprise-hit 2015 boxing drama "Creed." Michael B. Jordan once again puts on the gloves as Creed, and Sylvester Stallone returns as iconic boxer Rocky Balboa. Adonis encounters Viktor Drago in the ring, whose father killed Adonis' father Apollo Creed in the ring 33 years ago. Tessa Thompson also returns as Adonis' fiancée, Bianca.
Interview with the Vampire, Neil Jordan, 1994 (11/1)
Still stuck in Halloween season? This gothic horror film, based on the famous novel by Anne Rice, should quench your thirst for a spooky movie. Tom Cruise, Brad Pitt and Kirsten Dunst star as immortal vampires living in the year 1791, and Christian Slater plays a journalist interviewing Brad Pitt's character in the present day. 
Amazon Prime Video
Nearly Every James Bond Movie
Every James Bond movie not starring Daniel Craig—all 21 of them—are available at your fingertips for some British espionage action whenever you please. The Sean Connery-starring films "Goldfinger," "From Russia With Love" and "Dr. No", and "GoldenEye" with Pierce Brosnan as Bond (which was the first to star Dame Judi Dench in her role as M) are the clear standouts.
The Man in the High Castle, Season 4 (11/15)
One of Amazon's first original series is finally coming to an end this month. The Man in the High Castle is an alternate history science-fiction drama set in a parallel universe where the Axis powers won World War II, and the United States is split into two territories occupied by Nazi Germany and the Empire of Japan. "High Castle" is adapted from Phillip K. Dick's 1962 novel of the same name, and is executive produced by director Ridley Scott—who is most famous for "Blade Runner," another Phillip K. Dick adaptation. 
HBO
Us, Jordan Peele, 2019 (11/23)
This horror drama from Jordan Peele, writer/director of 2017's smash hit "Get Out," made waves earlier this year for its social commentary and an earth-shattering performance from Lupita Nyong'o. A family of four on vacation to Santa Cruz must endure a night of terror, as four people that look exactly like them break into their house and attempt to murder them.
The Darjeeling Limited, Wes Anderson, 2007 (11/1)
This film is incredibly unique—even for Wes Anderson, who is known for his signature directing and writing styles. Owen Wilson stars as Francis, who survived a near-fatal motorcycle accident and decides to go on a trip of self-introspection with his two brothers Peter and Jack, played by Adrien Brody and Jason Schwartzman. Fans of Anderson's other films should absolutely queue up this quirky comedy.
Criterion Channel
12 Angry Men, Sidney Lumet, 1957 (11/1)
One of the most famous courtroom dramas ever—and one you've probably seen clips of before in some class, somewhere—"12 Angry Men" focuses on a jury of 12 who must make the decision of whether to convict or acquit an 18 year old accused of stabbing his father to death. It's well known for taking place in a single room, forgoing any change of location to focus on the characters and their conflicts when trying to make the correct legal decision. "12 Angry Men" is a compelling watch, even over 60 years later.
Mulholland Dr., David Lynch, 2001 (11/1)
This neo-noir mystery still has people on the Internet speculating what it all even means. The Hollywood-focused psychedelic thriller was controversial with critics on release, but is now regarded by many publications as one of the greatest films of the 21st century—in fact, BBC listed it as the best film made since the year 2000. To say anything else would be to spoil the fun, but nearly 20 years later there is still nothing else quite like "Mulholland Dr."