New AfroFIT dance class promotes campus inclusivity
October 21, 2019
Ever since Sara Koné, senior chemistry major, was a young girl, she has always been passionate about dance. Koné is originally from the Ivory Coast in West Africa, and grew up dancing through her church. Although mostly self-taught, she also picked up both traditional and modern African dance skills from those that attended the same church. Now, in her time as a college student, Koné not only uses dance as a way to exercise and express herself, but also uses it as a way to share her culture with others. 
When Koné first became a student at NKU, she wanted to make use of the Campus Recreation Center. She was familiar with Zumba and other dance fitness classes that were offered, but none of them featured the kind of dancing from her culture, said Koné. According to Koné, she decided to apply to become an instructor so she could create a class that incorporated music and dance steps from all parts of Africa.
"I just want the campus to know more about Africa through dancing because that's what I do best," Koné said.
Almost two years later, after training and shadowing other instructors, Koné's cardio-intensive AfroFIT dance class, which is held on Thursday nights from 6:45-7:30 in studio 2 of the campus rec center, was brought to life. 
"It's crazy how much art can teach you about people," Koné said. 
Dr. Ernest Smith, Professor of English, frequently attends fitness classes at the rec center. However, according to Smith, Koné's class was unlike any class he had ever taken. Smith first met Koné over the summer while she was shadowing an instructor of the pilates class he took.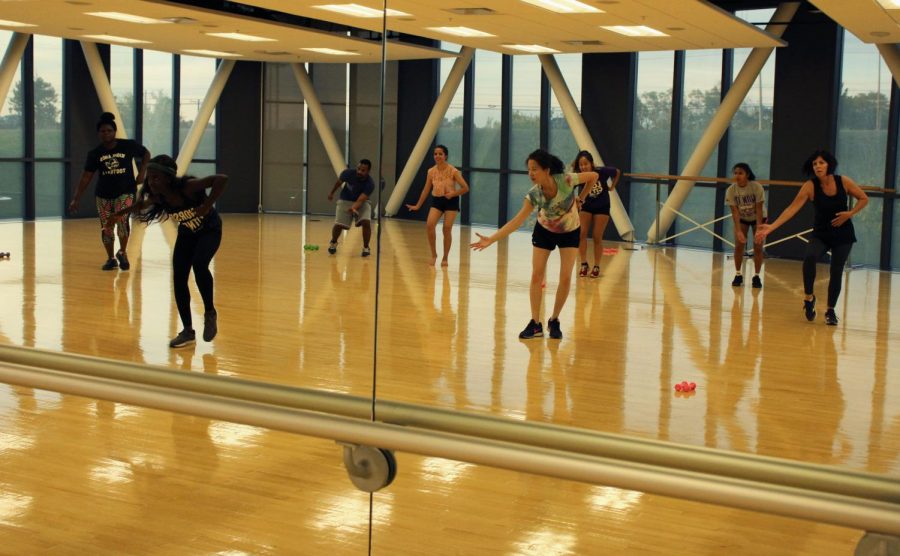 When Koné told Smith that she would be teaching an African dance class, he told her he would attend her class to support her, Smith said. 
According to Smith, he showed up to her first class and was the only white person. He has continued to attend her class each week and now notices that different faces of all ages and ethnicities join in.
"I think she's really doing the whole campus a service by exposing us to a broader cultural experience," Smith said. 
Koné also changes up her playlist every two weeks to keep things fresh, playing genres such as Congolese and Senegalese music, Smith said.
"I think the more that people expose themselves to African culture, African music, African dance, the more well-rounded they are," Smith said. 
Smith isn't the only professor to attend Koné's class. Gwen Fields, senior lecturer for the Department of Chemistry and Biochemistry also frequents AfroFIT.
According to Fields, who also enjoys dance and used to take ballet, she stumbled upon AfroFIT one evening even though she had never taken a class at the Rec Center before. She decided to attend Koné's class because it happened to fit into her schedule, but ended up loving it. 
"She's so energetic, it's ridiculous," Fields said. 
According to Fields, the class is nothing short of an intensive workout.
"It is the literally fastest 45 minutes of exercise that I've ever done," Fields said. 
According to Fields, the class is also fun because the kind of music Koné plays is unique from what Fields typically listens to on the radio.
Besides Koné's class offering a cultural experience for those outside of the culture, it's also an opportunity for fellow international students to continue to embrace their culture. 
Chinonye Izu and Goodness Israel, who are friends of Koné, are both senior nursing majors from Nigeria. They agree that Konés class not only allows them to express themselves,  but also gives them the opportunity to connect with those that are from the same and different cultures. 
"Having the class, I feel free to kind of bring people together, the American culture or the African culture together and kind of give people that platform to be able to learn about the culture through music … that's super important," Israel said. 
According to Izu, as an international student, when people from other cultural backgrounds make the effort to learn something about her culture it's a very meaningful gesture.
"If I sit down with an Asian person and I've never set down with them before, and they see me pick up the chopsticks and eat, that would make them feel like you've accepted their culture," Izu said. 
According to Koné, at the end of the day she just wants her class to encourage people to exercise and have fun while doing so.
"I like going to the gym, but I want to have fun when I'm going to the gym, so if there's a way that you can actually work on your body and have fun doing it, why not?" Koné said.