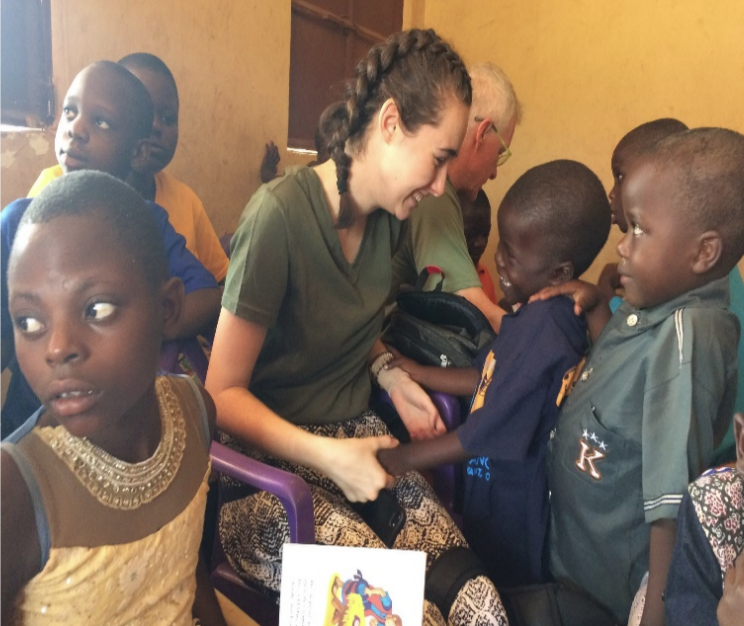 Student harnesses love of teaching in Uganda
November 26, 2018
Katie Mann spends most of her time loving. More specifically, loving others. She loves her boyfriend, she loves her Kappa Delta sorority sisters, but above all, she loves those in need.
After four or more years of developing love for self and others as a Kappa Delta member, most graduates in December will be eager to begin careers in the comfort of local offices, classrooms or labs. Mann, a senior social work major, will be preparing to embark on a much different journey to put her "KD" qualities to the test.
Over 7,500 miles away, endless dirt roads, small huts and no electronics is just the beginning of  the list of culture changes awaiting Mann in Busia, Uganda. She intends to educate orphan children there for at least a five-month period.
She's not afraid, though.
"I couldn't get there soon enough. I love it there," Mann said.
She rattles off facts about the nation as if it were her home. She beams when speaking of the people and expresses her eagerness to start this mission.
She embodies Kappa Delta's motto, "let us strive for that which is honorable, beautiful and highest."
Mann didn't hesitate to provide an enthusiastic "yes" when asked about the possibility of permanent residency. It wasn't just Kappa Delta who prepared her for this mission, though.
Mann has been overseas before. With her father being from Scotland, she has always been raised with an understanding and appreciation of differing culture. This will be her fifth time visiting Uganda. Her family has a love for the country that began decades ago with Mann's grandmother, who instilled a passion for international mission work into the family.
"Everyone in my family feels a connection to Uganda," Mann said.
Their passion grew specific, and Mann's family developed a devotion to the parentless and orphaned children of Uganda. If the rest of the Mann family is anything like Katie, their love for these children is palpable.
After a mission trip she took as a teenager where she tragically witnessed the death of a child, Jill Baker, Mann's aunt, made it her mission to one day make a lasting impact on these children. She did so by helping to establish Noah's Ark Children's Home in Busia through the Promise Kids a Future organization based in Georgetown, Kentucky. The organization's mission states: "Promise Kids A Future, Inc. is devoted to helping families through their adoption process as well as placing orphans in need in Christian families, where they can be nurtured and guided in their journey of life."
The Children's Home, affectionately known as "NACHO," has become the heart of Mann's family's mission work. It was also once home to Mann's sister, Maureen. Now 13, Maureen was adopted by the Mann family when she was 11 years old.
Mann's face, scattered with freckles, holds a smile consistently when speaking about her family's mission. Her pride is shown through her sheer knowledge of their work and her eagerness to contribute now that she is finally of age.
Kim Rockwell, one of Mann's sorority sisters and former roommate, didn't know where to begin when asked what qualities make Mann fit for five months in Uganda.
"I have looked up to Katie since I met her years ago. She is so selfless, giving and dedicated. I try to be all those things in my daily life, but Katie is hard to match," Rockwell said.
Rockwell praised Mann for her ability to tackle personal missions while also contributing heavily to the Kappa Delta chapter philanthropies, like Prevent Child Abuse America and The Girl Scouts of America.
"You will never meet someone with a more serving and faithful heart than Katie," Rockwell said.
Mann will be working at NACHO as a teacher. She has been working tirelessly on her "nurturing curriculum," collaborating with the directors to perfect her lessons. The subjects taught at NACHO are tailored to specific issues faced by the children opposed to traditional school subjects. After multiple trips to Uganda, observation and research, Mann has set her goal during her stay: to teach children that negative emotions are healthy.
Ugandan culture discourages displaying or even talking about negative emotions, as it is thought to show weakness. This mentality encourages all children to keep their scariest thoughts to themselves, leading to unhealthy mental states and relationship issues. Mann recognizes this problem, and has devised her nurturing curriculum to target it.
The children at NACHO have seen some of the most violent acts imaginable.
"There was a little girl who held her brother down while he was sacrificed by their parents. And she wouldn't speak about it."
The excitement dulled in Mann's eyes recalling this account, and continued to dull as she retold the devastating situations some of NACHO's kids have endured. She hopes gaining the trust of the children through forming loving relationships will allow them to open up about their pasts.
Recalling her first trip to her "second home" brought the spark back to her eyes. Mann's first trip to Uganda was eye-opening. Busia is a welcoming, Christian village, but those are about the only two similarities between the Ugandan city and the U.S. Completely unexposed to other cultures and simply misinformed, the people of Busia were intrigued to see a 12-year-old Mann.
"They thought white people were born as adults. None of them had ever witnessed a white child," Mann laughed, seemingly pondering the absurdity of that thought in current context.
The people of Busia now see at least one member of the Mann family quite often.
Some might think moving across the globe to a completely different culture is insane. Some would find the mission valiant. Most would agree it takes courage, and Mann exudes it.
Georgette Blank, another Kappa Delta member, believes the sorority simply enhanced what Mann already had in her.
"I think one of the major qualities she possesses is just confidence in herself, and that's what Kappa Delta tries to bring out of every single girl," Blank said. "I think moving away is very worrisome and stressful and a lot of people wouldn't have the confidence to just pack up their life and move to a completely different country alone."
In addition to the moral support provided by her sorority sisters, Kappa Delta has helped Mann collect basic necessities for NACHO's residents. The inherent philanthropic nature of the sorority goes hand-in-hand with Mann's personal and family mission.
It is clear how popular Mann is among her sorority sisters, but that admiration cannot be topped by that of her boyfriend, Hunter Adams. Although he is extremely proud of his girlfriend of two years, he will miss their everyday communication immensely.
"I love her and I love that she has this incredible calling to help people, and I'll do everything I can do to support her in her endeavors. With that mindset and a lot of prayer, I can manage those five months a little easier," Adams said.
Now, Mann takes advantage of the brisk fall weather to work on her nurturing curriculum on the patio of campus' Starbucks. But when the air gets colder, December rolls around and Mann strides across the BB&T arena stage to collect her diploma, she'll only be a few months from embarking on this mission, which all others have culminated to.
Thousands of miles from relatives, her boyfriend and sorority sisters, Mann's love will need new recipients. With a heart big enough to hold the whole nation of Uganda, the small village of Busia and the NACHO kids are in for a treat.