Julia Oldham combines feminism and science through art
October 23, 2018
Multimedia artist Julia Oldham spoke to students and staff in the Digitorium in Griffin Hall Thursday about past, present and upcoming projects.
Oldham grew up with a physicist for a father who told her bedtime stories about the beginning of the universe. This sparked her desire to blend science and art as she got older.
Even though Oldham had the desire for arts she never questioned if she would be an artist. "I always was gonna be an artist from when I first picked up a pencil," Oldham said.
Her interest in outer space, dogs and the history of science greatly influence her artwork. In order to avoid using only the aesthetics of science or loose interpretations, Oldham has worked with scientists to create her art accurately.
Oldham began her presentation with a video titled "How to Be a Star," which is part of a series she created called "Cosmic Self Help." This series uses aspects from YouTube self-help and Autonomous Sensory Meridian Response (ASMR) videos to explore the universe and help listeners relax.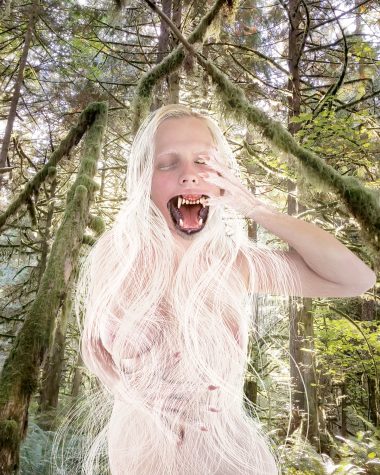 Along with being the center of the "Cosmic Self Help" videos, Oldham also uses self-portraits for her project "She-Wolves." Oldham said that performance has been an important part of her work for years.
Oldham's interest in wolves began when she moved to Oregon eight years ago.
"She-Wolves" features digitally modified photographs of the artist as part wolf, part woman. Oldham aims to shock the audience with her grotesque images perverting society's normal view of women. Equating femininity and nature for this project challenges what the ideal woman's body is supposed to look like.
While the canine theme continued, Oldham's presentation went from shocking to moving with an emotional eulogy for Laika the Soviet space dog. Laika became the first animal to orbit the earth in Sputnik 2 on Nov. 3, 1957, but the true details of the mission and her death weren't revealed until 2002. Oldham created her first fully animated piece with "Laika's Lullaby."
"Laika's Lullaby" tells the true story of Laika. Oldham worked with musician Lindsay Keast who used recordings of Laika's heartbeat and the different Sputniks to create her song. During the short video, the room was quiet as many in the audience held back tears.
Dogs are featured in many of Oldham's projects, including "The Loneliest Place," a short comic about a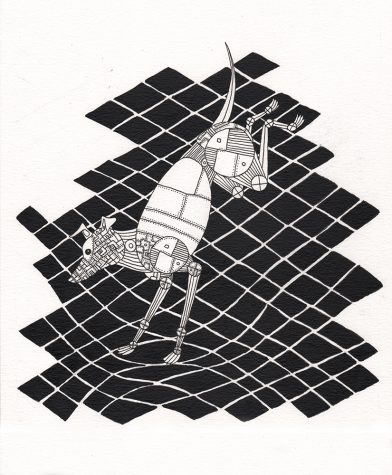 woman scientist and her robotic dog. Oldham's current project, "Fallout Dogs," tells the story of the stray dogs in the Chernobyl Exclusion Zone.
Oldham went to Chernobyl in May 2018 for five days to record the stray dogs and interact with them. She said, "we see mostly of Chernobyl is of the loss and eerie destruction."
Oldham said instead of capturing the usual, she wanted to capture "the living Chernobyl." She showed an excerpt of the short film that will be released in January 2019.
The closing presentation was an animated short called "Speak, Thou Vast and Venerable Head" from a scene in her favorite book. In chapter 70 of "Moby Dick," Captain Ahab addresses the severed head of a sperm whale. Oldham took dialogue from the book and her own words in an attempt to articulate the way this scene makes her feel.
"Making this video was a pretty research heavy process," Oldham said.
During the Q&A, Oldham discussed how "Moby Dick" became her favorite book, her plans for the series "Cosmic Self Help," the emotional toll in creating "Laika's Lullaby" and her plans for creating a longer graphic novel or animation piece.