7 things they don't tell you at orientation
August 20, 2018
During Northern Exposure, you learned how to pay for tuition, how to sign up for classes, where to find campus organizations and other information essential for your college experience—but they didn't tell you everything.
The Northerner wants to give you some insider info so you don't have to learn the hard way (like some of us, unfortunately). Here's seven things you need to know to survive NKU:
Avoid parking woes
Once you obtain your parking pass, make sure you read the fine print—well, maybe not literally, but check that your permit matches the lot you park in.
Students can park in any three of the parking garages at the Welcome Center, University Drive and Kenton Drive. Student lots are I, F, M, P, Q, R, U and W; permit lots are A, G, H, K, L, O, S, T, X and Z.
In order to get a spot close to your building, try to leave early. However, on those mornings when you keep hitting snooze and can't seem to pull yourself out of bed, you might still be able to snag a spot. When the lots get full, check out the Welcome Garage and Lot O for parking, according to NKU.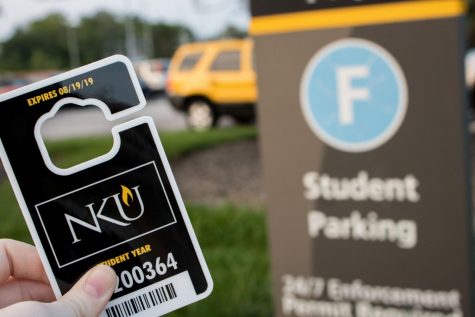 Hustle to the shuttle
East Village freshmen, let us introduce you to your new best friend – and sometimes worst enemy- the NKU Shuttle. This is your free ride to campus everyday, but it can definitely be confusing to first-time users.
The shuttle stop is right outside the A wing of Callahan Hall. Other buses in the TANK system come to campus and to East Village too. The only bus that goes directly from East Village to NKU is the bus with a design that states "NKU Shuttle," and "Connecting Callahan Hall to Campus." However, when this bus is in the garage, only get on the one that says "NKU Shuttle." If not, you may end up on a bus going across the river without even realizing it.
The shuttle takes about ten minutes to get back to Callahan from campus. Even then, it can sometimes get delayed if there is traffic on campus around the bus stops. Give yourself enough time before you have class for the possibility of having to wait at the stop.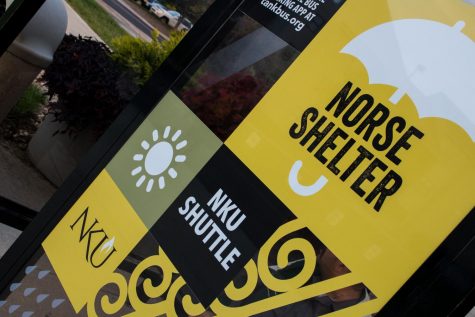 Friendships will change
Between orientation, gen eds and trying out new organizations, you will meet a TON of people in your first few weeks.
Being social can be nice, but it can also feel overwhelming. Everyone is trying to find their place on campus, which means there will probably be a lot of relationships that flow in and out of your life.
Try not to stress during this time and be patient with the change instead. Over time, you will realize which people are the ones truly meant to stay by your side.
Don't be afraid to reach out when you feel lonely or lost. There are plenty of resources on campus, like Health Counseling and Student Wellness in the University Center (UC) where you can sign up for individual or group counseling sessions.
Freshman 15? More like freshman 25
If you're living on campus, you're more than likely required to have a meal plan. And while this benefit ensures you food (yay), it may help pack on pounds.
With soda fountains in every corner of the Student Union and dessert bars in both dining halls, you can quickly lose track of how many calories you're taking in on a day-to-day basis. Taking care of your body is an important part of self-care, especially in the midst of adjusting to a new school.
Your food options aren't limited to the SU; there is an Einstein Bros. Bagels in the Steely Library and there is a Darwin's Cafe in the Natural Science Center. In addition, there is FuelNKU, a campus food pantry in UC 142. It's open on Mondays and Thursdays from 10 a.m. – 2 p.m. and provides free nonperishable food and toiletries to students.
The next time your class gets canceled, resist the urge to snuggle back up in your dorm room; try hitting up the Campus Recreation Center, or even taking a class there. If you can't make it to the Rec Center one day, grab some friends and spend a warm day outside playing volleyball or going to a local park.
Staying active is a good way to help relieve stress, while also spending time with friends and taking care of yourself!
Get the dish on your professors
Do you ever wish that you could get to know your professor's teaching style before the class even started? Well, you're in luck. Rate My Professor relies on students to accurately and honestly rate their professors. Students give ratings for the professor, difficulty of class, textbook usage, attendance and other things that might make-or-break your decision to take a class.
Use this tool at your own discretion; some professors with low ratings may actually be awesome, while not-so good professors may have five stars. Take the ratings with a grain of salt.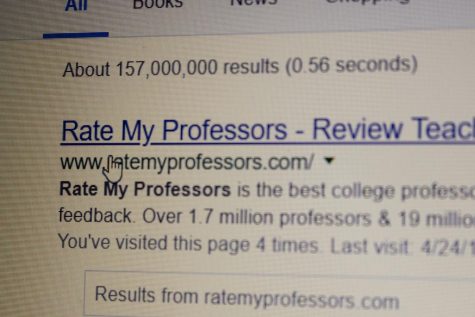 Get outside and out of your comfort zone
The residential buildings at NKU offer plenty of space outside of their walls for students to enjoy fresh air. Sand volleyball courts, intramural fields and outdoor seating provide a perfect place for students to relax and more opportunities to meet new friends.
While it may not be at the top of your college packing list, bring a volleyball or frisbee with you. Having something you can take outside will motivate you to be active in your first weeks at school, take some time to practice self-care and connect to others in your dorm building. It's an easy way to start a conversation and make connections with your neighbors.
Chill where you want
Believe it or not, you're not restricted to the buildings you take class in. You can study, explore, nap and hangout in any of the public spaces on campus.
Want something cozy? Try the fifth floor of Landrum Academic Center, where you can curl up with a good book. Looking for a cool photo-op? Check out the graffiti stairwell in the Fine Arts Building. Do you yearn for natural lighting while you write papers? Griffin Hall's lobby boasts plenty of seating and prime views.
NKU will (hopefully) become your home for the next four years. Go forth and explore; you never know what you might find.