GALLERY: The biggest acts and best munchies at Bunbury 2018
June 10, 2018
Were you able to attend Bunbury Music Festival? If not, don't worry: The Northerner's got you covered on the hottest acts, best food and chillest vibes at Cincinnati's biggest summer alt-music event.
Bunbury, a three-day indie rock and hip-hop paradise that overtakes Sawyer Point and Yeatman's Cove each June, is a music fest to the core. Artists from all over played three stages spanning the parks as patrons dined on Cincinnati's hall-of-fame-worthy food trucks and sipped (or chugged) on craft brews.
The long three days included staggering, strong and fun performances. People traveled from all over the country to take part in this year's iconic lineup and experience what else Cincinnati has to offer.
In its seventh year, Bunbury brought in big name artists like Post Malone, Foster the People, Young the Giant, Jack White, Third Eye Blind, Lecrae, Chainsmokers, Fitz and the Tantrums, MisterWives and more.
Many artists were new to the Bunbury lineup, including NYC indie pop band MisterWives.
"We haven't played a festival in a minute so those are always the most fun shows and we are excited to see what all Cincinnati brings," said Mandy Lee, lead singer of MisterWives.
One thing is certain about any music festival, the food is phenomenal. Many vendors took their wheels, wok's, stove tops and kitchen utensils to the streets of Bunbury to bring gourmet food to the music travelers.
Day 1
On Friday, fans lined up to listen to bands such as Royal Blood, Young the Giant, Fitz and the Tantrums, The Front Bottoms, LANY, Bishop Briggs, Allan Rayman, Reo Cragun, Everything Everything, Welshly Adams, The Wrecks, Lift the Medium and Lilly McCabe.
Friday started out hot and humid until thankfully rain came to cool everyone off. The rain delayed performances 30 minutes, but that didn't stop fans from thriving in the fields. People continued to line up to listen to unique and exciting performances. A few of my favorite performances on this day were Young the Giant, Royal Blood and Allan Raymon.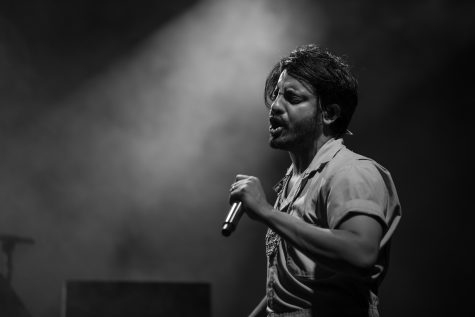 As we walked  from performance to performance we stopped to get some fresh tacos from one of the local street Vendors known as Mazunte, as well as some popular noodles from Island Noodles.  
Day 2
Saturday performances included Foster the People, Griz, Third Eye Blind, MisterWives, Arizona, Magic Giant, Tall Heights, Friday Giants, Zoo Trippin, The Miners and Andrew McMahon and the Wilderness. Out of the performances on this day Zoo Trippin and MisterWives surprised me the most. The acts were fun and upbeat.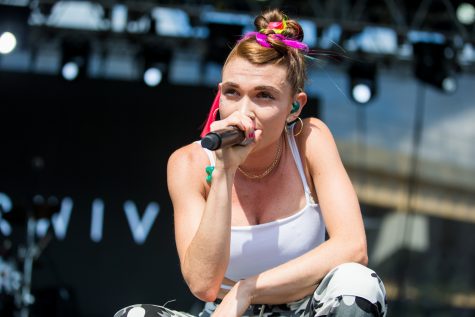 William Hehir, bass guitarist for MisterWives, told the Saturday crowd Cincy is a welcome stop on the band's long club tours.  
"We have done some club tours here in the past like at Bogart's, and we love the water and the bridge," Hehir said. "Cincinnati is amazing."
The day was sunny and hot but with all the fun, upbeat performances it made the day bearable. On day two of Bunbury, audience members were able to interact and sing along with artist like Arizona and many more.
Day 3
By far, Sunday was one of the most talked-about days.
"When I found out that Post was going to be at Bunbury this year I didn't even hesitate," said NKU senior Libby Siry. "He is an amazing artist and puts on a really good show." 
Many acts were taking place but the most talked-about performance of the night was Post Malone, who played at 8:45 p.m. at Sawyer Point Stage. The crowd was loud and rowdy, ready to listen to what Malone decided to bring to the stage. Rockstar, I Fall Apart, Better Now, Congratulations, White Iverson and many more wowed festival goers.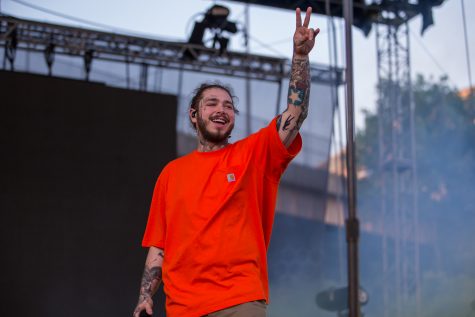 Once the performance was over, we decided to walk up to the Hungry Brothers food truck and order some "Kevin Bacon fries", crispy waffle-cuts smothered in ranch, bacon and grilled chicken.
Food trucks such as U Lucky Dawg, Roll On In, Chicken Mac Truck, Angela's Curbside cuisine, Brew City Sausage and many more parked their trucks along the park walkways to allow hungry souls to travel on through and pick from a wide selection.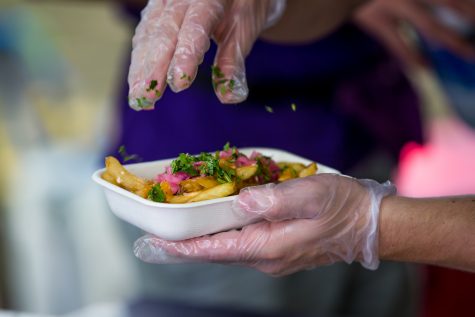 Other street food vendors included Eli's BBQ, Che Restaurant, Grand Central Delicatessen, Injoy Street Food, Mashed Roots, Midway Café, Mikey's Late Night Slice, Tickle Pickle and many more.
All of the vendors brought their own form of indie-pop fun with their unique style and spin on some fan food favorites.
With all the food, drinks, people and unforgettable artists, Bunbury was a weekend to remember: the atmosphere was unique and full of positive vibes. This a festival that should be on your summer 2019 bucket list.