Students' Fringe plays tackle race, theatre and open mic woes
June 7, 2018
Decades ago, an ocean away in Edinburgh, Scotland, a new kind of theatre broke out into a festival of its own. The first fringe festival hosted unusual and even revolutionary theatre and art pieces in a space away from the pressures of social norms.
Cincy Fringe brings the same concept to your backyard 71 years later, highlighting the theatrical works of art you won't find at any mainstream fine arts fest. This year, several NKU students and alumni are showcasing their talents in the primary lineup of Cincy Fringe.
"The Blackface Project"
NKU junior Isaiah Reaves thought of little else between November and February except the play he submitted to the 2018 Cincy Fringe. It was during a rehearsal for NKU's production of "Angels in America" that he finally learned his play was going in the Fringe.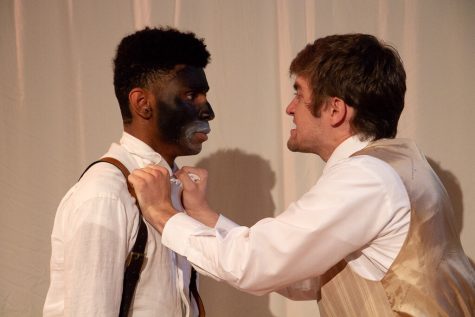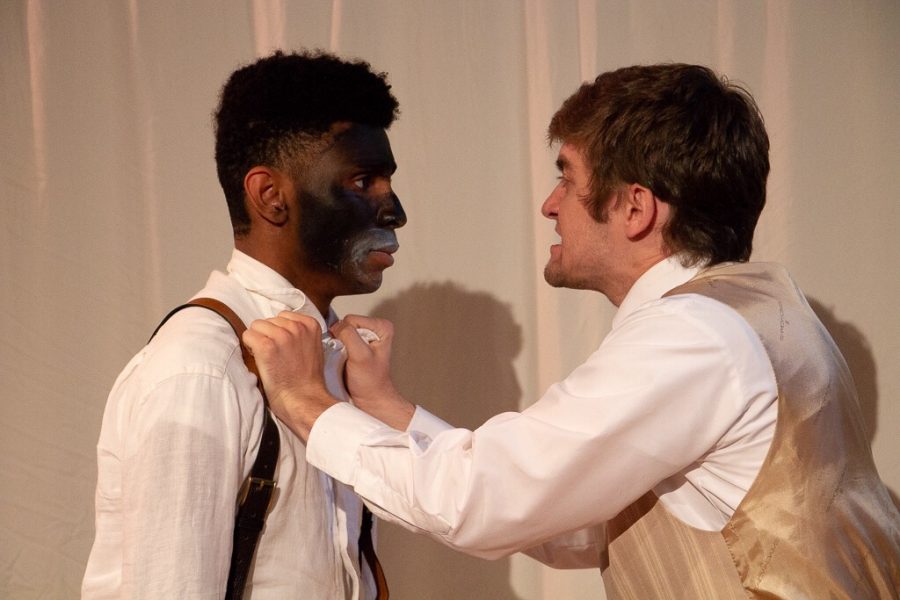 Reaves' Cincy Fringe journey began in 2016 with his performance in a play called Invisible Girl at NKU, and from then on he "loved the festival and being a part of it as an actor."
Inspired to tell a story of his own, he began writing. Over the course of a summer, "The Blackface Project" was born.
"My play is loosely based on the life of Bert Williams," Reaves said. "Instead of taking the approach of a biography, I decided to focus on his opening night in Broadway."
The play winds back to the early 19th century as Williams, the first African-American Broadway star, forged relationships with his cast, critics, fans and boss. It also delves deeper into Williams' mental and emotional state during that period interwoven with Reaves' modern perspective.
"There are biographical elements, elements of my own life in the piece, elements of what's going on today racially and at the time in 1910," Reaves said.
Recent NKU grad Mackenzie Boyd joined "The Blackface Project" as stage manager through her friendship with director J. Farley Norman. She thought it was a great opportunity to spend her fourth Fringe working on a show presented from the perspective of a minority.
"We should tell more Black people's stories; we should put them in other things," Boyd said.
Reaves received a grant from NKU's Institute of Student Research to produce "The Blackface Project". Professor Daryl Harris guided him through the application and he worked with Kimberly Wiley from the Institute. Before this experience, Reaves didn't know artists could apply for research grants. Without the assistance, the production wouldn't have been fully funded. Reaves' cast and crew were also made up of mostly NKU students and alumni.
The new show is already gaining city-wide attention: alt-weekly publication CityBeat gave "The Blackface Project" its Critic's Pick distinction.
Reaves believes it's important to recognize Cincy Fringe because people come from all around to share their work in the festival. He said the festival provides the powerful realization that there's so much talent, locally and nationally.
Boyd appreciates that Fringe provides so many opportunities for people to "play with experimental kinds of theatre."
"[Cincy Fringe] really lets art shine and not keep going with traditional, conservative theatre," Boyd said.
He hopes the audience recognizes that Williams and other Black performers paved the way for Reaves to create this show.
"Before I write anything, I ask myself if I have something to say beyond what I've said. Between Bert's story and my own, it turns out I had a lot to say."
"Bad Poetry Night"
Alexx Rouse said she was "raised" in Cincy Fringe, and that it filtered into every conversation at her performing arts high school. In 2012, she wrote her first full-length play for the festival.
At NKU, she met her boyfriend, Zach Robinson, who premiered his first show at the Fringe in 2015. He continued his connections with the festival after he "caught the Fringe bug." The couple followed their passion for theatre after graduating and are presenting "Bad Poetry Night," the first play they co-wrote and co-directed this year.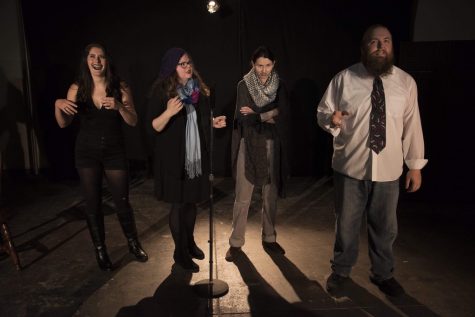 "Bad Poetry Night" follows a cast of characters as they stumble through an awful night of open mic poetry, what Robinson calls a "cringy, fun, bizarre world of bad poetry open mics."
Rouse said they wanted to write a satire for those who have been to uncomfortable, awkward readings in a space to laugh at the weirdness that can ensue at those kinds of events.
Both Rouse and Robinson hope their play leaves the audience feeling happy and makes them laugh. Rouse hoped that "Bad Poetry Night" was just the first of many that her and Robinson can work on together.
Robinson encourages everyone to come to the Fringe, a place he said audiences get a different perspective.
"I hope they keep going, keep expanding their mind because theatre is a great chance to challenge what you believe, see something from a new point of view and have a good time," Robinson said.
Similarly, Rouse hoped there would be lots of first-timers to Cincy Fringe this year, and that they leave "feeling artistically filled."
"I think everyone has an artistic gas tank, and you have to go find new art experiences to fill it up," Rouse said. "You see something new, that makes you feel uncomfortable and think about something you haven't before."
For tickets and showtimes for "The Blackface Project", "Bad Poetry Night" and more, visit www.guide.artswave.org.