SOTA seniors' art comes from introspection.
April 27, 2018
The School of the Arts is a place on campus where students discover their passions and turn them into art. Senior Chloe Collins, who is pursuing a BFA in art, took a gender studies class that challenged her perception of feminism.  Through the course, Collins grew and became more aware of her own beliefs.
"I didn't understand the movement, it took some time and I finally came to the conclusion that I was [a feminist]," she said.  
Also a vegan, she merged both of these beliefs into activist art: "All of my art is activism."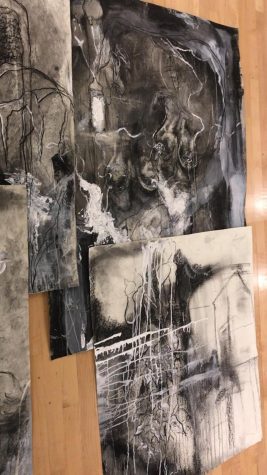 Compared to more traditional fields like business, final projects take on a new meaning for art majors. Collins completed a large-scale drawing, "Innocence," which is inspired by her childhood—where she grew up in a vegetarian atmosphere.  This ultimately inspired her decision to make this piece focus on "the inner-connections of the female body and veganism."
"I compared the anatomy of the female body to an animal body in relation to the dairy industry," Collins said. "I really enjoy that because I illustrated this woman, and I stripped her of her identity of who she is to talk about the way we compare women to animals in the media."
Collins is not the only art student who uses their life experiences to influence their art. In his graphic novel series "High Templar," senior Daniel Izzo  has continuously worked on his inaugural book, whose first sketches came out of a sketchbook he carried around in middle school.
"He is a past version of myself, he is how I saw myself eight years ago," Izzo said.
Over the years, Izzo matured and found that  something that he viewed as an image in a sketchbook, he could develop and make this character more than just a sketch.
"I began to mature, but he stayed the same I figured he'd make a good symbol of immaturity. I began to love storytelling, art is a good means to that end," and "My development for the most part has been outside of the arts," said Izzo.  
"One thing I know for sure is that I am going to keep making art and speaking about things," Collins said.