Pride Week Open Mic helps student artists make their voices heard
April 8, 2018
Nearly every seat available in the Student Union multi-purpose room was filled Tuesday night as students, parents, and friends came to support the lineup of artists and poets at the 5th annual NKU Open Mic Night—part of the campus' yearly Pride Week.
Birdy, a trans student at NKU, gave a moving speech about his life experiences. Though he expressed that he was "nervous as hell" while on the stage, he confidently delivered one of the more emotional pieces of the night.
This year is the first that he said he's been proud of who he is. He noted the colors of the LGBTQ spectrum—represented at the event—and the people he's been able to meet.
"It makes me really happy to know that I'm not alone and there are people out there who might be just like me or who I can connect with in one way or another," Birdy said. "The thing about being trans here at NKU—I recognize this is going to be a positive environment if I do come out, and I've been slowly making my way here."
Bonnie Meyer, director of LGBTQ programs & services at NKU, said that the open mic night tradition started five years ago when former student Morgan Bell focused her passion for poetry into a single event.
"This is one of the best events that brings together people across identities," Meyer said. "The energy and the support in the room, it's just one of my favorite events of the year."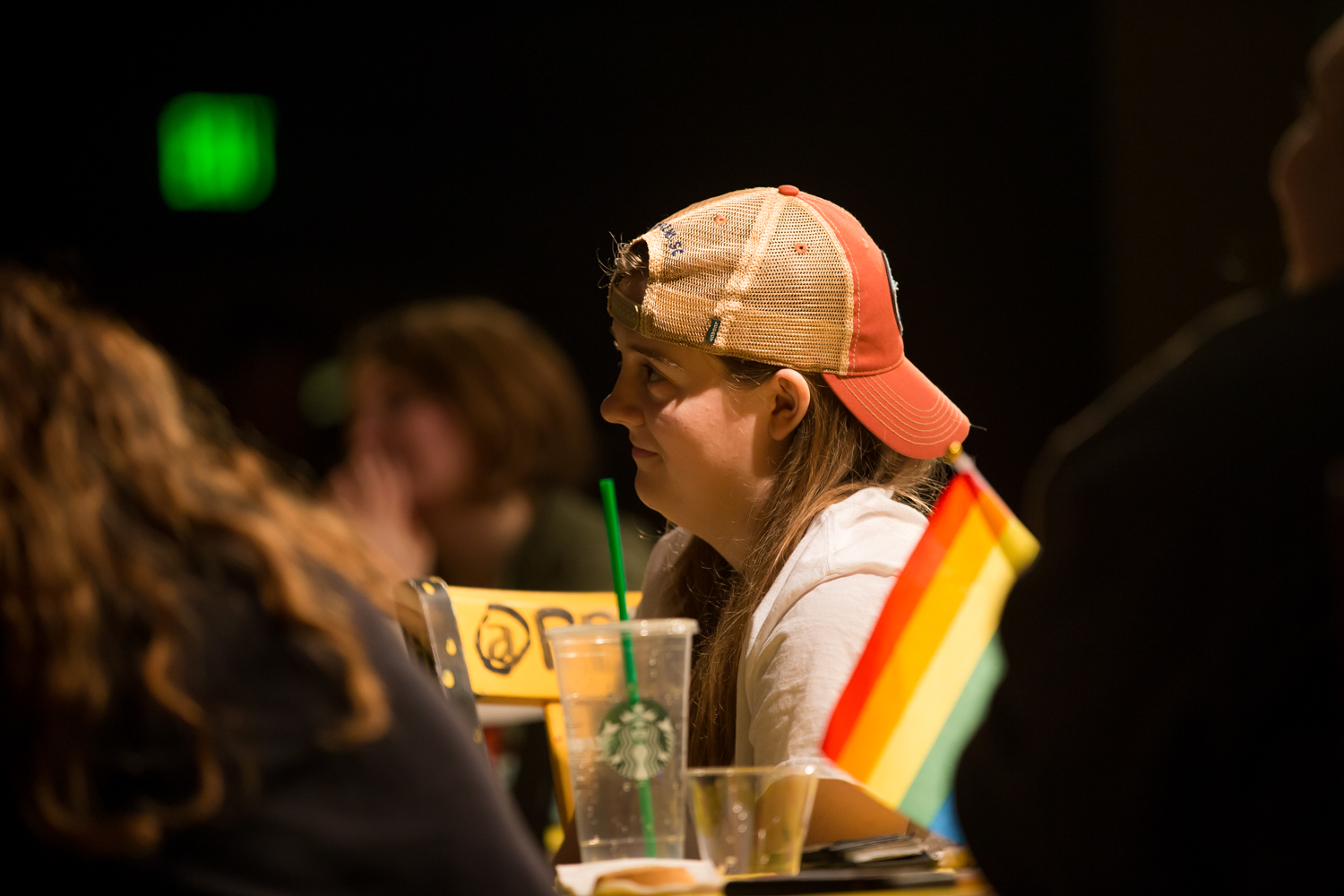 Meyer stressed the importance of visibility for LGBTQ students.  
"I can't tell you the number of times we've had students who have been here on a campus visit and have seen the rainbow flags around the plaza and said that's really spoken to them and… reaffirmed that NKU is the right place for them, because we're visible about our support for the LGBTQ community," Meyer said. "Visibility, education, advocacy, and awareness is what this week is all about. And celebration! Celebration."
Freshman Nathaniel Marcum delivered a powerful performance with a piece about being biracial, "Mixed Feelings," which he wrote last year—the summer before his senior year of high school.  
"You never see people talking about the struggles of being mixed because it's a whole different struggle," Marcum said. "I had a lot of internal conflict with just accepting who I am and how society views me, how a lot of people from my personal life view me, and even how I view myself. I really just want people to… keep an open mind. Everything's mixed, nothing's ever black and white."
Marcum said he thought Open Mic Night was "a lot of fun" and was already anticipating next year's event.
"This event was fucking awesome. It was so cool. And whether you're just an attendee or a participant – just come try it out, even if poetry isn't really your thing," Marcum said. "I think it's a great place to come to go and find new experiences or learn different things. Even if you only stay for 15 minutes."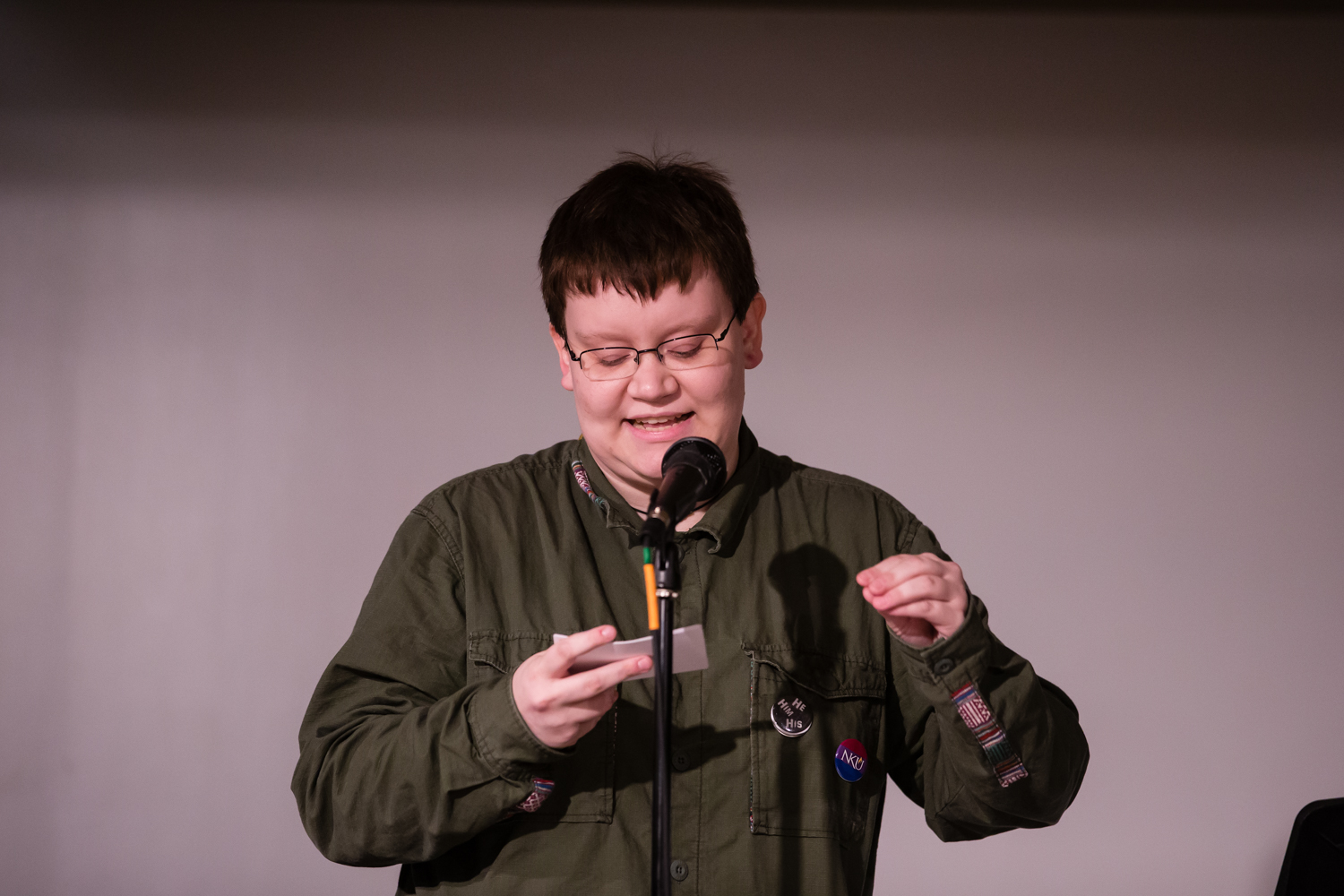 Musical and spoken word group TRIIIBE, which stands for True Representation of Intellectual Individuals Invoking Black Excellence, finished off the night of performances and touched on topics such as racism, sexuality, religion, and socioeconomic status. The group's members—Siri Imani, Aziza Love, Jones, Pxvce (pronounced "peace"), DJ Planet Venus, and Christina—all met due to their work as social activists in their community.
"We're all like minded, we're all activists in some way. We all stand up and speak out for things that we want to see in our community. We met through events in the community, and that's how we ended up connecting," Imani said. "And then music carried it on from there."
The members of the group cited numerous influences on their work, including Prince, Michael Jackson, Gil-Scott Heron, Saul Williams, Missy Elliott, Erykah Badu, Left Eye, and Kendrick Lamar – or, as Pxvce said, "everyone that engulfed themselves in their art to become bigger than their human self – like their music, or the things they stood for – their ideas, what they were able to accomplish."
The entire group expressed a desire to help their local community with their work, saying that "TRIIIBE is love."
"And that means love for music, love in action, love in action with the community, loving self, and loving those outside of self. That's the vibe that we have and that we put out," Aziza Love said.