Professor's 'Econ Beats' parodies inspire creativity, fiscal responsibility.
January 20, 2018
In 2009, Dr. Abdullah Al-Bahrani handed his class an unusual quiz prompt: to write a poem on economics. Nine years later, that assignment has evolved into an international program challenging students to combine financial literacy with musical creativity.
The project, which became officially known as Econ Beats in 2015, is a package of transdisciplinary resources and lesson plans that help economics majors and EMB students band together to create their own educational song parodies.
Al-Bahrani said that making these videos has helped students in his own class tackle heady concepts in a fun, accessible way. Now, he's ready to introduce this exciting spin on economic theory to students overseas: next semester, two high schools in Australia will create their own Econ Beats clips using grant funds.
"One school who has already had its grant approved is going to be talking about the policies of net neutrality and its impact on citizens," he said. "We're taking policy and economic understanding, and we're teaching it to the public through song."
As the Australian schools prepare their lesson plans during summer break (which runs from December through January in their commonwealth), Al-Bahrani's first annual Econ Beats Competition is entering its final stage.
In December over 50 Kentucky students submitted their own parodies, which were judged by a panel of economists. The team selected two videos that they believe combined educational value and multimedia production most effectively.
The finalist: a team of NKU students' riff on Young MC's "Bust a Move," demonstrating ways to curb or encourage consumption, and a tax-themed take on Taylor Swift's "Blank Space" penned by the University of Kentucky's Economics Society. Viewers can vote for their favorite tune on Econ Beats' website. The winning team will earn $1,000, but the runner-up will still collect $500.
Al-Bahrani said that more than 450 people have cast their ballot, and those interested can do so until polls close on Jan. 28.
Though he admits his bias, he's confident that the Norse will come away from the competition victorious.
"I've taught across the country, but what I love about NKU is the students," Al-Bahrani said. "They're passionate. That's what comes across in that video. Those students had fun, their economic understanding was on point and they even had a social commentary aspect to it. But most importantly, they had fun."
Someday, he hopes that every university has their own Econ Beats submission.
"It's a different way of presenting economics. That's my calling–to re-do what everybody's been doing and do it better."
Econ Beats: Overture
"I first became interested in economics when I failed my first economics class," Al-Bahrani said.
He spent the first three years of his undergraduate career at the University of Louisville as a chemical engineering major. Though he hated the field, Al-Bahrani felt stuck: throughout high school, he'd tell friends and family that he wanted to go into engineering because he was a talented mathematician. He felt committed to the choice.
Al-Bahrani decided on taking an introductory economics class to take care of some leftover general education credits, only to be confronted by an overwhelmingly intimidating learning environment. Before each lecture, the professor would randomly select three or four names from his roster of about 120 students. Those students were responsible for answering all questions asked during the period.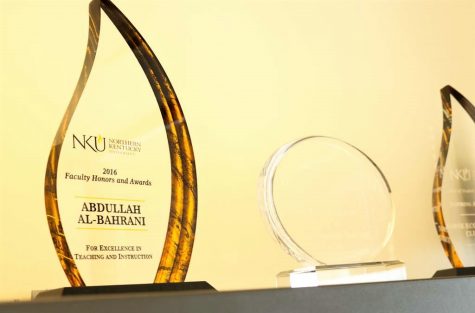 As a shy student who spoke English as a second language, this sort of attention mortified Al-Bahrani. He began missing classes for fear of being called on, and his performance suffered as a result.
He retook the class the next semester to help wipe the grade from his transcript. This time around, Al-Bahrani was matched with an instructor whose teaching style he loved. He aced the class and subsequently fell in love with economics.
"That semester, I learned that teachers matter," he said. "It's been my calling to be the best teacher I can be."
Essentially, Econ Beats combines all three of Al-Bahrani's passions: teaching, music and the study of supply and demand.
"What I want to do is make financial education accessible to the general public," he said. "We want to make economics relevant."
When he isn't listening to his students' educational re-creations of pop songs, you can catch Al-Bahrani running on the treadmill to classic 90's hip-hop cuts.
Wu-Tang Clan, Biggie Smalls and Tupac are his favorite artists–he prefers socially conscious lyrics that ask questions, leaving solutions up to listeners.
"I'm not telling students what to think," he said. "I'm asking them questions."