SHEP founder seeks inclusion, finds inspiration in family
Missy Jones, founder of the Supported Higher Education Project, recently celebrated the program's tenth year.
January 8, 2018
It began with a question a little over ten years ago after a Thursday evening graduate class. One of Missy Jones' students, Nancy Bardgett, a high school special education teacher at Highlands High School in Fort Thomas, Ky., wanted to know how to get her students more involved on campus.
The two began to brainstorm ideas to make Bardgett's dream become reality. They organized for Bardgett's students, and eventually students from other local high schools, to visit NKU and work with Jones' students four Fridays throughout the semester.
Bardgett's question and the resulting success would lead Jones to found the Supported Higher Education Project (SHEP), a program that allows people with intellectual disabilities a chance to experience college and pursue personal goals at NKU.
This year, Jones is celebrating SHEP's 10th year of creating an inclusive environment on campus, which she built from the ground up in the limited amount of time she found between classes.
"What she's driven by is a passion for opportunities for all students, and that's what drove her to start the SHEP program," Bardgett says, "That's what has driven her to maintain it all these years when it hasn't been easy, and put all these hours into it, that she honestly didn't have, is because she truly has a passion for providing opportunities."
Jones has wiry hair that falls just past her shoulders, a tan complexion and a stud in her right nostril. She was born in 1959, two days before 1960, in Norwalk, Connecticut. She was the youngest of four children, three girls and a boy.
They lived in the nearby town of Wilton for a while, but didn't end up settling there because their dad worked a corporate job that was prone to relocation. When Jones was 11, her family landed in Anderson, Ohio; this time they stayed.  Each time they moved, Jones' mom would call their new school district to enroll the three girls. Their brother, Tom, however, was not so lucky.
Shortly before Tom was born in 1954, a police officer rear-ended their parents' car, which they believe caused Tom's umbilical cord to wrap around his neck and cut off his oxygen supply. As a result, Tom was born with what people refer to now as an intellectual disability, while at the time it was commonly called mental retardation.
It was common to keep intellectual disabilities secret at that time, Jones said.
"My family didn't handle it that way, ya know? My parents were told to institutionalize my brother, and they said, 'No, that's my son. We won't do that'," Jones said. "So I learned about inclusion from my family, and I actually learned about exclusion from schools, because of my parent's experiences."
This, Jones said, became the core belief instilled in her by her family: that inclusion is essential and disability is simply a part of the human experience.
Having had success with the pilot programs she worked on with Bardgett, Jones began to envision how she could help make NKU a truly inclusive college community.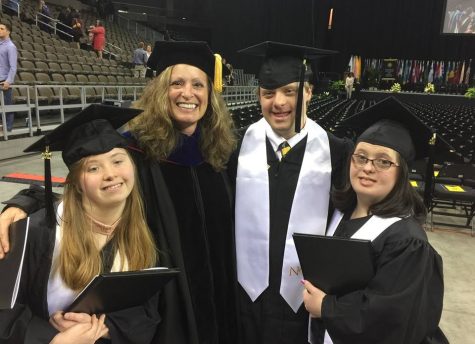 Jones decided to find out what parents really wanted for their children with intellectual disabilities. She attended a parent group meeting with Kentuckians Interested in Down Syndrome (KIDS) in order to gain some insight.
Jones admits she had limited expectations going in, thinking solely along the lines of work experience.
"They were resoundingly saying they want their kids to go to college, they want a college experience, and I was really surprised by that. So I thought, well okay here we go," Jones said.
Of course, knowing what the parents want and making it a reality are two very different things.
Shortly after the KIDS meeting, Jones was approached by the mother of a boy with Down syndrome. They had recently moved to the area and had heard through word of mouth that Jones was interested in finding a way to give young adults with intellectual disabilities the opportunity to go to college. She explained to Jones that her son had watched his sisters go to college and had desperately wanted that same experience.
Jones would find that the key to making the SHEP program a reality was a loophole.
There was a program already in place at NKU  that allowed non-degree-seeking students to take up to 36 credit hours. Jones took advantage of this program by using it to avoid the need to send in the students' ACT scores, which Jones says is something most of the students in the SHEP program don't have.
The goal at first was to make this dream a reality for one student, completely under the radar. It didn't take long, however, before Jones began to receive multiple phone calls from families who wanted the same experience for their children.
Soon, Jones was helping six students (the total number that she could manage at the time) live their dream of going to college. Throughout the process of figuring out what people wanted and how she could make it happen, Jones was still working full time as a professor of special education.
Jones was creating these opportunities for students and working to make NKU more inclusive simply because she cared. It wasn't her job, she wasn't getting paid, but she was passionate–strong in her belief that everyone that wants to go to college should have that option.
"She genuinely cares about the wellbeing of others, and the wellbeing of her students," says Olivia Brown, a longtime student of Jones and peer mentor for the SHEP program. "I think that's something I definitely admire about her."
Jones grew up watching Tom be denied the opportunity to get an education because schools weren't required to offer special education classes.
The year that Jones began kindergarten, her family was temporarily living in California. They only stayed for six months while their dad trained for a job, but their time there lined up with the start of school meaning the kids would have to begin the school year in California. As with each move, their mom called and enrolled the girls, while struggling to find a place to enroll Tom.
When it came time for the first day of school, Tom would be staying home. Jones recalls her brother sitting on a large rock near the end of the driveway of the house they were renting, waiting for her and her sister's to get home from school.
"It's like an image seared into my brain, … that school didn't find him valuable enough," Jones says. Even as a kindergartner, she remembers thinking it seemed unfair that he should have to stay home.
Although Tom was five years older than Jones, they were developmentally the same age due to Tom's intellectual disability. Growing up, the two spent a lot of time together along with their dog, Scottie, an overweight black lab mix that resembled a smushed black bullet.
The scope of things that Jones saw her brother excluded from went well beyond school. While his sisters went off to college, got married and had kids, Tom wasn't able to do any of those things. School, however, was something that didn't have to be out of his reach.
Jones saw Tom denied the opportunity to learn and grow by getting an education, saying, "My brother didn't have those things, I'll be darned if any other kid has to go through life and not have those things, it's not right."
It was because of this Jones chose to study special education.
Having married in 1979, just before her 20th birthday, and quickly having two girls, Carri and Jesse, Jones dropped out of school. She would eventually find her way back and finish her doctorate in 2001, but the motivation came from arguably the worst year of her life.
"
She genuinely cares about the wellbeing of others, and the wellbeing of her students."
— Oliva Brown
Jones' husband left her in 1984 with no real means to support her girls. This would also be the year Tom would suddenly pass away due to pulmonary edema, a rare condition which causes the lungs to fill up with an excess of fluid.
The combination of these two events would light a fire under Jones, pushing her to continue her education as a single mother.
"I wouldn't have been able to do any of those things had I not gone back to college, and I don't think I would've gotten the shot in the arm that I needed if those two things hadn't happened that year. It was an awful year," Jones said laughing, "It was terrible, but it's the reason that I'm sitting here right now."
While the loss of Tom caused her family to drift a part from one another, Jones uses his memory to inspire and push her to make a positive impact on the issues facing students with intellectual disabilities.
Jones described the start of the SHEP program as a grassroots effort.
"Even in the beginning I wasn't telling anybody what I was doing, I was just doing it."
There came a point, however, when Jones recognized that in order for the program to grow, people had to know it existed. Both Jones and Bardgett, who became the facilitator for the SHEP advisory board, remember then-President Geoffrey Mearns being tremendously receptive and supportive of the program.
After advocating to the administration and working to evolve the program, three SHEP students walked across the stage at graduation in May 2017. NKU Provost Sue Ott Rowlands approached Jones after the ceremony excitedly demanding more.
"We've been very lucky to have Missy Jones providing leadership for that program for so many years, because it's really her vision, her passion, her dedication to it that has allowed the program to flourish," Rowlands said.
Jones added three more students, bringing the total to nine. With more funding being offered to the program, she was able to hire a part-time coordinator for the program.
Bardgett, having been retired from her teaching job for a while, was an obvious choice for the position.
"I'm definitely looking forward to working with her, but I'm also looking forward to relieving her of some of it." Bardgett began the coordinator position in October.
While Jones has been relieved of some of the more demanding aspects of running the program, she's adamant that she'll continue to work to improve the program and extend its impact across campus, crediting Tom along the way.
"I truly think that everything I do today, and everything that I believe in, and everything that I fight for, all goes back to him. He's the inspiration, he's the legacy for anything that happens as a result of the work that I do."