English student's band bridges genres to create online niche
December 18, 2017
By day, Solomon Underwood is a freshman English major at NKU, hoping to attend Chase Law School after graduation. By night, (or at least whenever he logs into his Soundcloud account), he's known as Solly, one half of genre-bending hip-hop duo Starship Emo.
"I can go from Soundcloud rapper to law school, like, really fast," Underwood said.
Joined by his former Georgetown high school classmate Jacob Miller, who now attends Colorado College, he has self-released 34 songs since putting out Starship Emo's debut record, I'm In a Band!, which was made available to stream for free in the September of 2016.
The loose tracks and playlists that populate the band's Soundcloud and Bandcamp accounts span a diverse array of genres: though much of their early material was informed by the home-recorded folksiness of Bright Eyes, in recent months the project has embraced the aesthetics of hip-hop's new wave while still holding firm to their roots.
On a song titled "Suburban Sap," released in November, Underwood raps about being unable to decide where to grab lunch with his girlfriend, vocals dripping in cyborgian slickness. "Yellow Sundress," featured on the band's We Didn't Last Til' Summer EP, throws back to 80's synth-pop, grooving to keyboard chords with Chicago-house inflections.
"Trap-rap is definitely so in right now," Underwood said.  "Everyone's using the sound and everyone has the knack for listening to it. I used to listen to punk rock and rap before that: stuff like Kendrick [Lamar] and Childish Gambino."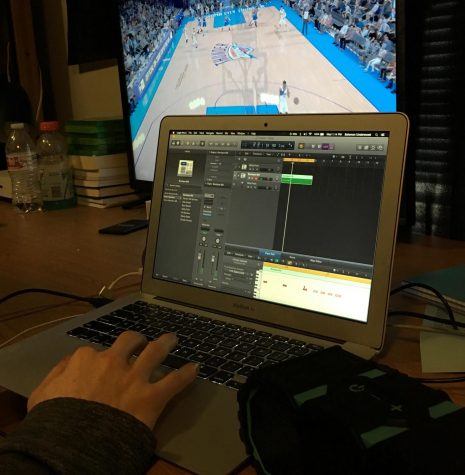 He began to narrow and refine his tastes when he downloaded Soundcloud, finding other smaller artists like Trippie Redd and Ski Mask the Slump God who self-released their work.
"It was free," he said. "I didn't want to pay for Apple Music or Spotify, and Soundcloud was just there. Two years later, now everybody's using it."
Though most students who attended school with Underwood listened to country music, he was able to find a bandmate in Jacob Miller, who had been playing the guitar since he turned 11.
"We'd parody popular songs like 'Hey There Delilah' and stuff like that," Underwood said.
Miller said that the two have been friends since freshman year, when Underwood's dad became his basketball coach.
"Solomon was always blasting Childish Gambino," he said, "but he was always into the whole hip-hop vibe. I was knees deep in my punk and emo phase, but I also really loved jazz and blues, so I think a lot of my guitar playing lies in this kind of twinkly, jazz flow."
After catching buzz around school, the duo decided to take music more seriously, originally naming their project Hotcake Emo to reflect their angsty lyrics. In retrospect, Underwood thinks that Starship has a better ring to it.
Their first serious effort produced a song called "Cold Sheets," buried deep in the band's Soundcloud account. It's raw and comprised of just two chords, but you can tell that it was fun to make: the fuzzed-out, cluttered sound quality of the recording puts you in the moment, as if you're right there, watching the duo strumming away.
"It opened up the door for music-making, especially for Solomon," Miller said. "I'm most proud of him for all that he produces and records by himself. Yeah, it's awesome to get on tracks together and listen to the amazing production he does with my riffs and rhythms, but at the end of the day, I'm most proud of how much he's grown and developed the passion he has."
The band was originally conceived as an all-acoustic project, recording bare-bones guitar tracks to the Voice Memos app on Miller's phone. It wasn't until Underwood downloaded Garageband and then later its upgraded form, Logic X, that Starship Emo began experimenting with its current sound.
Though the two attend colleges in different time zones, that doesn't stop them from collaborating. Underwood says that Miller will send him a song idea that he'll send back advice on, and vice-versa.
"It's kind of a long-distance relationship," Miller said.  
"Honestly this is just a phase," read the digital liner notes printed at the bottom of Starship Emo's Bandcamp site. "Two dudes who are best friends making some art together as a coping mechanism for whatever."
Just four months after writing that, Underwood doesn't feel like the project's so casual anymore. Any creative endeavor is something he takes seriously. Though law school's his main focus, Underwood's always putting pen to paper, whether it's for his next song, a story written for a creative writing class or a screenplay.
"I used to want to write movies," he said. "Screenplays and stuff like that. I'm usually working on them in my free time."
He was first inspired to express himself  in high school by Stephen King books and The Maze Runner.
"It's kind of corny," he said, "but I still do love that kind of dystopian fiction stuff."
Underwood also spends a lot of time watching YouTube: he said that the freedom the internet allows for everyday people to get their ideas out into the world excites him.
"A lot of these people have millions of views, and came up from nothing to get there," he said.
In the future, he'd like to find a way to perform his discography live, but for now, he can still play his old acoustic material. Here's a stripped-down live version of "Dancing Out the Door," which first appeared on I'm in a Band!