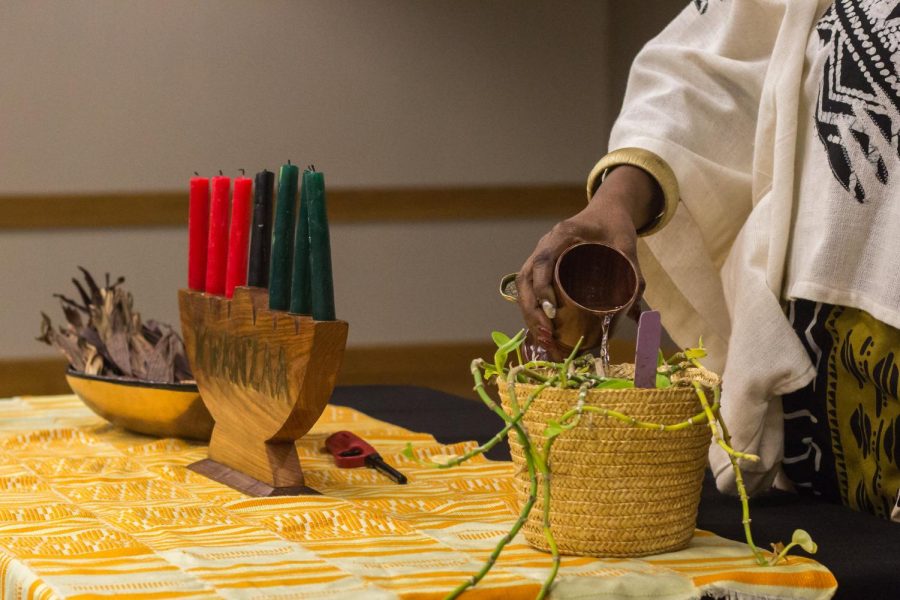 GALLERY: Before Winter break, a Kwanzaa celebration
December 6, 2017
Traditional drum music permeated the University Center ballroom. Around tables, colors of green, black and red decorate the space: symbolic of the holiday.
On Dec. 1, African American Programs and Services hosted its annual Pre-Kwanzaa event.
Traditionally, the holiday is celebrated between Dec. 26 and Jan. 1. On campus, it's celebrated before winter break, while students are still on campus.
Students leaders of AAP&S recited the principles for each day of the holiday and explained the meaning behind each.  
Water was poured out as an offer to past ancestors, called libation–a ceremony performed by special guests. Throughout the evening, there were reggae performances as guests looked through merchant booths.
Dieshia Meyers, a junior at NKU, attended the pre-Kwanzaa celebration three years ago as a freshman.
"I think more people have become aware of it, since I first began coming." Meyers said.
Tiffany Johnson, NKU freshman, came to gain knowledge and understanding of the holiday and to be "open-minded" to celebrating the holiday.
For many students who attend, this is the first time they have participated in the holiday. In this way, it introduces them to the culture behind the event.
"Freshman year I was like, 'What is Kwanzaa?' Now I actually have an understanding of it and feel more comfortable being here than my in freshman year, " Meyers said.