Once erased, now reflected
November 19, 2017
Over the course of October, NKU's LGBTQ History Month served as an opportunity to take in, understand and be more aware of the struggles and achievements of the queer community. The people and the stories that make up these communities are often not found in history textbooks, Rae Loftis, coordinator of LGBTQ programs and services, said.
"These were things left out of a lot of our histories growing up, so to be able to work that back in and pay homage and celebrate all of the successes and all of the challenges that got us to where we are is something we all need to be a part of," Loftis said.  
NKU began its fourth annual LGBTQ History Month celebration with a kickoff drag show in the amphitheater of the plaza on Oct. 2.
With a keynote speech, an art exhibit called "Vibrant Kin" by Nancy Yerian, a "Drag 101" class for students interested in the performing art and a bonfire for National Coming Out Day, many events took place in October to celebrate the month. The next big event for the office, Pride Week, is already being planned.
NKU's Director of LGBTQ Programs and Services Bonnie Meyer said that every year they look to students for inspiration for events that occur throughout the month, and collaboratively base decisions on student interest along with current queer issues happening in the world.
This year's keynote speaker was Payton Head, an educator, activist and former student body president at the University of Missouri, where he helped bring awareness to issues regarding race on campus. Past speakers have included Laverne Cox, the first openly transgender person to be nominated for an Emmy, Patrisse Cullors, the co-founder of the Black Lives Matter movement, and Michael Sam, the first openly gay player drafted in the NFL.
LGBTQ Lead Student Ambassador Amber Caines said the keynote speech was her favorite event. She loved seeing the diverse audiences that came and watched the speaker, and the connections made among the people there.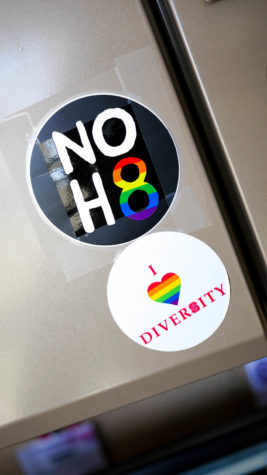 As lead student ambassador, Caines watches over other ambassadors and makes sure they work to improve the environment on campus, educate allies and help connect students with administration. This year, her role in history month included setting the location of the bonfire despite construction on campus and collaborating with other organizations to table at the drag show.
Loftis, said this year they wanted to put a focus on the importance of storytelling. The art exhibit, "Vibrant Kin," was a showcase that illustrated fifty years of LGBTQ history in Cincinnati. It was displayed on the third floor of the Student Union.
At a discussion-based event, several older community members came out to speak about their on experiences in the community to college students in regard to the exhibit. For Loftis, this was an impactful moment.  
"That was a really amazing thing to watch, them complimenting each other," Loftis said. "Students complementing these people on what they had gone through and these people complimenting the students on what they are doing."
The celebration of LGBTQ History Month was planned with the intention of spreading awareness, providing further education, and creating a deeper sense of inclusion and community on campus.
"It's important because it provides us an opportunity to showcase role models for our community, to do some education around the history, and to provide some additional visibility, awareness, and advocacy on campus for the LGBTQ community," Meyer said.
Everyone involved with the office of LGBTQ Programs and Services was pleased to see the increased participation and involvement in this year's events. The growth on campus reflects that of the office itself. Founded in 2013, they have celebrated history month every year since. Events also happen year-round and include trainings and workshops. In 2016, the office  created an LGBTQ-focused study abroad program.  
"The Campus Pride Index, the national assessment tool used by colleges to gauge LGBTQ inclusiveness on campus, has ranked NKU 4.5 out of 5.0 stars the past two years, ranking NKU nationally as one of the most inclusive campuses for LGBTQ individuals," Meyer said.  
Meyer wants to continue conversations throughout the year and continue to show that LGBTQ individuals are not only in every community, but all around the nation.
"It's important for us to continue to bring awareness to that, to advocate for our community on campus and the visibility of the community," Meyer said. "We know that one of the most important ways that we shift perceptions on any given topic is by exposure to that topic or give an opportunity to engage with people across difference."