Review: Day two of Midpoint Music Festival
September 25, 2017
"Seven years ago, a young guy walked into my office on a Friday afternoon with a CD called I Want! I Want! and two tickets to the studio release at the Mockbee," said WNKU's station manager Aaron Sharpe, addressing a Taft Theatre crowd so densely-packed that extra security had to be called in to keep walkways clear. "But I didn't go to the show. I was like, 'who's this guy?'"
That invitation, it turned out, was offered by Nicholas Petricca, frontman of Walk the Moon: the internationally-esteemed stadium rock quartet waiting in the wings of the Taft's stage to perform Midpoint Music Festival's final set.
"It has been such a privilege to play music for you guys," said program director Liz Felix, joining Sharpe at the front of the stage. "I want to thank everyone who's ever supported WNKU or listened to WNKU. It means so much to us."
"You never know who's going to be the next Walk the Moon." – @WNKU pic.twitter.com/AmyomjofV1

— The Northerner (@northernermedia) September 25, 2017
While WNKU's last year supporting Midpoint Music Festival before officially going off the air on Sept. 28th made Sunday night a bittersweet occasion for fans of public radio, the second half of the two-day event proved to be a boon for all fans of indie music. The date featured Midpoint's most diverse lineup to date and housed an array of genres including bluegrass, conscious hip-hop, shoegaze and free-improv jazz under a single roof.
Despite some logistical issues, 2017's Midpoint was the most intimate and sonically exciting festival I've been to since my high school friends and I road-tripped to Chicago's Pitchfork Festival in 2014. In case you weren't able to snag tickets, here's a highlight reel of Sunday's most memorable moments.
The venue
If there's one thing you can count on Midpoint delivering, it's an unpredictable layout. In the past, the event has spanned downtown Cincinnati and taken place among Over-The-Rhine's late 19th-century architecture—this year, despite promises of an outdoor stage, the festivities were hosted entirely indoors, housed in the Taft Theater and the Cincinnati Masonic Center.
I wasn't completely sold on the venue at first. The hallways that connected the two buildings were labyrinthine, leading festival-goers through a series of twists and turns that recall an M.C. Escher illusion. A few of the performers even commented that they had trouble finding their respective stages.
Despite navigational issues, though, the Taft and the Masonic Center were the night's most compelling characters—especially the latter of the two. The Central Parkway YMCA stage stood beneath stone pillars and medieval coats of arms in the Masonic Center's cathedral while the Taft's Art Deco aesthetic provided an epic backdrop for larger acts.
What Midpoint lacked this year was a festival atmosphere. With most of the festivities taking place indoors, only a few food trucks pulled up to East Fifth Street, and there wasn't much space for vendors to set up their booths between the stages.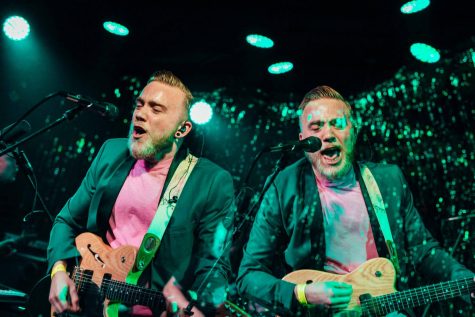 Ledges
I'd admittedly never heard of Ledges before this weekend—I initially planned on using their set to perch in the further-back seats of the cathedral while reviewing the notes I'd taken on other bands that had performed that night.
As the band began to burn through their 30-minute set list, though, I changed my plans and headed down to the floor level to get a closer listen.
Proud of their roots in Akron, Ohio, Ledges are a group of childhood friends who pour sweeping chord-changes into a blend of midwestern emo, shoegaze and '80s new-wave synthesis. Cuts like "Teenage Daydream" and "Indian Summer" felt massive in the room's cavernous construction, tucking the audience into cozy sheets of reverb and ambient drones that left just enough space for frontman Andy Hoffman to send his massive vocal presence swooning through the air. Their sound wasn't flashy, but the heft of its hooks won me over.
"Our new album's called Homecoming," Hoffman told me after the show. "It's a concept album: a story from start to finish that follows a character who's a mass of all of our personalities. We all wrote the record. The guy's on a journey where he deconstructs his faith, love, doubt, loss and a little bit of redemption at the end."
Dan Deacon
Native to the same Baltimore scene that birthed seminal future-primitivists Animal Collective, synth-pop producer Dan Deacon is no stranger to strangeness. Marked by unshakeable optimism and a surreal sense of humor that has earned his music videos Adult Swim airtime alongside Tim and Eric's Bedtime Stories and Superjail, his prolific discography is a hyper-caffeinated splash of technicolor.
After blasting a bass-boosted version of The Little Mermaid's "Under the Sea" through the PA system, Deacon stepped behind his brand-new controller setup to deliver a dizzying setup of cyborgian pop music, screaming into a vocoder as his Steve Reich-inspired compositions shuffled to off-kilter (but danceable) beats.
Deacon asked the crowd to form a circle, selecting a red-haired teenager in a Paisley-print button-down and his tie-dye-wearing pal to be respective leaders of Team Terrence, comprised of the circle's left half, and Morty's Destroyers, who stood on the right. At the count of three, the team captains broke into unhinged dance moves, tagging in crowd participants to replace them.
The DJ set was so ridiculous, it felt freeing. By the time Deacon made it to his final track, the entire crowd was wriggling like overcooked spaghetti, boiling in the heat of his searing synthesizers.

Just watched @noname lay down some bars at @MidPointMusic! Grab our upcoming Wednesday issue for our review pic.twitter.com/FZ9KbmOtvF

— The Northerner (@northernermedia) September 25, 2017
Noname
Once a mysterious presence on a few Chance the Rapper mixtape cuts, Chicago-based emcee Noname has garnered a cult following since the reveal of her self-released debut record, Telefone, which dropped last summer. With the help of producers Cam O'Bi and Saba, she approached the songwriting process with a specific image in mind: the awkward, heart-racing feeling of talking to your crush for the first time.
Noname felt anything but awkward Sunday night. Backed by a five-piece band, she freestyled and joked her way through jazzier renditions of her gospel-inspired discography. Her pink Vans skate shoes reflecting light from the stage, she encouraged her fans to bounce along to spoken-word bars. Despite introspective lyrics that ranged from nostalgic to morbid, Noname's positivity never seemed to deplete.
"Y'all look like you don't know how to feel," she said, laughing before assuring the audience that they could feel free to turn up. And turn up they did, especially to the quirky "Sunny Duet" and fan-favorite "Diddy Bop."
BADBADNOTGOOD / Walk the Moon
Both of these shows took place at the same time, which gave me ample opportunity to burn off the lemon crepe sitting in my stomach as I mall-walked from stage to stage.
Canadian jazz quartet BADBADNOTGOOD, who I was a bit more excited to see, made for a seamless transition from Noname's sound. They've laid down instrumentals for Earl Sweatshirt, Denzel Curry and Kendrick Lamar over the course of their 10-year history, initially achieving viral status thanks to a Tyler, The Creator co-sign.
Their classically-trained backgrounds were just as evident as their love for hip-hop. Leland Whitty rattled off snaking sax riffs and trills of flute while his rhythm section backed him up with ominous repetition. Not unlike Dan Deacon, drummer Alex Sowinski ordered the festival-goers to raise their hands high above their heads and imagine that they were ocean waves, undulating to the tones.
Goaded into a final encore by the crowd, Whitty and Sowinski dropped their instruments to engage in some impromptu interpretive dance as Matthew Tavares and Chester Hansen floated free-jazz improvisation on bass and keyboard.
Meanwhile, Cincinnati's Walk the Moon looked like genuine rock stars in the Taft, donning avant-garde fashion and face paint as they shredded guitar solos and burst into anthemic choruses, ending the set with their breakout hit "Anna Sun."
Colorful lights washed over the ballroom, rendering the attendees a sea of ever-changing hues.
At that very moment, in the Taft and in the Masonic Cathedral, two audiences became waves.