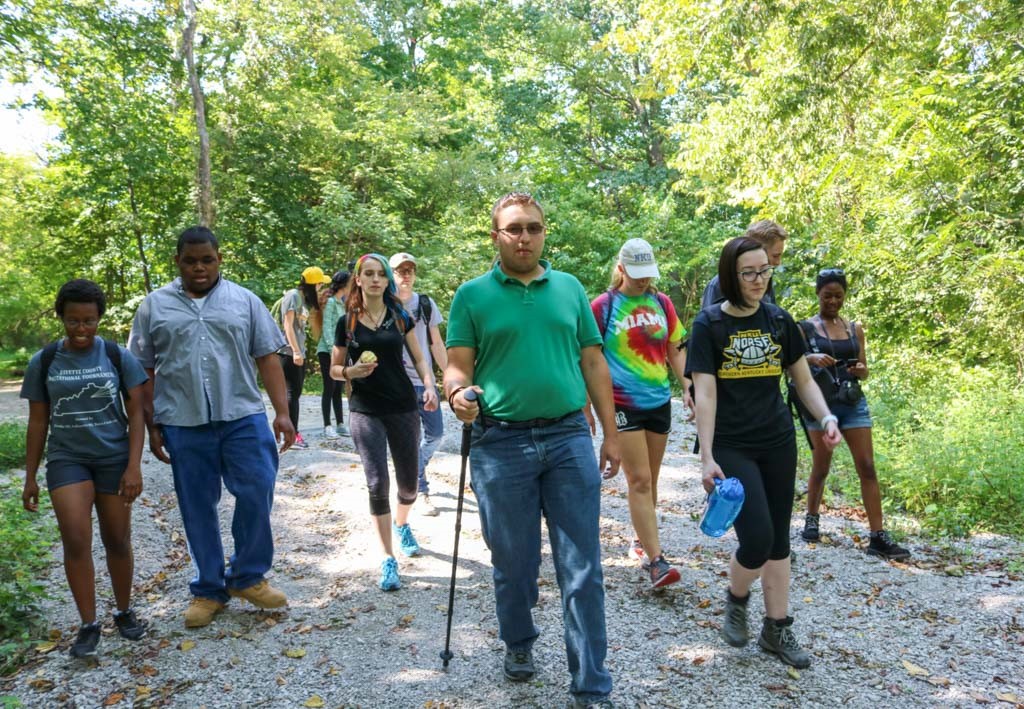 Hiking club merges outdoor spaces and community
NKU students take hiking club one step at a time
September 24, 2017
As the fall semester began, a new organization emerged on campus: the NKU Hiking club. At its core is club president Allison Wendling, who began organizing it before summer had ended.
"I was surprised NKU didn't already have any hiking club and I just figured that I know a lot of my friends like to go hiking," Wendling said. "I just decided to go for it hoping that I can get people who enjoy the same thing to get in the group."
When it came to creating the organization, Lydia Human, a sophomore Business Informatics major and a club officer, wanted to help members connect with others in a healthy, positive way.
Three or four hikes both local and distant will be planned monthly. They aim to help those interested to find more outdoor spaces to explore.
"We have spoken to some students on campus that aren't from around here that say 'I love hiking but I don't know what trails are nearby,'" Human said.
Club member Tara Vassallo said she's looking for new hiking spots since she's not familiar with parks in Kentucky. Wendling added that there were also a couple of international students that joined.
Students interested in joining the club who might be intimidated about not knowing what to expect will be initiated with an introductory hike that should easy and casual for new members and a recommended supply list.
The club plans on having enough people to split into groups for multiple hikes based on distance and speed preference. Vassallo's advice for beginners is simply to take the first step.
A simple initiative to just pick a trail and go is exactly what the NKU Hiking Club is providing for students interested.
Giving and getting information to and from people, figuring out schedules and coordinating that information to plan for hikes was the club's biggest challenge starting out, but since then, they have attracted about 80 members to their Facebook group page.
"I just put the word out there and people responded," Wendling said. "I guess that's a good problem to have, too many people," she said jokingly.
Wendling, Human and Vassallo have a lot experience with hiking. Human said she lived in Lexington for seven years and has grandparents in North Carolina, where she also hiked a lot.
Wendling said she has hiked with her family ever since she was little, but as of last year got more into hiking on her own. Vassallo has hiked with her grandparents in Cincinnati.
The hiking club meets every second Friday of each month. They encourage prospective members to connect with them on their social media pages: NKU Hiking Club on both their Instagram page and Facebook page.