REVIEW: Ubahn Fest brings 2 Chainz, Big Sean under ground
September 14, 2017
Despite its relatively small size, Ubahn Fest boasted an impressive lineup. 2 Chainz and Gucci Mane have been at the forefront of the Atlanta trap scene that has blown apart the mainstream over the past year. Steve Aoki is easily one of the most recognizable figures in electronic dance music. Big Sean's past two albums each debuted at #1 on the Billboard 200 chart.
Ubahn Fest pulled them all together at the Riverfront Transit Center tunnel under 2nd Street in Cincinnati. The tunnel was small, narrow, dark and loud. There's no escaping the business of the festival, but that's part of the attraction.
The festival, which shares its name with the German word for "subway," chose Ubahn to reflect Cincinnati's German heritage and because it took place underground.
Everywhere you stand there's something happening, whether that's "Bodak Yellow" blaring out of the speakers on an unused stage or the clacking of skateboards against the road.
Lining the quarter mile street are tents selling everything from t-shirts to Swisher Sweets (which had a consistent line about 10 deep). Food trucks serving quesadillas, pizza and french toast were dispersed throughout to give festival goers the chance to fuel up during the 7+ hour nights.
Ubahn Fest certainly didn't shy away from the street influences, and cramming it all underground was just an added bonus.
The festival started at 6 p.m., both Friday and Saturday, and ran until 1:15-1:30 a.m.
Both days started similarly, with smaller acts from the area and the surrounding states getting a chance to impress the crowd.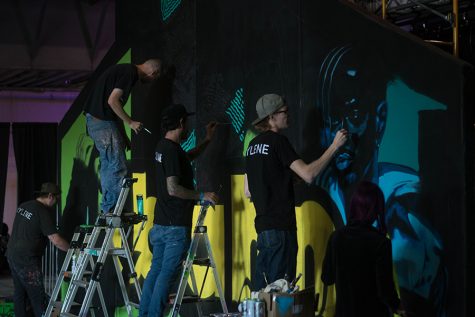 Friday: Niykee Heaton, Steve Aoki and 2 Chainz
Niykee Heaton was the first artist Friday night to attract a sizable crowd. Heaton quickly ran through a short set of woozy, post-Weeknd, r&b/pop songs.
Following Heaton about 30 minutes later on the Connect Cincinnati stage was Steve Aoki.
Aoki had the best stage setup at the festival. His constant flashing lights and video footage created a club-like atmosphere far removed from the grimy street influences of the other artists and the festival in general.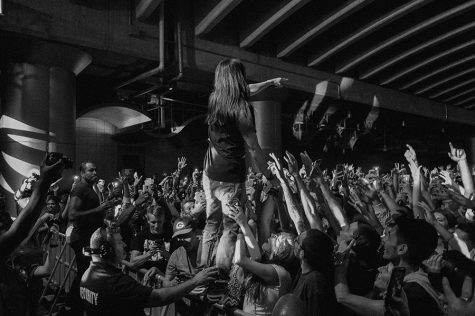 The set kicked off full speed, with growling bass lines and screeching synths pinballing off the tile and concrete of the tunnel.
The performance cruised along without much pause, giving the crowd no time to recover from the constant chanting, jumping and dancing.
Early in the set, Aoki played "Darker Than the Light That Never Bleeds," a collaboration with Linkin Park as a tribute to their late singer Chester Bennington, that released Friday.
He weaved his way through the rest of his set with his biggest hits like, "Been Ballin" with Lil Uzi Vert and "Cake Face."
"Cake Face" has been a long-time Aoki staple due to the tradition of Aoki throwing cakes at people's faces. A few crowd members including Heaton joined the long list of cake face victims on Friday night.
Aoki ended the set with a jumpy remix of Kid Cudi's "Pursuit of Happiness," which every member of the audience seemed to know the words to.
At 11:45 p.m. it was 2 Chainz's turn to take over the Connect Cincinnati stage.
DJ E. Sudd, 2 Chainz's DJ, took the stage to warm the crowd up for the Playaz Circle co-founder. E. Sudd played A$AP Ferg's "Work," as well as Lil Uzi Vert's "XO Tour Lif3" and Cardi B's "Bodak Yellow," which almost felt required given the number of times they were played throughout the festival.
Soon enough 2 Chainz was rolled onto the stage by Nurse Cupid in the pink wheelchair that he's donned since breaking his leg in August.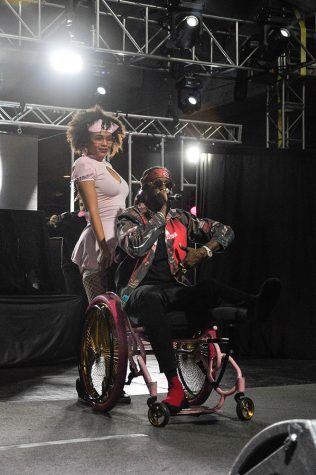 2 Chainz and the Trap Choir ran through an abridged version of "Riverdale Road," a highlight from his newest album Pretty Girls Like Trap Music.
Following "Riverdale Road" was 2 Chainz's verse from Chance The Rapper's "No Problems."
With 2 Chainz stuck in his wheelchair, there was an obvious lack of stage presence that the 6'5" former Alabama State University basketball player normally commands. It also made him tough to see at times unless you were smashed against the front barrier. All in all, Nurse Cupid did an admirable job of wheeling the rapper around, and it's hard to knock 2 Chainz when he's touring with a broken leg.
The middle of 2 Chainz set was a mishmash of his classic trap anthems and featured verses like "Bandz a Make Her Dance."
Even with the success of his newest album 2 Chainz made sure to appease his long-time fans from his Playaz Circle days with "Duffle Bag Boy."
Throughout the show 2 Chainz's goofy personality shined through the thick smoke that was half machine-made, half Swisher.
The rapper recounted the story of his doctor telling him he'd have to cancel his tour after his injury (the tour continued) and made sure to let the audience know what a blessing it was to have Nurse Cupid looking after him.
2 Chainz has always been among the most quotable rappers. His best lines, while ridiculous and at times hilarious, have a charm to them that many of the Atlanteans that have followed in his footsteps lack.
This was most apparent hearing 2 Chainz and his fans yelling "she got a big booty so I call her Big Booty" and the hook from "Fuckin' Problems."
2 Chainz ended the show with a run through the biggest songs from "Pretty Girls Like Trap Music," which is his best and most well-rounded record to date.
The Trap Choir led the crowd through the chorus of "4 AM" in Travis Scott's stead, while 2 Chainz rapped with a unique confidence and swagger that only he could possess.
Saturday: Lecrae, Gucci Mane and Big Sean
Saturday night was set up the same. The graffiti murals' progress had advanced and those who were present the night before probably still had a ringing in their ears.
Christian rapper Lecrae was the first big performer on Saturday. While Lecrae hasn't scored a mainstream hit, he's consistently been the best and most visible Christian rapper for about 10 years now.
He's a skilled rapper and this was apparent throughout the set.
Lecrae capped off his performance with the Metro Boomin produced "Hammer Time," a danceable trap song that sounds more akin to Migos than his past work. "Hammer Time" proved that Lecrae can rip out a mainstream sound if he wants to and the crowd at Ubahn appeared to recognize that.
After Lecrae was Gucci Mane. Gucci Mane, like 2 Chainz, has been at the forefront of the trap scene.
Since his release from prison in May 2016, Gucci Mane's been at the top of not only the trap world, but hip hop in general, scoring his first #1 hit for his feature on Rae Sremmurd's "Black Beatles" to releasing some of the best solo material he's had in years.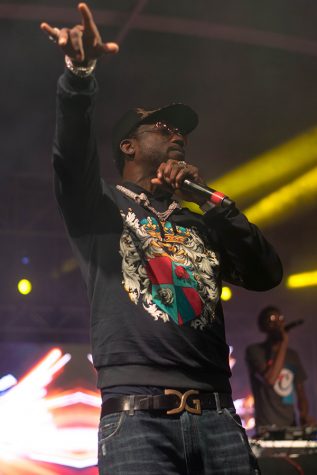 Gucci Mane's set was scheduled to begin at 10:30 p.m., but his DJ didn't even step onto the stage until 20 minutes later in front of a crowd that was audibly wondering where the rapper was.
After DJ Champ brought the crowd's energy back up with none other than "XO Tour Lif3," "Bodak Yellow" and numerous gunshot sound bites, Gucci Mane appeared and didn't waste time getting into the flow of things.
Gucci Mane graced the crowd with fan favorites "Both" and his verse from the Migos smash hit "Slippery."
He performed with grittiness and knocked out song after song with no breaks in between. It was as if he'd planned to be late and wanted to see how much he could fit into the 35-40 minute performance.
Pre-prison Gucci-anthem "Lemonade" ramped the crowd up to another level. It was nice to see Gucci still had a spot in the setlist for a few classics.
His performance ended about as quickly as it started. It was a shorter set than anticipated, but he managed to pack it to the brim. Like 2 Chainz the night before, Gucci Mane's essentially a veteran at this point and it definitely shows.
Where Gucci Mane's rough past and deep Atlanta roots paint a grimy picture, Big Sean's is almost dipped in chrome in comparison.
The G.O.O.D. Music standout has released four albums since 2012, and each one is more smooth and cohesive than the next. Big Sean's been groomed and trained by his label bosses Kanye West and Pusha T and it shows.
Big Sean's show in a lot of ways felt more akin to Steve Aoki than 2 Chainz or Gucci Mane. There was a different video/graphic on the screen for each song and the set list felt calculated.
His latest album I Decided, is a darker, moodier Big Sean than we've been accustomed to, but songs like "No Favors" felt right at home next to his older material.
After a few new songs to get the crowd ready, Big Sean moved to a couple 2012 tracks. The posse-cut "Mercy" which features a goofy, yet memorable, ass-inspired Sean verse was certainly a highlight of the set.
Sean transitioned into another track off G.O.O.D. Music's Cruel Summer, "Clique." Which showcased what Big Sean does best, ludicrous lines stitched within verses that showcase real talent and why he's released more albums through the label than anyone currently on it.
Big Sean flipped through more songs from his three most recent albums before landing on "Dance (A$$)" from his debut record Finally Rich. He instructed the crowd to clap which lead right into the beat for the song. An obvious segue but, appreciated.
A few songs later Big Sean started up Drake's "All Me" which he made the DJ restart after he was unimpressed with how the crowd shouted, "Ho shut the fuck up." The song was the first in a pair of wild tracks that felt like the crowd might break through the asphalt floor.
Chief Keef's "Don't Like" followed with the crowd screaming every word to the drill classic. Sean's delivery stayed smooth even while performing what was probably the most exciting track of the festival.
Sean closed out his set with "Bounce Back," his biggest song at the moment. And while the chorus of "Bounce Back" didn't exactly ring true in the context of Ubahn Fest, it finalized a standout performance among other heavyweights.