Going with the flow: NKU professor keeps college radio tradition alive on WAIF-FM
September 13, 2017
Even Ken Katkin couldn't tell you exactly what's kept him working in freeform radio for the past 34 years. It's unpaid work and sometimes underappreciated, especially in an age where playlists are available at the touch of a button on sites like Spotify and Pandora.
For the NKU law professor, the explanation is evident in the broadcasts themselves: Trash Flow Radio, his weekly program on Cincinnati's 88.3 WAIF frequency, is a personal and fun experience that's encouraged him to keep exploring new music, collect new records and build a community around his craft.  
"I don't think I could really stop. It's just what I do," Katkin said. "I like to have the reason to listen to music, so it pushes me to keep listening to stuff because I have to put a show together. I like the pressure on me to do that. And I like to think about ways to be clever and creative with the format."
Trash Flow airs each Saturday from 3 p.m. to 5 p.m., featuring a playlist of music that isn't bound by decade or geographic location, but by what Katkin sees as an element of "humanity" –a sense of individuality and character.
"I'm probably more focused on lyrics than on particular sounds," Katkin said. "It's all loosely in the underground rock genre, but I'll sometimes play stuff from other genres. To me, it should be wide-ranging."
A recent episode archived on Trash Flow's Facebook page opens with a track by The Fall, an English post-punk band who earned a cult following in the early 80s for their dissonant, ramshackle sound. It's followed by two tunes from the current decade: the former by Australian duo Good Morning, and the latter by Californian garage-rock outfit Terry Malts.
The .mp3 file, two hours long and 162.9 megabytes in total, is awash in fuzzy guitars and a faint sense of nostalgia. The music — uptempo, quirky — pauses only to let Katkin interject, adding historical context to the playlist with his extensive knowledge of record labels and discographies.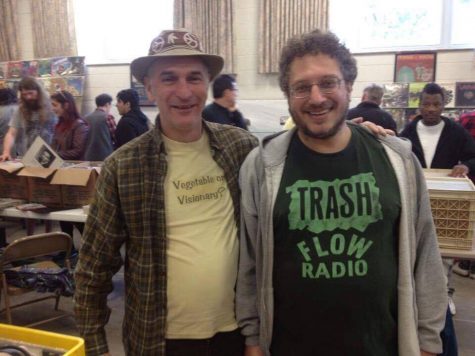 "There are always a certain number of brand-new recordings," Katkin said. "And then, there are a certain number of tracks that will be coming to town over the course of the week. I try to think a little bit about geographic diversity — trying to have something from Australia or New Zealand, English-speaking and non-English-speaking countries. I think about gender-diversity, too."
Katkin also often airs a mid-episode mix: a seamless stream of music and sound bites clipped from the news that acts as a sort of aural collage. Each mix is saved, pressed to CD, and sold during the end-of-the-year fundraising that helps WAIF fulfill their budget.
The station, founded in 1975, is a non-profit and volunteer-run frequency that operates on a shoestring budget, catering to underserved communities. These audiences range from religious groups to minorities to fans of obscure music. Katkin joined the station in 2001 –one year after becoming a member of NKU's faculty.
Katkin grew up near Niagara Falls, an area that was teeming with freeform radio shows at the time. His favorite program to tune into was Oil of Dog, hosted by then-Buffalo-based DJ Gary Storm.
"It was on late at night, and I'd just stay up and listen to it," Katkin said. "It was one of my favorite things about being a teenager."
In high school, he listened to bands like The Clash, Elvis Costello and The Ramones religiously. Independent label music was tough to find at the time, but he had already begun to develop more esoteric tastes, too, collecting records by The Modern Lovers and The Velvet Underground.
When Katkin began college at Princeton University in 1983, he jumped at the chance to join the local radio station, WPRB.
"I was the most enthusiastic member of my Freshman class when it came to college radio," Katkin said. "When I started, I became very into it and I became program director of the station. I didn't go to college locally, but I stayed there all three summers just so I could work at the radio station."
Katkin's taste in music developed through the steady flow of records that arrived in WPRB's mail. At the time, college radio served as a gatekeeping system that helped students discover underground music, and the interest record labels had in passing through those proverbial gates helped the station build up an impressive collection.
He graduated in 1987, but has continued to be involved with broadcasting ever since.
"In the 34 years since I started college, I've always found some way to be involved with radio," Katkin said. "There were only two or three years that I didn't have a show."
Katkin stayed in New Jersey and New York for about six years after college before attending Northwestern's law school in Illinois. He then practiced broadcast law in Washington D.C., where he hosted a show on the University of Maryland's radio station. It wasn't until he decided to become a professor that Katkin's career took him to NKU in 2000.
It was then that he was introduced to WAIF. The station's freeform, do-it-yourself ethos felt more in-tune with his style than WNKU did.
"It's a member-owned station. Anyone who pays 25 bucks to be a member is one of the owners that year," Katkin said. "It really runs on a shoestring, but it's a robust model, because you see college stations go under that raised substantially more money than WAIF raises. They just couldn't make it on the money they raise. WAIF raises maybe one-tenth of what WNKU raised, if that, but WAIF's budget keeps them going."
Though at first, most of Trash Flow's audience came from out of town thanks to the connections Katkin made with DJs and record labels like Homestead and Caroline that he worked with in the past, the show has garnered more of a local following in recent years. Cincinnati-based bands have begun to send him their demo tapes, just as they did in the past.
One such local band, Leggy, was even offered a record deal by a British label, Damnably, whose owner happened to be tuning in as Katkin spun one of their records.
Despite the passage of time, though, Katkin's favorite band is still The Velvet Underground.
"My other long-time favorites are the Modern Lovers, and the Ramones. Those three are my holy trinity," Katkin said. "It's hard if you're my age for a new band to enter a Pantheon like that if you've got one."
That said, he still keeps up with still-touring veteran acts like Guided by Voices and Belle and Sebastian, each of whom played shows this summer in Cincinnati and Louisville respectively. Katkin was in attendance at both. At the moment, his two favorite more-recently formed bands –Terry and Bitch Prefect– hail from Australia.
His record collection, which sources much of his on-air content is about 5,000 units strong. Much of it is bought and sold at Northside's annual record fair, where he runs a Trash Flow booth. Between it and his archived broadcasts, Katkin's personal discography serves as a means of self-expression. Sift through his LPs or tune in, and you'll know him better as a person.
"It's time taken away from other things I could be doing, and it doesn't make me any money, but in the end, it's what I do," said Katkin. "And it's fun. I don't know if I could come up with a better reason than that."