'Bust Moves 2017': Radio hosts In a studio of their own
'Thursday Night Lights' hosts are curators of their own culture
July 17, 2017
Editor's Note: The writer of this piece has his own show on Norse Code Radio. The piece was originally meant to focus on hip-hop culture at NKU. However, through interviewing the sources, the story of Thursday Night Lights stood apart as its own entity. 
"Bust moves 2017," said Malik Washington, leaning forward for emphasis. "That's our motto. Quote that."
Side by side, Washington and his co-host T.J. Rosewood appear to be polar opposites. The former kicks back comfortably on the bench in front of Northern Terrace, still in his pajama pants. Rosewood stands upright to his left, hands clasped across his bootlegged Dragonball Z t-shirt and flat gold chain.
In the Fall 2016 semester, the pair began to broadcast their own weekly show titled Thursday Night Lights on Norse Code Radio, NKU's student-run online radio station. Since then, the show has developed its own subcultural niche, spawning popular campus events and a community of artistic collaborators.
"It was my friend right here that got us into radio," Rosewood said, pointing to his friend Quentin Griffin, a junior EMB major.
After seeing Norse Code Radio's booth at Fresh Fusion in his freshman year, Griffin formed his own show, Broken Limits Radio, which helped introduce Rosewood to Norse Code.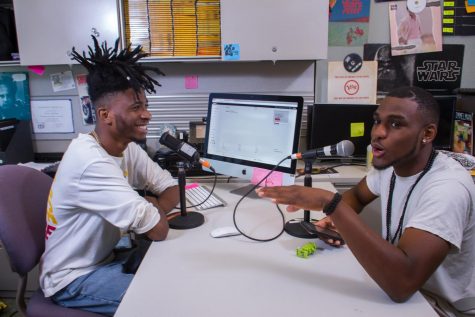 "All our friends were on board," Griffin said. "They were already participating in our show."
Rosewood was a frequent guest on Broken Limits Radio, which broadcast every Wednesday.
"I just told myself that the next school year I'd start up my own show and actually do something with that," said Rosewood. "I hit up my friend Malik here because he was on the public relations side of it. He has the ability to network with people So we both decided to host and co-host our show, Thursday Night Lights."
"People ask us what our show is about, and it's really about everything," Rosewood said, a Junior communications major and Norse Code Radio's vice president-elect. "We talk about things we like; things going on around campus."
Each episode opens with a segment called check-ins, which invites its guests to acknowledge any topic fresh on their minds, be it politics, classes, or Washington's favorite, sports. A playlist of songs leads into music news, usually reported by Rosewood, which then leads to further discussion.
The pair's down-to-earth approach to radio focuses on conversation and usually features three or four guests who attend NKU or live nearby. It's Thursday Night Lights' inviting format, said Washington, that attracts its audience.
"We've probably inspired about three or four other shows that are going to be on campus next year," Washington said. "My goal is to spread us out as much as possible. I have a fraternity brother who lives in Las Vegas, and a couple friends that listen in UK. I have one that listens in Tuskeegee. Bowling Green, Kent State, Louisville, all that stuff."
According to Rosewood, building an online following was Thursday Night Lights' first goal. Their second objective was organizing an event in order to bring their audience together on campus.
"Malik came up with a great idea, saying we should do a hip-hop cypher," Rosewood said. "Honestly, the cypher we did in March was the biggest event on campus that we did."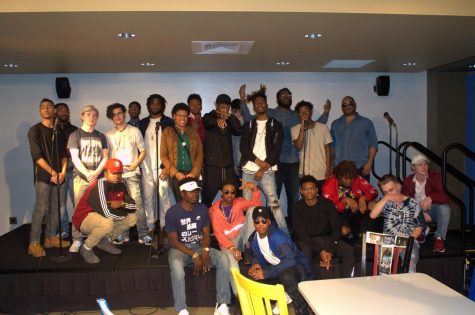 In the world of hip-hop, a cypher is akin to an open mic or a poetry slam. It's an opportunity for a group of lyricists to take turns improvising verses over a continuous string of instrumentals mixed by a DJ. For Washington and Rosewood, coordinating the events proved to be a learning experience and an opportunity for promotion.
"We did our first cypher in October," Rosewood said. "It was the Halloween cypher. We got a little buzz off of that. But a lot of people missed out on it due to it being on a holiday. So I was like, 'we're definitely going to let people know this time.'"
To follow up their initial effort, Washington and Rosewood envisioned a gathering of artists that would encourage connections among its attendees.
"Basically, 'check my Soundcloud link,'" Washington said.
Washington and Rosewood put a greater amount of time and energy into planning their second event, moving its location from NKU's MEP building, where the Halloween cypher was held, to the Student Union's multipurpose room, which they felt was more accessible. The hosts also reached out to artists outside of the university to generate wider interest.
"We had to get our rappers, because they're there for the show," Rosewood said. "We had our man DJ Rerun, who was the DJ. I had people who do photography and video. People who produced their own beats. We just wanted it to be a huge collaborative project."
To host the cypher, Thursday Night Lights partnered with Kudzu Magazine, a local hip-hop fanzine that interviews and photographs artists in the Midwest. Kudzu helped design promotional posters, while Rosewood and Washington set up a booth for the magazine to distribute copies on-site.
"It's run by this guy named Everett Kohinke," Rosewood said. "He liked our vision and wanted to be a part of it. We helped him, too. So we collaborated with him on the whole show: Thursday Night Lights with Kudzu Magazine. That gave the artists more chances to put themselves out there. Since we had so many people involved, they were telling other people that do music."
For the hosts, it was this sense of community that made March's cypher an improvement over the Halloween event.
"There were a lot of people trying to do future collaborations," Rosewood said. "It was an event for everybody to shine."
Washington and Rosewood plan to further expand their brand over the course of the upcoming semester.
"We're going to have another cypher," Washington added. "We're planning that for September."
The duo also revealed plans to start a Thursday Night Lights Youtube channel, a show broadcast outside of their usual Griffin Hall studio and greater involvement on social media. 
In addition to working on his own show, Rosewood will fill the seat of Norse Code Radio's assistant manager for the fall semester. He stressed increased participation as his goal for the future.
"Literally anyone can get their own show," Rosewood said. "We have our meetings every Wednesday. Just show up and just say you have an interest in a show. We'll get you an interview, and set you up to shadow three shows. Do that, and boom, you have your own show. It's that easy."